Abstracts
The Hantaan virus (HTNV) and Seoul virus (SEOV) mutants have accumulated over time. It is important to determine whether their neutralizing epitopes have evolved, thereby making the current vaccine powerless. However, it is impossible to determine by using traditional plaque reduction neutralization test (PRNT), because it requires large numbers of live mutant strains. Pseudovirus-based neutralization assays (PBNA) were developed by employing vesicular stomatitis virus (VSV) backbone incorporated with HTNV or SEOV glycoproteins (VSVΔG*-HTNVG or VSVΔG*-SEOVG). 56 and 51 single amino acid substitutions of glycoprotein (GP) in HTNV and SEOV were selected and introduced into the reference plasmid. Then the mutant pseudoviruses were generated and tested by PBNA. The PBNA results were highly correlated with PRNT ones with R2 being 0.91 for VSVΔG*-HTNVG and 0.82 for VSVΔG*-SEOVG. 53 HTNV mutant pseudoviruses and 46 SEOV mutants were successfully generated. Importantly, by using PBNA, we found that HTNV or SEOV immunized antisera could neutralize all the corresponding 53 HTNV mutants or the 46 SEOV mutants respectively. The novel PBNA enables us to closely monitor the effectiveness of vaccines against large numbers of evolving HTNV and SEOV. And the current vaccine remains to be effective for the naturally occurring mutants.
Access options
Buy single article
Instant access to the full article PDF.
USD 39.95
Price excludes VAT (USA)
Tax calculation will be finalised during checkout.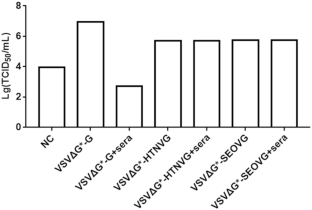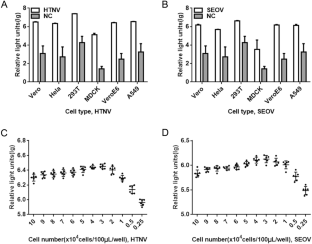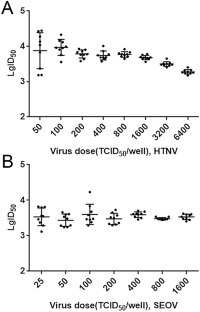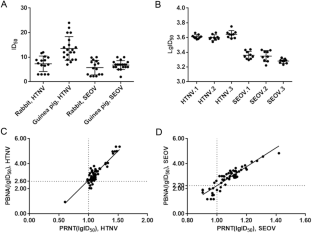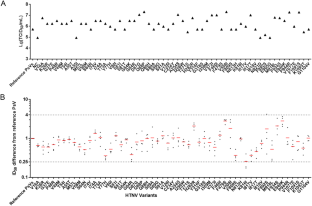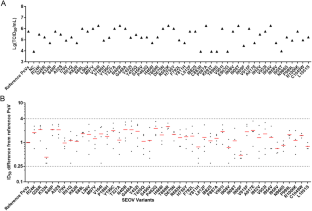 References
Arikawa J, Schmaljohn AL, Dalrymple JM, Schmaljohn CS (1989) Characterization of Hantaan virus envelope glycoprotein antigenic determinants defined by monoclonal antibodies. J Gen Virol 70(Pt 3):615–624

Bi Z, Formenty PB, Roth CE (2008) Hantavirus infection: a review and global update. J Infect Dev Ctries 2:3–23

Chen H, Tang L, Luo Z, Zhang J, Zhang Z, Hu M, Weng J, Liu W, Zhao T, Liu W (2000) Preventive effects of three kinds of inactive vaccines against epidemic hemorrhagic fever (EHF) after 5 years of vaccination. Zhonghua Liu Xing Bing Xue Za Zhi 21:347–348

Chu YK, Jennings G, Schmaljohn A, Elgh F, Hjelle B, Lee HW, Jenison S, Ksiazek T, Peters CJ, Rollin P et al (1995) Cross-neutralization of hantaviruses with immune sera from experimentally infected animals and from hemorrhagic fever with renal syndrome and hantavirus pulmonary syndrome patients. J Infect Dis 172:1581–1584

de Carvalho Nicacio C, Lundkvist A, Sjolander KB, Plyusnin A, Salonen EM, Bjorling E (2000) A neutralizing recombinant human antibody Fab fragment against Puumala hantavirus. J Med Virol 60:446–454

Guardado-Calvo P, Bignon EA, Stettner E, Jeffers SA, Perez-Vargas J, Pehau-Arnaudet G, Tortorici MA, Jestin JL, England P, Tischler ND, Rey FA (2016) Mechanistic insight into bunyavirus-induced membrane fusion from structure-function analyses of the hantavirus envelope glycoprotein Gc. PLoS Pathog 12:e1005813

Horling J, Lundkvist A (1997) Single amino acid substitutions in Puumala virus envelope glycoproteins G1 and G2 eliminate important neutralization epitopes. Virus Res 48:89–100

Jonsson CB, Figueiredo LT, Vapalahti O (2010) A global perspective on hantavirus ecology, epidemiology, and disease. Clin Microbiol Rev 23:412–441

Khaiboullina SF, Morzunov SP, St Jeor SC (2005) Hantaviruses: molecular biology, evolution and pathogenesis. Curr Mol Med 5:773–790

Kikuchi M, Yoshimatsu K, Arikawa J, Yoshida R, Yoo YC, Isegawa Y, Yamanishi K, Tono-oka S, Azuma I (1998) Characterization of neutralizing monoclonal antibody escape mutants of Hantaan virus 76118. Arch Virol 143:73–83

Koch J, Liang M, Queitsch I, Kraus AA, Bautz EK (2003) Human recombinant neutralizing antibodies against hantaan virus G2 protein. Virology 308:64–73

Kruger DH, Schonrich G, Klempa B (2011) Human pathogenic hantaviruses and prevention of infection. Hum Vaccin 7:685–693

Lee PW, Gibbs CJ Jr, Gajdusek DC, Yanagihara R (1985) Serotypic classification of hantaviruses by indirect immunofluorescent antibody and plaque reduction neutralization tests. J Clin Microbiol 22:940–944

Li S, Rissanen I, Zeltina A, Hepojoki J, Raghwani J, Harlos K, Pybus OG, Huiskonen JT, Bowden TA (2016) A molecular-level account of the antigenic hantaviral surface. Cell Rep 16:278

Li W, Cao S, Zhang Q, Li J, Zhang S, Wu W, Qu J, Li C, Liang M, Li D (2017) Comparison of serological assays to titrate Hantaan and Seoul hantavirus-specific antibodies. Virol J 14:133

Lin H, Zhang Z, Lu L, Li X, Liu Q (2014) Meteorological factors are associated with hemorrhagic fever with renal syndrome in Jiaonan County, China, 2006–2011. Int J Biometeorol 58:1031–1037

Liu W, Xu X, Ruan Y, Weng S, Liu W, Zhou W, Dong G, Gu H, Zhu Z, Xu Z (2000) Safety and immunogenicity of inactivated bivalent EHF vaccine in humans. Zhonghua Liu Xing Bing Xue Za Zhi 21:445–447 (In Chinese)

Lu X, Yin W, Yang Q, Lei Y, Yang J, Sun M, Yao M, Xu Z, Xue X (2009) Identification of oligopeptides mimicking the receptor-binding domain of Hantaan virus envelope glycoprotein from a phage-displayed peptide library. Can J Microbiol 55:664–671

Maes P, Keyaerts E, Li S, Nlandu-Masunda V, Clement J, Van Ranst M (2009) Replication reduction neutralization test, a quantitative RT-PCR-based technique for the detection of neutralizing hantavirus antibodies. J Virol Methods 159:295–299

Maes P, Adkins S, Alkhovsky SV, Avsic-Zupanc T, Ballinger MJ, Bente DA, Beer M, Bergeron E, Blair CD, Briese T, Buchmeier MJ, Burt FJ, Calisher CH, Charrel RN, Choi IR, Clegg JCS, de la Torre JC, de Lamballerie X, DeRisi JL, Digiaro M, Drebot M, Ebihara H, Elbeaino T, Ergunay K, Fulhorst CF, Garrison AR, Gao GF, Gonzalez JJ, Groschup MH, Gunther S, Haenni AL, Hall RA, Hewson R, Hughes HR, Jain RK, Jonson MG, Junglen S, Klempa B, Klingstrom J, Kormelink R, Lambert AJ, Langevin SA, Lukashevich IS, Marklewitz M, Martelli GP, Mielke-Ehret N, Mirazimi A, Muhlbach HP, Naidu R, Nunes MRT, Palacios G, Papa A, Paweska JT, Peters CJ, Plyusnin A, Radoshitzky SR, Resende RO, Romanowski V, Sall AA, Salvato MS, Sasaya T, Schmaljohn C, Shi X, Shirako Y, Simmonds P, Sironi M, Song JW, Spengler JR, Stenglein MD, Tesh RB, Turina M, Wei T, Whitfield AE, Yeh SD, Zerbini FM, Zhang YZ, Zhou X, Kuhn JH (2019) Taxonomy of the order Bunyavirales: second update 2018. Arch Virol 164:927–941

Matumoto M (1949) A note on some points of calculation method of LD50 by Reed and Muench. Jpn J Exp Med 20:175-9–175-179

McCaughey C, Hart CA (2000) Hantaviruses. J Med Microbiol 49:587–599

Meyer BJ, Schmaljohn CS (2000) Persistent hantavirus infections: characteristics and mechanisms. Trends Microbiol 8:61–67

Muyangwa M, Martynova EV, Khaiboullina SF, Morzunov SP, Rizvanov AA (2015) Hantaviral proteins: structure, functions, and role in hantavirus infection. Front Microbiol 6:1326

Pastrana DV, Buck CB, Pang YY, Thompson CD, Castle PE, FitzGerald PC, Kruger Kjaer S, Lowy DR, Schiller JT (2004) Reactivity of human sera in a sensitive, high-throughput pseudovirus-based papillomavirus neutralization assay for HPV16 and HPV18. Virology 321:205–216

Schmaljohn C, Hjelle B (1997) Hantaviruses: a global disease problem. Emerg Infect Dis 3:95–104

Song G, Hang CS, Liao HX, Fu JL, Gao GZ, Qiu HL, Zhang QF (1984) Antigenic difference between viral strains causing classical and mild types of epidemic hemorrhagic fever with renal syndrome in China. J Infect Dis 150:889–894

Song JY, Woo HJ, Cheong HJ, Noh JY, Baek LJ, Kim WJ (2016) Long-term immunogenicity and safety of inactivated Hantaan virus vaccine (Hantavax) in healthy adults. Vaccine 34:1289–1295

Tang YW, Li YL, Ye KL, Xu ZY, Ruo SL, Fisher-Hoch SP, McCormick JB (1991) Distribution of hantavirus serotypes Hantaan and Seoul causing hemorrhagic fever with renal syndrome and identification by hemagglutination inhibition assay. J Clin Microbiol 29:1924–1927

Vaheri A, Strandin T, Hepojoki J, Sironen T, Henttonen H, Makela S, Mustonen J (2013) Uncovering the mysteries of hantavirus infections. Nat Rev Microbiol 11:539–550

Watson DC, Sargianou M, Papa A, Chra P, Starakis I, Panos G (2014) Epidemiology of Hantavirus infections in humans: a comprehensive, global overview. Crit Rev Microbiol 40:261–272

Willensky S, Bar-Rogovsky H, Bignon EA, Tischler ND, Modis Y, Dessau M (2016) Crystal structure of glycoprotein c from a hantavirus in the post-fusion conformation. PLoS Pathog 12:e1005948

Yan G, Zhang Y, Ma Y, Yi J, Liu B, Xu Z, Zhang Y, Zhang C, Zhang F, Xu Z, Yang A, Zhuang R, Jin B (2012) Identification of a novel B-cell epitope of Hantaan virus glycoprotein recognized by neutralizing 3D8 monoclonal antibody. J Gen Virol 93:2595–2600

Zhang XK, Takashima I, Hashimoto N (1989) Characteristics of passive immunity against hantavirus infection in rats. Arch Virol 105:235–246

Zhang S, Wang S, Yin W, Liang M, Li J, Zhang Q, Feng Z, Li D (2014) Epidemic characteristics of hemorrhagic fever with renal syndrome in China, 2006–2012. BMC Infect Dis 14:384

Zou LX, Chen MJ, Sun L (2016) Haemorrhagic fever with renal syndrome: literature review and distribution analysis in China. Int J Infect Dis 43:95–100
Acknowledgements
We would like to thank M. A. Whitt for providing the VSVΔG* pseudotype virus bearing VSV GP (VSVΔG*-G), Arboviruses Vaccine Division for HTNV strain 76-118 and Seoul virus UR, Changchun Institute of Biological Products Co., Ltd. (Changchun, China), Aimei Weixin Biopharmaceutical (Zhejiang) Co., Ltd. (Zhejiang, China), and Royal (Wuxi) Bio-pharmaceutical Co., Ltd. (Jiangsu, China) for their HFRS bivalent vaccines, rabbit antisera against HTNV and rabbit antisera against SEOV. The study was supported by the National Science and Technology Major Projects of Drug Discovery [Grant Number 2018ZX09101-001]
Ethics declarations
Conflict of interest
The authors declare that they have no conflict of interest.
Animal and Human Rights Statement
The whole study was approved by the Institutional Animal Care and Use Committee of National Institutes for Food and Drug Control, China. All institutional and national guidelines for the care and use of laboratory animals were followed.
Electronic supplementary material
Below is the link to the electronic supplementary material.
About this article
Cite this article
Ning, T., Wang, L., Liu, S. et al. Monitoring Neutralization Property Change of Evolving Hantaan and Seoul Viruses with a Novel Pseudovirus-Based Assay. Virol. Sin. 36, 104–112 (2021). https://doi.org/10.1007/s12250-020-00237-y
Received:

Accepted:

Published:

Issue Date:

DOI: https://doi.org/10.1007/s12250-020-00237-y
Keywords
Hemorrhagic fever with renal syndrome (HFRS)

Hantaan virus (HTNV)

Seoul virus (SEOV)

Pseudovirus-based neutralization assay (PBNA)

Amino acid substitution

Vaccine