Abstract
Influenza viruses (FLUV) cause high morbidity and mortality annually in the world and pose a serious threat to the public health. Wuhan, as an important transportation hub in China, has a dense population and suitable climate, which also lays a major hidden danger for the outbreak of influenza. To survey and characterize the seasonal FLUV in Wuhan during 2016–2019, we collected 44,738 throat swabs, among which 15.5% were influenza A (FLUAV) positive, 6.1% influenza B (FLUBV) and 0.3% co-infection. By monitoring FLUV in each month from June 2016 to May 2019, different with the previously seasonality pattern, only a single influenza peak was appeared in winter of 2017–2018 and 2018–2019, respectively. These data indicated that the complex circulation pattern of seasonal influenza in Wuhan. In addition, we found the age group was skewed towards 5–14 years group whose activity were mostly school based, which suggested school may be an important place for influenza outbreaks. Meanwhile, phylogenic analysis revealed that two subtypes (subclade 3C.2a2 and 3C.2a1b) of A(H3N2) were circulating in Wuhan and there was an obvious transition in 2018 because the two subclades were detected simultaneously. Furthermore, by estimating the vaccine effectiveness, we found that the vaccine strain of FLUAV didn't seem to match very well the current epidemic strain, especially A(H3N2). Hence, more accurate prediction of seasonal outbreak is essential for vaccine design. Taken together, our results provided the current information about seasonal FLUV in Wuhan which form the basis for vaccine updating.
Access options
Buy single article
Instant access to the full article PDF.
US$ 39.95
Tax calculation will be finalised during checkout.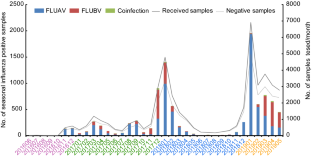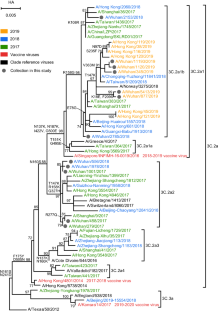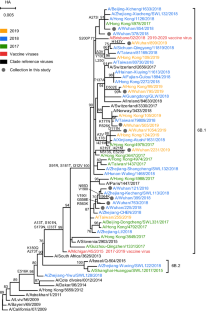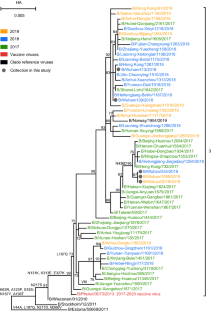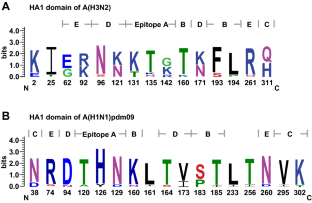 References
Aymard M, Valette M, Luciani J, Sentinel Physicians from the Grippe et Infections Respiratoires Aigues Pediatriques N (2003) Burden of influenza in children: preliminary data from a pilot survey network on community diseases. Pediatr Infect Dis J 22:S211–214

Bedford T, Riley S, Barr IG, Broor S, Chadha M, Cox NJ, Daniels RS, Gunasekaran CP, Hurt AC, Kelso A, Klimov A, Lewis NS, Li X, McCauley JW, Odagiri T, Potdar V, Rambaut A, Shu Y, Skepner E, Smith DJ, Suchard MA, Tashiro M, Wang D, Xu X, Lemey P, Russell CA (2015) Global circulation patterns of seasonal influenza viruses vary with antigenic drift. Nature 523:217–220

Bouvier NM, Palese P (2008) The biology of influenza viruses. Vaccine 26(Suppl 4):D49–53

Bush RM, Bender CA, Subbarao K, Cox NJ, Fitch WM (1999) Predicting the evolution of human influenza A. Science 286:1921–1925

Cheung PH, Chan C, Jin DY (2017) To announce or not to announce: what is known about the 2016–2017 influenza season in Hong Kong? Emerg Microb Infect 6:e78

Cox NJ, Subbarao K (2000) Global epidemiology of influenza: past and present. Annu Rev Med 51:407–421

Crooks GE, Hon G, Chandonia JM, Brenner SE (2004) WebLogo: a sequence logo generator. Genome Res 14:1188–1190

Deem MW, Pan K (2009) The epitope regions of H1-subtype influenza A, with application to vaccine efficacy. Protein Eng Des Sel 22:543–546

Flannery B, Reynolds SB, Blanton L, Santibanez TA, O'Halloran A, Lu PJ, Chen J, Foppa IM, Gargiullo P, Bresee J, Singleton JA, Fry AM (2017) Influenza vaccine effectiveness against pediatric deaths: 2010–2014. Pediatrics 139

Gao GF (2018) From "A"IV to "Z"IKV: attacks from emerging and re-emerging pathogens. Cell 172:1157–1159

Guindon S, Dufayard JF, Lefort V, Anisimova M, Hordijk W, Gascuel O (2010) New algorithms and methods to estimate maximum-likelihood phylogenies: assessing the performance of PhyML 3.0. Syst Biol 59:307–321

Gupta V, Earl DJ, Deem MW (2006) Quantifying influenza vaccine efficacy and antigenic distance. Vaccine 24:3881–3888

He Z, Tao H (2018) Epidemiology and ARIMA model of positive-rate of influenza viruses among children in Wuhan, China: a nine-year retrospective study. Int J Infect Dis 74:61–70

Hoffmann E, Stech J, Guan Y, Webster RG, Perez DR (2001) Universal primer set for the full-length amplification of all influenza A viruses. Arch Virol 146:2275–2289

Horm SV, Mardy S, Rith S, Ly S, Heng S, Vong S, Kitsutani P, Ieng V, Tarantola A, Ly S, Sar B, Chea N, Sokhal B, Barr I, Kelso A, Horwood PF, Timmermans A, Hurt A, Lon C, Saunders D, Ung SA, Asgari N, Roces MC, Touch S, Komadina N, Buchy P (2014) Epidemiological and virological characteristics of influenza viruses circulating in Cambodia from 2009 to 2011. PLoS ONE 9:e110713

Hurt AC, Besselaar TG, Daniels RS, Ermetal B, Fry A, Gubareva L, Huang W, Lackenby A, Lee RT, Lo J, Maurer-Stroh S, Nguyen HT, Pereyaslov D, Rebelo-de-Andrade H, Siqueira MM, Takashita E, Tashiro M, Tilmanis D, Wang D, Zhang W, Meijer A (2016) Global update on the susceptibility of human influenza viruses to neuraminidase inhibitors, 2014–2015. Antivir Res 132:178–185

Katoh K, Standley DM (2013) MAFFT multiple sequence alignment software version 7: improvements in performance and usability. Mol Biol Evol 30:772–780

Lamb RA, Choppin PW (1983) The gene structure and replication of influenza virus. Annu Rev Biochem 52:467–506

Li CK, Choi BC, Wong TW (2006) Influenza-related deaths and hospitalizations in Hong Kong: a subtropical area. Public Health 120:517–524

Medina RA, Garcia-Sastre A (2011) Influenza A viruses: new research developments. Nat Rev Microbiol 9:590–603

Munoz FM (2002) The impact of influenza in children. Semin Pediatr Infect Dis 13:72–78

Neuzil KM, Zhu Y, Griffin MR, Edwards KM, Thompson JM, Tollefson SJ, Wright PF (2002) Burden of interpandemic influenza in children younger than 5 years: a 25-year prospective study. J Infect Dis 185:147–152

Pan K, Subieta KC, Deem MW (2011) A novel sequence-based antigenic distance measure for H1N1, with application to vaccine effectiveness and the selection of vaccine strains. Protein Eng Des Sel 24:291–299

Pozo F, Lina B, Andrade HR, Enouf V, Kossyvakis A, Broberg E, Daniels R, Lackenby A, Meijer A, Community Network of Reference Laboratories for Human Influenza in E (2013) Guidance for clinical and public health laboratories testing for influenza virus antiviral drug susceptibility in Europe. J Clin Virol 57:5–12

Schrauwen EJ, de Graaf M, Herfst S, Rimmelzwaan GF, Osterhaus AD, Fouchier RA (2014) Determinants of virulence of influenza A virus. Eur J Clin Microbiol Infect Dis 33:479–490

Shu YL, Fang LQ, de Vlas SJ, Gao Y, Richardus JH, Cao WC (2010) Dual seasonal patterns for influenza, China. Emerg Infect Dis 16:725–726

Tewawong N, Suwannakarn K, Prachayangprecha S, Korkong S, Vichiwattana P, Vongpunsawad S, Poovorawan Y (2015) Molecular epidemiology and phylogenetic analyses of influenza B virus in Thailand during 2010–2014. PLoS ONE 10:e0116302

Thompson MG, Kwong JC, Regan AK, Katz MA, Drews SJ, Azziz-Baumgartner E, Klein NP, Chung H, Effler PV, Feldman BS, Simmonds K, Wyant BE, Dawood FS, Jackson ML, Fell DB, Levy A, Barda N, Svenson LW, Fink RV, Ball SW, Naleway A, Workgroup P (2019) Influenza vaccine effectiveness in preventing influenza-associated hospitalizations during pregnancy: a Multi-country Retrospective Test Negative Design Study, 2010–2016. Clin Infect Dis 68:1444–1453

Udell JA, Zawi R, Bhatt DL, Keshtkar-Jahromi M, Gaughran F, Phrommintikul A, Ciszewski A, Vakili H, Hoffman EB, Farkouh ME, Cannon CP (2013) Association between influenza vaccination and cardiovascular outcomes in high-risk patients: a meta-analysis. JAMA 310:1711–1720

Wang Q, Cheng F, Lu M, Tian X, Ma J (2008) Crystal structure of unliganded influenza B virus hemagglutinin. J Virol 82:3011–3020

Wang L, Zhang Y, Cao HX, Wang T, Zhang L, Liu T, Wang XJ (2017) Epidemiological characteristics of influenza-like illness outbreak in Zibo City from 2009 to 2015. Chin J Dis Control Prev 21:206–208 (In Chinese)

Wang P, Yang XB, Kong DG, Wang Y (2018) Analysis of influenza surveillance in Wuhan, 2012–2017. Mod Prevent Med 45:141–144 (In Chinese)

Webster RG, Laver WG, Air GM, Schild GC (1982) Molecular mechanisms of variation in influenza viruses. Nature 296:115–121

WHO (2014) WHO surveillance case definitions for ILI and SARI. Available online: https://www.who.int/influenza/surveillance_monitoring/ili_sari_surveillance_case_definition/en/

WHO (2017) Influenza (Seasonal) Fact sheet. Available online: http://www.who.int/news-room/detail/14-12-2017-up-to-650-000-people-die-of-respiratory-diseases-linked-to-seasonal-flu-each-year

Wiley DC, Wilson IA, Skehel JJ (1981) Structural identification of the antibody-binding sites of Hong Kong influenza haemagglutinin and their involvement in antigenic variation. Nature 289:373–378
Acknowledgements
This study was supported by the Fundamental Research Funds for the Central Universities and the National key research and development program of China (2018TFE0204500).
Ethics declarations
Conflict of interest
The authors declare no competing conflicts of interest.
Animal and Human Rights Statement
This study was approved by the Ethics Committee of the Zhongnan Hospital of Wuhan University. Additional informed consent was obtained from all patients for which identifying information is included in this article. Data were collected from the electronic patient record.
Electronic supplementary material
Below is the link to the electronic supplementary material.
About this article
Cite this article
Chen, LJ., Guo, JJ., Guo, WW. et al. Molecular Epidemiology and Vaccine Compatibility Analysis of Seasonal Influenza Viruses in Wuhan, 2016–2019. Virol. Sin. 35, 556–565 (2020). https://doi.org/10.1007/s12250-020-00225-2
Received:

Accepted:

Published:

Issue Date:
Keywords
Seasonal influenza

Molecular epidemiology

Phylogenic analysis

Vaccine effectiveness