Abstract
Severe fever with thrombocytopenia syndrome (SFTS) is an emerging infectious disease with high mortality (12%–30%). The mechanism by which the SFTS bunyavirus (SFTSV) causes severe illness remains unclear. To evaluate the phenotypic and functional characteristics of the NK cell subsets in SFTS patients, twenty-nine SFTS patients were sequentially sampled from admission until recovery. Phenotypic and functional characteristics of NK cell subsets in circulating blood were analysed via flow cytometry. Then, correlations between NK cell subset frequencies and the SFTS index (SFTSI) were evaluated in all SFTS patients (15 mild, 14 severe) upon admission. The frequencies of CD56dimCD16+ NK cells were greatly decreased in early SFTSV infection and were negatively correlated with disease severity. Additionally, higher Ki-67 and granzyme B expression and relatively lower NKG2A expression in CD56dimCD16+ NK cells were observed in acute infection. Moreover, the effector function of CD56dim NK cells was increased in the acute phase compared with the recovery phase in nine severe SFTS patients. Additionally, interleukin (IL)-15, interferon (IFN)-α, IL-18 and IFN-γ secretion was markedly increased during early infection. Collectively, despite depletion of CD56dimCD16+ NK cells, activation and functional enhancement of CD56dimCD16+ NK cells were still observed, suggesting their involvement in defence against early SFTSV infection.
Access options
Buy single article
Instant access to the full article PDF.
US$ 39.95
Tax calculation will be finalised during checkout.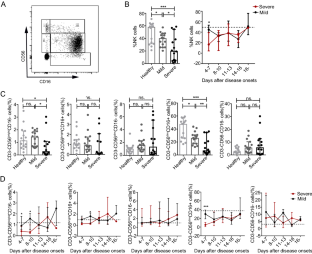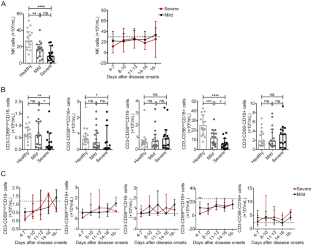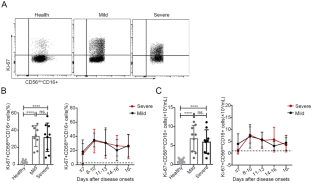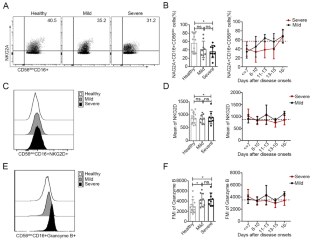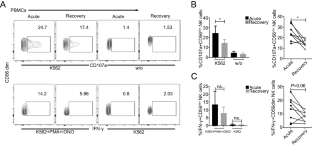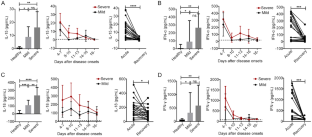 References
Amadei B, Urbani S, Cazaly A, Fisicaro P, Zerbini A, Ahmed P, Missale G, Ferrari C, Khakoo SI (2010) Activation of natural killer cells during acute infection with hepatitis C virus. Gastroenterology 138:1536–1545

Biron CA, Byron KS, Sullivan JL (1989) Severe herpesvirus infections in an adolescent without natural killer cells. N Engl J Med 320:1731–1735

Bjorkstrom NK, Lindgren T, Stoltz M, Fauriat C, Braun M, Evander M, Michaelsson J, Malmberg KJ, Klingstrom J, Ahlm C, Ljunggren HG (2011) Rapid expansion and long-term persistence of elevated NK cell numbers in humans infected with hantavirus. J Exp Med 208:13–21

Bradfute SB, Braun DR, Shamblin JD, Geisbert JB, Paragas J, Garrison A, Hensley LE, Geisbert TW (2007) Lymphocyte death in a mouse model of Ebola virus infection. J Infect Dis 196(Suppl 2):S296–304

Braun M, Bjorkstrom NK, Gupta S, Sundstrom K, Ahlm C, Klingstrom J, Ljunggren HG (2014) NK cell activation in human hantavirus infection explained by virus-induced IL-15/IL15Ralpha expression. PLoS Pathog 10:e1004521

Bryceson YT, Long EO (2008) Line of attack: NK cell specificity and integration of signals. Curr Opin Immunol 20:344–352

Bryceson YT, Fauriat C, Nunes JM, Wood SM, Bjorkstrom NK, Long EO, Ljunggren HG (2010) Functional analysis of human NK cells by flow cytometry. Methods Mol Biol 612:335–352

Cimini E, Viola D, Cabeza-Cabrerizo M, Romanelli A, Tumino N, Sacchi A, Bordoni V, Casetti R, Turchi F, Martini F, Bore JA, Koundouno FR, Duraffour S, Michel J, Holm T, Zekeng EG, Cowley L, Garcia Dorival I, Doerrbecker J, Hetzelt N, Baum JHJ, Portmann J, Wolfel R, Gabriel M, Miranda O, Diaz G, Diaz JE, Fleites YA, Pineiro CA, Castro CM, Koivogui L, Magassouba N, Diallo B, Ruibal P, Oestereich L, Wozniak DM, Ludtke A, Becker-Ziaja B, Capobianchi MR, Ippolito G, Carroll MW, Gunther S, Di Caro A, Munoz-Fontela C, Agrati C (2017) Different features of Vdelta2 T and NK cells in fatal and non-fatal human Ebola infections. PLoS Negl Trop Dis 11:e0005645

Deng B, Zhang S, Geng Y, Zhang Y, Wang Y, Yao W, Wen Y, Cui W, Zhou Y, Gu Q, Wang W, Wang Y, Shao Z, Wang Y, Li C, Wang D, Zhao Y, Liu P (2012) Cytokine and chemokine levels in patients with severe fever with thrombocytopenia syndrome virus. PLoS ONE 7:e41365

Fu B, Tian Z, Wei H (2014) Subsets of human natural killer cells and their regulatory effects. Immunology 141:483–489

Gai ZT, Zhang Y, Liang MF, Jin C, Zhang S, Zhu CB, Li C, Li XY, Zhang QF, Bian PF, Zhang LH, Wang B, Zhou N, Liu JX, Song XG, Xu A, Bi ZQ, Chen SJ, Li DX (2012) Clinical progress and risk factors for death in severe fever with thrombocytopenia syndrome patients. J Infect Dis 206:1095–1102

Geisbert TW, Hensley LE, Larsen T, Young HA, Reed DS, Geisbert JB, Scott DP, Kagan E, Jahrling PB, Davis KJ (2003) Pathogenesis of Ebola hemorrhagic fever in cynomolgus macaques: evidence that dendritic cells are early and sustained targets of infection. Am J Pathol 163:2347–2370

Haeberlein S, Sebald H, Bogdan C, Schleicher U (2010) IL-18, but not IL-15, contributes to the IL-12-dependent induction of NK-cell effector functions by Leishmania infantum in vivo. Eur J Immunol 40:1708–1717

Huntington ND, Legrand N, Alves NL, Jaron B, Weijer K, Plet A, Corcuff E, Mortier E, Jacques Y, Spits H, Di Santo JP (2009) IL-15 trans-presentation promotes human NK cell development and differentiation in vivo. J Exp Med 206:25–34

Jost S, Altfeld M (2013) Control of human viral infections by natural killer cells. Annu Rev Immunol 31:163–194

Jost S, Quillay H, Reardon J, Peterson E, Simmons RP, Parry BA, Bryant NN, Binder WD, Altfeld M (2011) Changes in cytokine levels and NK cell activation associated with influenza. PLoS ONE 6:e25060

Keawvichit R, Khowawisetsut L, Lertjuthaporn S, Tangnararatchakit K, Apiwattanakul N, Yoksan S, Chuansumrit A, Chokephaibulkit K, Ansari AA, Onlamoon N, Pattanapanyasat K (2018) Differences in activation and tissue homing markers of natural killer cell subsets during acute dengue infection. Immunology 153:455–465

Lam VC, Lanier LL (2017) NK cells in host responses to viral infections. Curr Opin Immunol 44:43–51

Lanier LL (2008) Up on the tightrope: natural killer cell activation and inhibition. Nat Immunol 9:495–502

Lu QB, Cui N, Hu JG, Chen WW, Xu W, Li H, Zhang XA, Ly H, Liu W, Cao WC (2015) Characterization of immunological responses in patients with severe fever with thrombocytopenia syndrome: a cohort study in China. Vaccine 33:1250–1255

Mao H, Tu W, Qin G, Law HK, Sia SF, Chan PL, Liu Y, Lam KT, Zheng J, Peiris M, Lau YL (2009) Influenza virus directly infects human natural killer cells and induces cell apoptosis. J Virol 83:9215–9222

Nattermann J, Feldmann G, Ahlenstiel G, Langhans B, Sauerbruch T, Spengler U (2006) Surface expression and cytolytic function of natural killer cell receptors is altered in chronic hepatitis C. Gut 55:869–877

Nogusa S, Ritz BW, Kassim SH, Jennings SR, Gardner EM (2008) Characterization of age-related changes in natural killer cells during primary influenza infection in mice. Mech Ageing Dev 129:223–230

Orange JS (2006) Human natural killer cell deficiencies. Curr Opin Allergy Clin Immunol 6:399–409

Peng C, Wang H, Zhang W, Zheng X, Tong Q, Jie S, Yang D, Zhou Y (2016) Decreased Monocyte Subsets and TLR4 Mediated Functions in Patients with Acute Severe Fever with Thrombocytopenia Syndrome (SFTS). Int J Infect Dis 43:37–42

Poli A, Michel T, Theresine M, Andres E, Hentges F, Zimmer J (2009) CD56bright natural killer (NK) cells: an important NK cell subset. Immunology 126:458–465

Strowig T, Chijioke O, Carrega P, Arrey F, Meixlsperger S, Ramer PC, Ferlazzo G, Munz C (2010) Human NK cells of mice with reconstituted human immune system components require preactivation to acquire functional competence. Blood 116:4158–4167

Sun Y, Jin C, Zhan F, Wang X, Liang M, Zhang Q, Ding S, Guan X, Huo X, Li C, Qu J, Wang Q, Zhang S, Zhang Y, Wang S, Xu A, Bi Z, Li D (2012a) Host cytokine storm is associated with disease severity of severe fever with thrombocytopenia syndrome. J Infect Dis 206:1085–1094

Sun Y, Liang M, Qu J, Jin C, Zhang Q, Li J, Jiang X, Wang Q, Lu J, Gu W, Zhang S, Li C, Wang X, Zhan F, Yao W, Bi Z, Wang S, Li D (2012b) Early diagnosis of novel SFTS bunyavirus infection by quantitative real-time RT-PCR assay. J Clin Virol 53:48–53

Sun L, Hu Y, Niyonsaba A, Tong Q, Lu L, Li H, Jie S (2014) Detection and evaluation of immunofunction of patients with severe fever with thrombocytopenia syndrome. Clin Exp Med 14:389–395

Wang T, Li XL, Liu M, Song XJ, Zhang H, Wang YB, Tian BP, Xing XS, Li SY (2017) Epidemiological Characteristics and Environmental Risk Factors of Severe Fever with Thrombocytopenia Syndrome in Hubei Province, China, from 2011 to 2016. Front Microbiol 8:387

Weng Y, Chen N, Han Y, Xing Y, Li J (2014) Clinical and laboratory characteristics of severe fever with thrombocytopenia syndrome in Chinese patients. Braz J Infect Dis 18:88–91

Wu Y, Tian Z, Wei H (2017) Developmental and Functional Control of Natural Killer Cells by Cytokines. Front Immunol 8:930

Xiong S, Zhang W, Li M, Xiong Y, Li M, Wang H, Yang D, Peng C, Zheng X (2016) A simple and practical score model for predicting the mortality of severe fever with thrombocytopenia syndrome patients. Medicine (Baltimore) 95:e5708

Yu XJ, Liang MF, Zhang SY, Liu Y, Li JD, Sun YL, Zhang L, Zhang QF, Popov VL, Li C, Qu J, Li Q, Zhang YP, Hai R, Wu W, Wang Q, Zhan FX, Wang XJ, Kan B, Wang SW, Wan KL, Jing HQ, Lu JX, Yin WW, Zhou H, Guan XH, Liu JF, Bi ZQ, Liu GH, Ren J, Wang H, Zhao Z, Song JD, He JR, Wan T, Zhang JS, Fu XP, Sun LN, Dong XP, Feng ZJ, Yang WZ, Hong T, Zhang Y, Walker DH, Wang Y, Li DX (2011) Fever with thrombocytopenia associated with a novel bunyavirus in China. N Engl J Med 364:1523–1532

Zhang W, Li M, Xiong S, Wang H, Xiong Y, Li M, Lu M, Yang D, Peng C, Zheng X (2017) Decreased myeloid dendritic cells indicate a poor prognosis in patients with severe fever with thrombocytopenia syndrome. Int J Infect Dis 54:113–120
Acknowledgements
We thank all of the donors and patients for participating in this research. This study was supported by the National Natural Science Foundation of China (81271884) and of Hubei (2018CFB471). The funding source played no role in the study design, data collection and analysis, decision to publish, or preparation of the manuscript.
Ethics declarations
Conflict of interest
The authors declare that they have no conflicts of interest.
Animal and Human Rights Statement
The research protocol was approved by the Ethics Committee of Tongji Medical College of Huazhong University of Science and Technology. Written informed consent was obtained from all participants prior to blood collection.
Electronic supplementary material
Below is the link to the electronic supplementary material.
Electronic supplementary material
Below is the link to the electronic supplementary material.
About this article
Cite this article
Li, M., Xiong, Y., Li, M. et al. Depletion but Activation of CD56dimCD16+ NK Cells in Acute Infection with Severe Fever with Thrombocytopenia Syndrome Virus. Virol. Sin. 35, 588–598 (2020). https://doi.org/10.1007/s12250-020-00224-3
Received:

Accepted:

Published:

Issue Date:
Keywords
Severe fever with thrombocytopenia syndrome Virus (SFTSV)

SFTS index

NK cell subsets

Phenotypic of CD56dimCD16+ NK cells
Function of CD56dimCD16+ NK cells