Abstract
Activation of inflammatory cells and upregulations of a number of cytokines in the central nervous system (CNS) of patients with prion diseases are frequently observed. To evaluate the potential changes of some brain cytokines that were rarely addressed during prion infection, the levels of 17 different cytokines in the brain homogenates of mice infected with different scrapie mouse-adapted agents were firstly screened with Luminex assay. Significant upregulations of interferon gamma-induced protein 10 (IP10), keratinocyte chemoattractant (KC) and macrophage colony stimulating factor (M-CSF) were frequently detected in the brain lysates of many strains of scrapie infected mice. The upregulations of those three cytokines in the brains of scrapie infected mice were further validated by the individual specific ELISA and immunohistochemical assay. Increased specific mRNAs of IP10, M-CSF and KC in the brains of scrapie infected mice were also detected by the individual specific qRT-PCRs and IP10-specific digital PCR. Dynamic analyses of the brain samples collected at different time points post infection revealed the time-dependent increases of those three cytokines, particularly IP10 during the incubation period of scrapie infection. In addition, we also found that the levels of IP10 in cerebral spinal fluid (CSF) of 45 sporadic Creutzfeldt–Jakob disease (sCJD) patients were slightly but significantly higher than those of the cases who were excluded the diagnosis of prion diseases. These data give us a better understanding of inflammatory reaction during prion infection and progression of prion disease.
Access options
Buy single article
Instant access to the full article PDF.
US$ 39.95
Tax calculation will be finalised during checkout.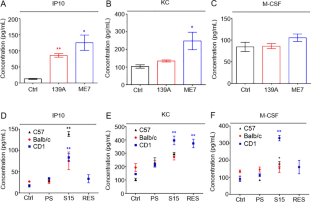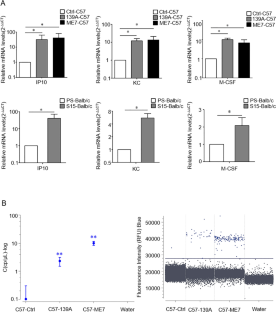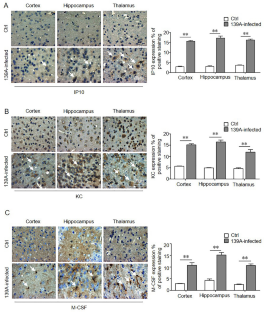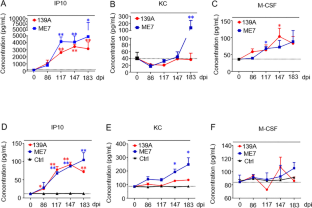 References
Aguzzi A, Nuvolone M, Zhu C (2013) The immunobiology of prion diseases. Nat Rev Immunol 13:888–902

Antonelli A, Ferrari SM, Giuggioli D, Ferrannini E, Ferri C, Fallahi P (2014) Chemokine (C-X-C motif) ligand (CXCL)10 in autoimmune diseases. Autoimmun Rev 13:272–280

Armstrong RA, Cairns NJ, Lantos PL (2001) Spatial pattern of prion protein deposits in patients with sporadic Creutzfeldt–Jakob disease. Neuropathology 21:19–24

Aubry F, Habasque C, Satie AP, Jégou B, Samson M (2000) Expression and regulation of the CXC-chemokines, GRO/KC and IP-10/mob-1 in rat seminiferous tubules. Eur Cytokine Netw 11:690–698

Birkett CR, Hennion RM, Bembridge DA, Clarke MC, Chree A, Bruce ME, Bostock CJ (2001) Scrapie strains maintain biological phenotypes on propagation in a cell line in culture. EMBO J 20:3351–3358

Bockman JM, Prusiner SB, Tateishi J, Kingsbury DT (1987) Immunoblotting of Creutzfeldt–Jakob disease prion proteins: host species—specific epitopes. Ann Neurol 21:589–595

Boshtam M, Asgary S, Kouhpayeh S, Shariati L, Khanahmad H (2017) Aptamers against pro- and anti-inflammatory cytokines: a review. Inflammation 40:340–349

Brown AR, Webb J, Rebus S, Walker R, Williams A, Fazakerley JK (2003) Inducible cytokine gene expression in the brain in the ME7/CV mouse model of scrapie is highly restricted, is at a strikingly low level relative to the degree of gliosis and occurs only late in disease. J Gen Virol 84:2605–2611

Campbell IL, Eddleston M, Kemper P, Oldstone MB, Hobbs MV (1994) Activation of cerebral cytokine gene expression and its correlation with onset of reactive astrocyte and acute-phase response gene expression in scrapie. J Virol 68:2383

Cardile V, Malaponte G, Musumeci G, Libra M, Loreto C (2009) Increased release of pro-inflammatory cytokines and activation of phosphoinositide-specific phospholipase c in human alveolar epithelial A549 cells treated with mineral fibres. Toxicol Lett 189:S131

Clarke MC, Haig DA (1971) Multiplication of scrapie agent in mouse spleen. Res Vet Sci 12:195–197

Felton LM, Cunningham C, Rankine EL, Waters S, Boche D, Perry VH (2005) MCP-1 and murine prion disease: separation of early behavioural dysfunction from overt clinical disease. Neurobiol Dis 20:283–295

Galimberti D, Venturelli E, Fenoglio C, Lovati C, Guidi I, Scalabrini D, Mariani C, Bresolin N, Scarpini E (2010) IP-10 serum levels are not increased in mild cognitive impairment and Alzheimer's disease. Eur J Neurol 14:e3–e4

Gasque P, Dean YD, McGreal EP, VanBeek J, Morgan BP (2000) Complement components of the innate immune system in health and disease in the CNS. Immunopharmacology 49:171–186

Gossner A, Hunter N, Hopkins J (2006) Role of lymph-borne cells in the early stages of scrapie agent dissemination from the skin. Vet Immun Immunopathol 109:267–278

Hamilton JA, Whitty G, White AR, Jobling MF, Thompson A, Barrow CJ, Cappai R, Beyreuther K, Masters CL (2002) Alzheimer's disease amyloid beta and prion protein amyloidogenic peptides promote macrophage survival, DNA synthesis and enhanced proliferative response to CSF-1 (M-CSF). Brain Res 940:49–54

Hirsch EC, Hunot S (2009) Neuroinflammation in Parkinson's disease: a target for neuroprotection? Lancet Neurol 8:382–397

Hirsch EC, Vyas S, Hunot S (2012) Neuroinflammation in Parkinson's disease. Parkinsonism Relat Disord 18:S210–S212

Kim JI, Ju WK, Choi JH, Kim J, Choi EK, Carp RI, Wisniewski HM, Kim YS (1999) Expression of cytokine genes and increased nuclear factor-kappa B activity in the brains of scrapie-infected mice. Brain Res Mol Brain Res 73:17–27

Klöhn PC, Stoltze L, Flechsig E, Enari M, Weissmann C (2003) A quantitative, highly sensitive cell-based infectivity assay for mouse scrapie prions. Proc Natl Acad Sci USA 100:11666–11671

Lindell DM, Lane TE, Lukacs NW (2008) CXCL10/CXCR3-mediated responses promote immunity to respiratory syncytial virus infection by augmenting dendritic cell and CD8+T cell efficacy. Eur J Immunol 38:2168–2179

Little RF, Pluda JM, Wyvill KM, Rodriguez-Chavez IR, Tosato G, Catanzaro AT, Steinberg SM, Yarchoan R (2006) Activity of subcutaneous interleukin-12 in AIDS-related Kaposi sarcoma. Blood 107:4650–4657

Lu ZY, Baker CA, Manuelidis L (2004) New molecular markers of early and progressive CJD brain infection. J Cell Biochem 93:644–652

Marella M, Chabry J (2004) Neurons and astrocytes respond to prion infection by inducing microglia recruitment. J Neurosci Off J Soc Neurosci 24:620–627

Mehta J (2005) Cytokines in hematopoietic stem cell. Transplant Cancer Treat Res 126:333

Mohd Hasni DS, Lim SM, Chin AV, Tan MP, Poi PJ, Kamaruzzaman SB, Majeed AB, Ramasamy K (2017) Peripheral cytokines, C-X-C motif ligand10 and interleukin-13, are associated with Malaysian Alzheimer's disease. Geriatr Gerontol Int 17:839–846

Monnet C, Gavard J, Mège RM, Sobel A (2004) Clustering of cellular prion protein induces ERK1/2 and stathmin phosphorylation in GT1-7 neuronal cells Febs. Letters 576:114–118

Nordstrom E, Fisone G, Kristensson K (2009) Opposing effects of ERK and p38-JNK MAP kinase pathways on formation of prions in GT1-1 cells Faseb. J Off Publ Fed Am Soc Exp Biol 23:613

Prusiner SB (1998) Nobel lecture: prions. Proc Natl Acad Sci U S A 95:13363–13383

Reinisch VM, Krause DL, Müller N (2014) Neuroinflammation in Alzheimer's disease. In: Peterson P, Toborek M (eds) Neuroinflammation and neurodegeneration. Springer, New York, NY

Rocha NP, Scalzo PL, Barbosa IG, Souza MS, Morato IB, Vieira ÉL, Christo PP, Teixeira AL, Reis HJ (2014) Cognitive status correlates with CXCL10/IP-10 levels in Parkinson's disease. Parkinsons Dis 2014:903796

Saas P, Boucraut J, Quiquerez AL, Schnuriger V, Perrin G, Desplat-Jego S, Bernard D, Walker PR, Dietrich PY (1999) CD95 (Fas/Apo-1) as a receptor governing astrocyte apoptotic or inflammatory responses: a key role in brain inflammation? J Immunol 162:2326–2333

Santos VS, Goletti D, Kontogianni K, Adams ER, Molina-Moya B, Dominguez J, Crudu V, Martins-Filho PR, Ruhwald M, Lawson L, Bimba JS (2017) Acute phase proteins and IP-10 as triage tests for the diagnosis of tuberculosis: a systematic review and meta-analysis. J Neurol 264:2053–2067

Schultz J, Schwarz A, Neidhold S, Burwinkel M, Riemer C, Simon D, Kopf M, Otto M, Baier M (2004) Role of interleukin-1 in prion disease-associated astrocyte activation. Am J Pathol 165:671–678

Thackray AM, McKenzie AN, Klein MA, Lauder A, Bujdoso R (2004) Accelerated prion disease in the absence of interleukin-10. J Virol 78:13697–13707

Tribouillard-Tanvier D, Striebel JF, Peterson KE, Chesebro B (2009) Analysis of protein levels of 24 cytokines in scrapie agent-infected brain and glial cell cultures from mice differing in prion protein expression levels. J Virol 83:11244–11253

Venturelli E, Galimberti D, Fenoglio C, Lovati C, Finazzi D, Guidi I, Corrà B, Scalabrini D, Clerici F, Mariani C, Forloni G (2006) Candidate gene analysis of IP-10 gene in patients with Alzheimer's disease. Neurosci Lett 404:217–221

Völkel D, Zimmermann K, Zerr I, Lindner T, Bodemer M, Poser S, Schwarz HP (2001) C-reactive protein and IL-6: new marker proteins for the diagnosis of CJD in plasma? Transfusion 41:1509–1514

Wang J, Zhang BY, Zhang J, Xiao K, Chen LN, Wang H, Sun J, Shi Q, Dong XP (2016) Treatment of SMB-S15 cells with resveratrol efficiently removes the PrPSc accumulation in vitro and prion infectivity in vivo. Mol Neurobiol 53:5367–5376

Weissmann C (1994) Molecular biology of prion diseases. Trends Cell Biol 4:10–14

Wesa A, Galy A (2002) Increased production of pro-inflammatory cytokines and enhanced T cell responses after activation of human dendritic cells with IL-1 and CD40 ligand. BMC Immunol 3:14

Xiao K, Zhang BY, Zhang XM, Wang J, Chen C, Chen LN, Lv Y, Shi Q, Dong XP (2016) Re-infection of the prion from the scrapie-infected cell line SMB-S15 in three strains of mice, CD1, C57BL/6 and Balb/c. Int J Mol Med 37:716–726

Xie WL, Shi Q, Zhang J, Zhang BY, Gong HS, Guo Y, Wang SB, Xu Y, Wang K, Chen C, Liu Y (2013) Abnormal activation of microglia accompanied with disrupted CX3CR1/CX3CL1 pathway in the brains of the hamsters infected with scrapie agent 263K. J Mol Neurosci 51:919–932

Yang YT, Jin S (2018) Effect of PrP105-132 on the secretion of interleukin-6 and interleukin-8 from microglial cells in vitro. Exper Ther Med 15:999–1004

Yuan W, Xu W, Li Y, Jiang W, Li Y, Huang Q, Chen B, Wu S, Wang Y, Song W, Zhao W (2019) TAZ sensitizes EGFR wild-type non-small-cell lung cancer to gefitinib by promoting amphiregulin transcription. Cell Death Dis 10:283
Acknowledgements
This work was supported by the National Natural Science Foundation of China (81772197, 81401670 and 81630062), the Non-profit Central Research Institute Fund of Chinese Academy of Medical Sciences (2018RC330004), National Key R&D Program of China (2018YFC1200305Y), National Science and Technology Major Project of China (2018ZX10102001), SKLID Development Grant (2019SKLID401 and 2016SKLID603) and the Natural Science Foundation of Heilongjiang Province (C2018044).
Ethics declarations
Conflict of interest
All the authors declare that they have no conflict of interest.
Animal and Human Rights Statement
All procedures were approved and supervised by the Ethical Committee of the National Institute for Viral Disease Control and Prevention, China CDC. Usage of stored human CSF samples in the Center of Chinese CJD Surveillance System has been approved by the Ethics Committee of the National Institute for Viral Disease Control and Prevention, China CDC.
Electronic supplementary material
Below is the link to the electronic supplementary material.
About this article
Cite this article
Chen, J., Chen, C., Hu, C. et al. IP10, KC and M-CSF Are Remarkably Increased in the Brains from the Various Strains of Experimental Mice Infected with Different Scrapie Agents. Virol. Sin. 35, 614–625 (2020). https://doi.org/10.1007/s12250-020-00216-3
Received:

Accepted:

Published:

Issue Date:
Keywords
Prion

Cytokines

Interferon gamma-induced protein 10 (IP10)

Keratinocyte chemoattractant (KC)

Macrophage colony stimulating factor (M-CSF)