Abstract
Porcine adenoviruses (PAdVs) are classified into three species, PAdV-A, PAdV-B, and PAdV-C. The genomes of PAdV-A and PAdV-C have been well characterized. However, the genome of PAdV-B has never been completely sequenced, and the epidemiology of PAdV-B remains unclear. In our study, we have identified a novel strain of PAdV-B, named PAdV-B-HNU1, in porcine samples collected in China by viral metagenomic assay and general PCR. The genome of PAdV-B-HNU1 is 31,743 bp in length and highly similar to that of California sea lion adenovirus 1 (C. sea lion AdV-1), which contains typical mastadenoviral structures and some unique regions at the carboxy-terminal end. Especially, PAdV-B-HNU1 harbors a dUTPase coding region not clustering with other mastadenoviruses except for C. sea lion AdV-1 and a fiber coding region homologous with galectin 4 and 9 of animals. However, the variance of GC contents between PAdV-B-HNU1 (55%) and C. sea lion AdV-1 (36%) indicates their differential evolutionary paths. Further epidemiologic study revealed a high positive rate (51.7%) of PAdV-B-HNU1 in porcine lymph samples, but low positive rates of 10.2% and 16.1% in oral swabs and rectal swabs, respectively. In conclusion, this study characterized a novel representative genome of a lymphotropic PAdV-B with unique evolutionary origin, which contributes to the taxonomical and pathogenic studies of PAdVs.
Access options
Buy single article
Instant access to the full article PDF.
US$ 39.95
Tax calculation will be finalised during checkout.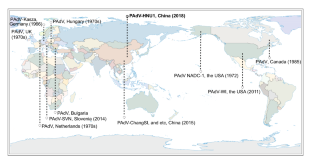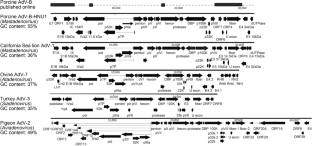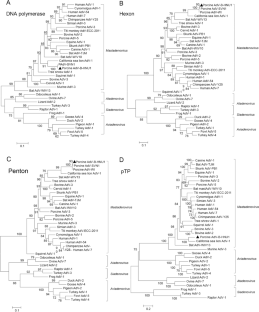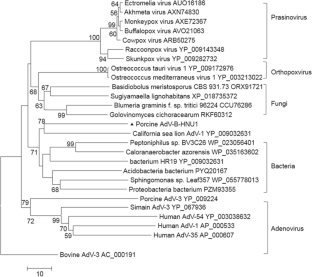 References
Arnberg N, Kidd AH, Edlund K, Olfat F, Wadell G (2000) Initial interactions of subgenus D adenoviruses with A549 cellular receptors: sialic acid versus alpha(v) integrins. J Virol 74:7691

Baldo AM, Mcclure MA (1999) Evolution and horizontal transfer of dUTPase-encoding genes in viruses and their hosts. J Virol 73:7710–7721

Benkö M, Harrach B (2003) Molecular evolution of adenoviruses. Curr Top Microbiol Immunol 272:3

Cao ZQ, Guo XL (2016) The role of galectin-4 in physiology and diseases. Protein Cell 7:314–324

Chen EC, Yagi S, Kelly KR, Mendoza SP, Tarara RP, Canfield DR, Maninger N, Rosenthal A, Spinner A, Bales KL (2011) Cross-species transmission of a novel adenovirus associated with a fulminant pneumonia outbreak in a new world monkey colony. PLoS Pathog 7:e1002155

Cortéshinojosa G, Gulland FM, Goldstein T, Vennwatson S, Rivera R, Waltzek TB, Salemi M Jr., Wellehan JF (2015) Phylogenomic characterization of California sea lion adenovirus-1. Infect Genet Evol 31:270–276

Cottone R, Büttner M, Mcinnes CJ, Wood AR, Rziha HJ (2002) Orf virus encodes a functional dUTPase gene. J Gen Virol 83:1043–1048

Dán A, Elo P, Harrach B, Zádori Z, Benko M (2001) Four new inverted terminal repeat sequences from bovine adenoviruses reveal striking differences in the length and content of the ITRs. Virus Genes 22:175

Darriba D, Taboada GL, Doallo R, Posada D (2011) ProtTest 3: fast selection of best-fit models of protein evolution. Bioinformatics 27:1164–1165

Davison AJ, Wright KM, Harrach B (2000) DNA sequence of frog adenovirus. J Gen Virol 81:2431

Davison AJ, Benko M, Harrach B (2003) Genetic content and evolution of adenoviruses. J Gen Virol 84:2895–2908

Deng L, Qin XB, Krell P, Lu R, Sharif S, Nagy E (2016) Characterization and functional studies of fowl adenovirus 9 dUTPase. Virology 497:251–261

Derbyshire JB, Clarke MC, Collins AP (1975) Serological and pathogenicity studies with some unclassified porcine adenoviruses. J Comp Pathol 85:437–443

Elazhary MA, Dea S, Mittal KR, Higgins R (1985) Prevalence of antibodies to swine influenza virus, porcine adenovirus type 4 and haemophilus pleuropneumoniae in quebec pig farms with respiratory problems. Can Vet J 26:190–192

Elsing A, Burgert HG (1998) The adenovirus E3/10.4K–14.5K proteins down-modulate the apoptosis receptor Fas/Apo-1 by inducing its internalization. Proc Natl Acad Sci USA 95:10072–10077

Ghebremedhin B (2014) Human adenovirus: viral pathogen with increasing importance. Eur J Microbiol Immunol 4:26–33

Glaser R, Litsky ML, Padgett DA, Baiocchi RA, Yang EV, Chen M, Yeh PE, Green-Church KB, Caligiuri MA, Williams MV (2006) EBV-encoded dUTPase induces immune dysregulation: Implications for the pathophysiology of EBV-associated disease. Virology 346:205–218

Goldstein T, Colegrove KM, Hanson M, Gulland FM (2011) Isolation of a novel adenovirus from California sea lions Zalophus californianus. Dis Aquat Organ 94:243–248

Guardado-Calvo P, Llamas-Saiz AL, Fox GC, Glasgow JN, van Raaij MJ (2010) Crystallization of the head and galectin-like domains of porcine adenovirus isolate NADC-1 fibre. Acta Crystallogr Sect F Struct Biol Cryst Commun 65:1149–1152

Guindon S, Dufayard J-F, Lefort V, Anisimova M, Hordijk W, Gascuel O (2010) New algorithms and methods to estimate maximum-likelihood phylogenies: assessing the performance of PhyML 3.0. Syst Biol 59:307–321

Haig DA, Clarke MC, Pereira MS (1964) Isolation of an adenovirus from a pig. J Comp Pathol 74:81

Harrach BBM, Both GW, Brown M, Davison AJ, Echavarría M, Hess M, Jones MS, Kajon A, Lehmkuhl HD, Mautner V, Mittal SK, Wadell G (2011) Family Adenoviridae. In: King A, Adams M, Lefkowitz E (eds) Virus taxonomy: classification and nomenclature of viruses—ninth report of the international committee on taxonomy of Viruses. Elsevier, San Diego, pp 25–41

Hayes BW, Telling GC, Myat MM, Williams JF, Flint SJ (1990) The adenovirus L4 100-kilodalton protein is necessary for efficient translation of viral late mRNA species. J Virol 64:2732

Hess M, Blöcker H, Brandt P (1997) The complete nucleotide sequence of the egg drop syndrome virus: an intermediate between mastadenoviruses and aviadenoviruses. Virology 238:145

Hirahara T, Yasuhara H, Matsui O, Yamanaka M, Tanaka M, Fukuyama S, Izumida A, Yoshiki K, Kodama K, Nakai M (1990) Isolation of porcine adenovirus from the respiratory tract of pigs in Japan. Nihon Juigaku Zasshi 52:407

Hiroaki I, Yasushi S, Tsunetada K, Akio H, Takeshi O, Yoshitsugu T, Koki A, Shigeaki O, Shudo Y (2008) Novel human adenovirus causing nosocomial epidemic keratoconjunctivitis. J Clin Microbiol 46:2002

Hoeben RC, Uil TG (2013) Adenovirus DNA replication. Cold Spring Harb Perspect Biol 5:a013003

Inoshima Y, Murakami T, Ishiguro N, Hasegawa K, Kasamatsu M (2013) An outbreak of lethal adenovirus infection among different otariid species. Vet Microbiol 165:455–459

Jerman UD, Kolenc M, Steyer A, Veranic P, Prijatelj MP, Kreft ME (2014) A novel strain of porcine adenovirus detected in urinary bladder urothelial cell culture. Viruses 6:2505–2518

Kasza L (1966) Isolation of an adenovirus from the brain of a pig. Am J Vet Res 27:751–758

Kearse M, Moir R, Wilson A, Stones-Havas S, Cheung M, Sturrock S, Buxton S, Cooper A, Markowitz S, Duran C, Thierer T, Ashton B, Meintjes P, Drummond A (2012) Geneious Basic: an integrated and extendable desktop software platform for the organization and analysis of sequence data. Bioinformatics 28:1647–1649

Kleiboeker SB (1994) Sequence analysis of putative E3, pVIII, and fiber genomic regions of a porcine adenovirus. Virus Res 31:17–25

Kohl C, Vidovszky MZ, Muhldorfer K, Dabrowski PW, Radonic A, Nitsche A, Wibbelt G, Kurth A, Harrach B (2012) Genome analysis of bat adenovirus 2: indications of interspecies transmission. J Virol 86:1888–1892

Koonin EV (1996) Pseudouridine synthases: four families of enzymes containing a putative uridine-binding motif also conserved in dUTPases and dCTP deaminases. Nucleic Acids Res 24:2411–2415

Kovács GM, Lapatra SE, D'Halluin JC, Benko M (2003) Phylogenetic analysis of the hexon and protease genes of a fish adenovirus isolated from white sturgeon (Acipenser transmontanus) supports the proposal for a new adenovirus genus. Virus Res 98:27–34

Kovács ER, Jánoska M, Dán Á, Harrach B, Benkő M (2010) Recognition and partial genome characterization by non-specific DNA amplification and PCR of a new siadenovirus species in a sample originating from Parus major, a great tit. J Virol Methods 163:262–268

Kumar S, Stecher G, Tamura K (2016) MEGA7: molecular evolutionary genetics analysis version 7.0 for bigger datasets. Mol Biol Evol 33:1870–1874

Li Y, Ge X, Zhang H, Zhou P, Zhu Y, Zhang Y, Yuan J, Wang LF, Shi Z (2010) Host range, prevalence, and genetic diversity of adenoviruses in bats. J Virol 84:3889–3897

Matsushima Y, Shimizu H, Kano A, Nakajima E, Ishimaru Y, Dey SK, Watanabe Y, Adachi F, Mitani K, Fujimoto T, Phan TG, Ushijima H (2013) Genome sequence of a novel virus of the species human adenovirus d associated with acute gastroenteritis. Genome Announc 1:e00068–00012

Nagy M, Nagy E, Tuboly T (2001) The complete nucleotide sequence of porcine adenovirus serotype 5. J Gen Virol 82:525–529

Payne SL, Elder JH (2001) The role of retroviral dUTPases in replication and virulence. Curr Protein Pept Sci 2:381–388

Reddy PS, Idamakanti N, Song JY, Lee JB, Hyun BH, Park JH, Cha SH, Bae YT, Tikoo SK, Babiuk LA (1998) Nucleotide sequence and transcription map of porcine adenovirus type 3. Virology 251:414–426

Roelvink P, Lizonova A, Lee J, Li Y, Bergelson J, Finberg R, Brough D, Kovesdi I, Wickham T (1998) The coxsackievirus-adenovirus receptor protein can function as a cellular attachment protein for adenovirus serotypes from subgroups A, C, D, E, and F. J Virol 72:7909–7915

Sanford SE, Hoover DM (1983) Enteric adenovirus infection in pigs. Can J Comp Med 47:396–400

Shadduck JA, Koestner A, Kasza L (1967) The lesions of porcine adenoviral infection in germfree and pathogen-free pigs. Pathol Vet 4:537

Short JJ, Vasu C, Holterman MJ, Curiel DT, Pereboev A (2006) Members of adenovirus species B utilize CD80 and CD86 as cellular attachment receptors. Virus Res 122:144–153

Sibley SD, Goldberg TL, Pedersen JA (2011) Detection of known and novel adenoviruses in cattle wastes via broad-spectrum primers. Appl Environ Microbiol 77:5001–5008

Tan B, Yang XL, Ge XY, Peng C, Liu HZ, Zhang YZ, Zhang LB, Shi ZL (2017) Novel bat adenoviruses with low G + C content shed new light on the evolution of adenoviruses. J Gen Virol 98:739–748

The HAdV Working Group (2019) http://hadvwg.emu.edu. Accessed 24 July 2019

Thompson JD, Gibson TJ, Higgins DG (2002) Multiple sequence alignment using ClustalW and ClustalX. Curr Protoc Bioinform Chapter 2:Unit 2.3

Vaitaitis GM, Wagner DH (2012) Galectin-9 controls CD40 signaling through a Tim-3 independent mechanism and redirects the cytokine profile of pathogenic T cells in autoimmunity. PLoS ONE 7:e38708

Weiss RS, Lee SS, Prasad BV, Javier RT (1997) Human adenovirus early region 4 open reading frame 1 genes encode growth-transforming proteins that may be distantly related to dUTP pyrophosphatase enzymes. J Virol 71:1857
Acknowledgements
This work was jointly funded by the National Key Research and Development Program of China (grant number 2017YFD0500104), the Hu-Xiang Youth Talents Scholar Program of Hunan Province (grant number 2017RS3017), the Science Fund for Distinguished Young Scholars of Hunan Province (grant number 2019JJ20004), National Natural Science Foundation of China (grant number 81902070), the Provincial Natural Science Foundation of Hunan Province (grant number 2019JJ50035) and the Fundamental Research Funds for the Central Universities of China (grant number 531107051162).
Ethics declarations
Conflict of interest
The authors declare that there are no conflicts of interest.
Animal and Human Rights Statement
All institutional and national guidelines for the care and use of laboratory animals were followed.
Additional information
The original online version of this article was revised: The Fig. 1 in this article is updated.
Electronic supplementary material
Below is the link to the electronic supplementary material.
About this article
Cite this article
Liu, SJ., Wang, Q., Li, TT. et al. Characterization of the First Genome of Porcine mastadenovirus B (HNU1 Strain) and Implications on Its Lymphoid and Special Origin. Virol. Sin. 35, 528–537 (2020). https://doi.org/10.1007/s12250-020-00210-9
Received:

Accepted:

Published:

Issue Date:
Keywords
Porcine adenovirus (PAdV)

PAdV-B

PAdV-B-HNU1

Lymphoid