Access options
Buy single article
Instant access to the full article PDF.
USD 39.95
Price excludes VAT (USA)
Tax calculation will be finalised during checkout.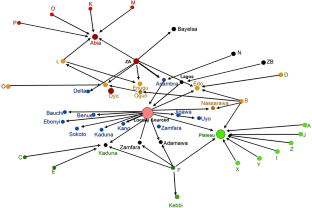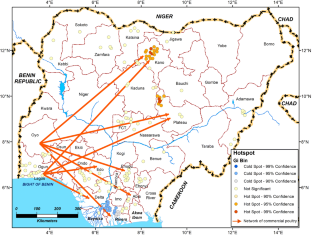 References
Aiki-Raji CO, Aguilar PV, Kwon YK, Goetz S, Suarez DL, Jethra AI, Nash O, Adeyefa CA, Adu FD, Swayne D, Basler CF (2008) Phylogenetics and pathogenesis of early avian influenza viruses (H5N1), Nigeria. Emerg Infect Dis 14:1753–1755

Aiki-Raji CO, Adebiyi AI, Agbajelola VI, Adetunji SA, Lameed Q, Adesina M, Adekanye G, Omidokun F, Fagbohun O, Oluwayelu DO (2015) Surveillance for low pathogenic avian influenza viruses in live-bird markets in Oyo and Ogun States, Nigeria. Asian Pac J Trop Dis 5:369–373

Alexander DJ (2007) An overview of the epidemiology of avian influenza. Vaccine 25:5637–5644

Coker T, Meseko C, Odaibo G, Olaleye D (2014) Circulation of the low pathogenic avian influenza subtype H5N2 virus in ducks at a live bird market in Ibadan. Nigeria Infect Dis Pov 3:38

Couacy-Hymann E, Kouakou VA, Aplogan GL, Awoume F, Kouakou CK, Kakpo L, Sharp BR, McClenaghan L, McKenzie P, Webster RG, Webby RJ, Ducatez MF (2012) Surveillance for influenza viruses in poultry and swine, West Africa, 2006–2008. Emerg Infect Dis 18:1446–1452

Fasina FO, Mokoele JM, Spencer BT, Van Leengoed LAML, Bevis Y, Booysen I (2015) Spatio-temporal patterns and movement analysis of pigs from smallholder farms and implications for African swine fever spread, Limpopo province. S Afr Onderstepoort J Vet Res 82:795

Fournié G, Guitian J, Desvaux S, Cuong VC, Dung DH, Pfeiffer DU, Manftani P, Ghani AC (2013) Interventions for avian influenza A (H5N1) risk management in live bird market networks. Proc Natl Acad Sci USA 110:9177–9182

Fusaro A, Nelson MI, Joannis TM, Bertolotti L, Monne I, Salviato A, Olaleye O, Shittu I, Sulaiman L, Lombin LH, Capua I, Holmes EC, Cattoli G (2010) Evolutionary dynamics of multiple sublineages of H5N1 influenza viruses in Nigeria from 2006 to 2008. J Virol 84:3239–3247

Grubesic TH, Murray AT (2001) Detecting hot spots using cluster analysis and GIS. In: Proceedings fifth annual international crime mapping research conference, vol 26. Dallas, Texas, USA

Joannis TM, Lombin LH, De Benedictis P, Cattoli G, Capua I (2006) Confirmation of H5N1 avian influenza in Africa. Vet Rec 158:309–310

Joannis TM, Meseko CA, Oladokun AT, Gulak H, Egbuji AN, Solomon P, Nyam DC, Gado D, Luka PD, Ogedengbe ME, Yakubu B, Tyem AD, Akinyede O, Shittu I, Sulaiman L, Owolodun OA, Olawuyi K, Obishakin E, Fasina FO (2008) Serologic and virologic surveillance of avian influenza in Nigeria, 2006–7. Eurosurveillance 13:1–5

Kitsak M, Gallos LK, Havlin S, Liljeros F, Muchnik L, Stanley HE, Makse HA (2010) Identification of influential spreaders in complex networks. Nat Phys 6:888–893

Lee DH, Bahl J, Torchetti MK, Killian ML, Ip HS, DeLiberto TJ, Swayne DE (2016) Highly pathogenic avian influenza viruses and generation of novel reassortants, United States, 2014–2015. Emerg Infect Dis 22:1283–1285

Meseko CA, Oladokun AT, Shehu B (2007) An outbreak of highly pathogenic avian influenza (HPAI) in a mixed farm by the introduction of a waterfowl. Nig Vet J 28:67–69

Monne I, Meseko C, Joannis TM, Shittu I, Ahmed M, Tassoni L, Fusaro A, Cattoli G (2015) Highly pathogenic avian influenza A (H5N1) virus in poultry, Nigeria, 2015. Emerg Infect Dis 21:1275–1277

Office International des Epizooties (OIE) (2016a) Highly pathogenic avian influenza, Nigeria; follow-up report No. 43. www.oie.int/wahis_2/public/wahid.php/Reviewreport/reportid=21559. Accessed 26 Dec 2016

Office International des Epizooties (OIE) (2016b) Highly pathogenic avian influenza, Nigeria; follow-up report No. 44. www.oie.int/wahis_2/public/wahid.php/Reviewreport/reportid=21616. Accessed 26 Dec 2016

Oluwayelu DO, Aiki-Raji CO, Adigun OT, Olofintuyi OK, Adebiyi AI (2015) Serological survey for avian influenza in turkeys in three states of southwestern Nigeria. Influenza Res Treat. https://doi.org/10.1155/2015/787890

Snoeck CJ, Adeyanju AT, De Landtsheer S, Ottosson U, Manu S, Hagemeijer W, Mundkur T, Muller CP (2011) Reassortant low-pathogenic avian influenza H5N2 viruses in African wild birds. J Gen Virol 92:1172–1183

Soares Magalhaes RJ, Ortiz-Pelaez A, Thi KL, Dinh QH, Otte J, Pfeiffer DU (2010) Associations between attributes of live poultry trade and HPAI H5N1 outbreaks: a descriptive and network analysis study in northern Vietnam. BMC Vet Res 6:10. https://doi.org/10.1186/1746-6148-6-10
Acknowledgements
We are grateful to Mr. Joseph Olumoyegun (Department of Geography, University of Ibadan, Ibadan, Nigeria) for his excellent contributions in preparing the figures in this manuscript.
Ethics declarations
Conflict of interest
The authors declare that they have no conflict of interest.
Animal and Human Rights Statement
This article does not contain any studies with human or animal subjects performed by any of the authors.
About this article
Cite this article
Oluwayelu, D.O., Meseko, C.A., Ayinmode, A.B. et al. Re-emergence of Highly Pathogenic Avian Influenza H5N1 in Nigeria, 2014–2016: Role of Social Network and Value Chain Forces in Interstate Transmission. Virol. Sin. 35, 494–498 (2020). https://doi.org/10.1007/s12250-020-00201-w
Received:

Accepted:

Published:

Issue Date:

DOI: https://doi.org/10.1007/s12250-020-00201-w