Abstract
Ticks are involved in the transmission of various arboviruses and some tick-borne viruses pose significant threats to the health of humans or livestock. This study aimed to investigate the geographical distribution of tick species and tick-associated viruses in central and eastern China. Total 573 ticks from domestic animals including dogs, sheep and cattle were collected in 2017. Two genera of ticks were identified including Rhipicephalus and Haemaphysalis. Sequencing was performed on Miseq Illumina platform to characterize the tick viromes from the four different sampling locations. Following trimming, 13,640 reads were obtained and annotated to 19 virus families. From these sequences, above 37.74% of the viral reads were related to the RNA viruses. Virome comparison study revealed that the tick viral diversity was considerably different in the two identified tick genera. The viral diversity of R. microplus was significantly different from that of other Rhipicephalus species. On the other hand, substantial overlap in viral species was observed between the same genera. In addition, we found no evidence that the natural host played a major role in shaping virus diversity based on the comparison of their viromes. Rather, the geographic location seems to significantly influence the viral families. Phylogenetic study indicated that the novel negative-sense RNA viruses identified in this study was closely related to Bole tick virus 1 and 3 viruses. In conclusion, the present study provides a baseline for comparing viruses detected in ticks, according to species, natural hosts, and geographic locations.
Access options
Buy single article
Instant access to the full article PDF.
USD 39.95
Price excludes VAT (USA)
Tax calculation will be finalised during checkout.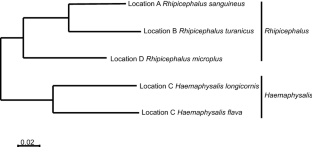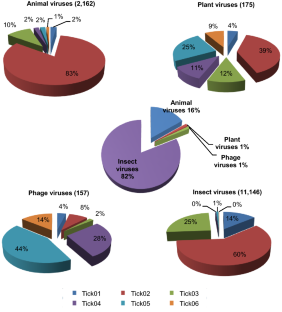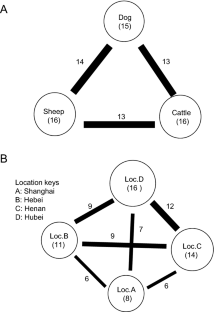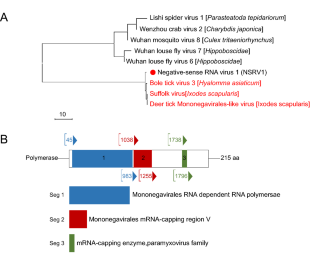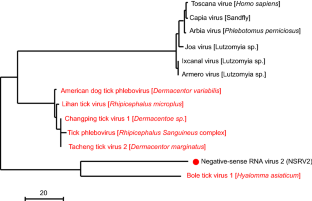 References
Ailawadi S, Wang X, Gu H, Fan GC (2015) Pathologic function and therapeutic potential of exosomes in cardiovascular disease. Biochim Biophys Acta 1:1–11

Aktas M, Altay K, Dumanli N (2006) A molecular survey of bovine Theileria parasites among apparently healthy cattle and with a note on the distribution of ticks in eastern Turkey. Vet Parasitol 138:179–185

Alkan C, Kasap OE, Alten B, de Lamballerie X, Charrel RN (2016) Sandfly-borne phlebovirus isolations from Turkey: new insight into the sandfly fever Sicilian and sandfly fever Naples species. PLoS Negl Trop Dis 10:e0004519

Bibby K, Peccia J (2013) Identification of viral pathogen diversity in sewage sludge by metagenome analysis. Environ Sci Technol 47:1945–1951

Bolling BG, Vasilakis N, Guzman H, Widen SG, Wood TG, Popov VL, Thangamani S, Tesh RB (2015) Insect-specific viruses detected in laboratory mosquito colonies and their potential implications for experiments evaluating arbovirus vector competence. Am J Trop Med Hyg 92:422–428

Dantas-Torres F, Chomel BB, Otranto D (2012) Ticks and tick-borne diseases: a one health perspective. Trends Parasitol 28:437–446

Deng X, Naccache SN, Ng T, Federman S, Li L, Chiu CY, Delwart EL (2015) An ensemble strategy that significantly improves de novo assembly of microbial genomes from metagenomic next-generation sequencing data. Nucleic Acids Res 43:e46

Diuk-Wasser MA, Vannier E, Krause PJ (2016) Coinfection by Ixodes tick-borne pathogens: ecological, epidemiological, and clinical consequences. Trends Parasitol 32:30–42

Eisen RJ, Kugeler KJ, Eisen L, Beard CB, Paddock CD (2017) Tick-borne zoonoses in the United States: persistent and emerging threats to human health. ILAR J 58:319–335

Elliott RM, Brennan B (2014) Emerging phleboviruses. Curr Opin Virol 5:50–57

Finn RD, Clements J, Eddy SR (2011) HMMER web server: interactive sequence similarity searching. Nucleic Acids Res 39:W29–W37

Finn R, Mistry J, Tate J, Coggill P, Heger A, Hetherington K, Holm L, Mistry J, Sonnhammer EL, Tate J, Punta M (2014) Pfam: the protein families database. Nucleic Acids Res. https://doi.org/10.1093/nar/gkt1223

Kilpatrick AM, Randolph SE (2012) Drivers, dynamics, and control of emerging vector-borne zoonotic diseases. The Lancet 380:1946–1955

Li CX, Shi M, Tian JH, Lin XD, Kang YJ, Chen LJ, Qin XC, Xu J, Holmes EC, Zhang YZ (2015) Unprecedented genomic diversity of RNA viruses in arthropods reveals the ancestry of negative-sense RNA viruses. Elife 4:e05378

Luo L-M, Zhao L, Wen H-L, Zhang Z-T, Liu J-W, Fang L-Z, Xue Z-F, Ma D-Q, Zhang X-S, Ding S-J (2015) Haemaphysalis longicornis ticks as reservoir and vector of severe fever with thrombocytopenia syndrome virus in China. Emerg Infect Dis 21:1770

Manukian D, Oganesian A, Shakhnazarian S, Aleksanian I (2006) The species composition of mosquitoes and ticks in Armenia. Med Parazitol 1:31–33 (In Russian)

Meng F, Ding M, Tan Z, Zhao Z, Xu L, Wu J, He B, Tu C (2019) Virome analysis of tick-borne viruses in Heilongjiang Province, China. Ticks Tick Borne Dis 10:412–420

Pettersson JH, Shi M, Bohlin J, Eldholm V, Brynildsrud OB, Paulsen KM, Andreassen Å, Holmes EC (2017) Characterizing the virome of Ixodes ricinus ticks from northern Europe. Sci Rep 7:10870

Rizzoli A, Silaghi C, Obiegala A, Rudolf I, Hubálek Z, Földvári G, Plantard O, Vayssier-Taussat M, Bonnet S, Špitalská E (2014) Ixodes ricinus and its transmitted pathogens in urban and peri-urban areas in Europe: new hazards and relevance for public health. Frontiers Public Health 2:251

Rosario K, Breitbart M (2011) Exploring the viral world through metagenomics. Curr Opin Virol 1:289–297

Shah SZ, Basit Jabbar NA, Rehman A, Nasir H, Nadeem S, Jabbar I, ur Rahman Z, Azam S (2018) Epidemiology, pathogenesis, and control of a tick-borne disease-Kyasanur Forest disease: current status and future directions. Front Cell Infect Microbiol 8:149

Shi M, Lin XD, Vasilakis N, Tian JH, Li CX, Chen LJ, Eastwood G, Diao XN, Chen MH, Chen X, Qin XC, Widen SG, Wood TG, Tesh RB, Xu J, Holmes EC, Zhang YZ (2015) Divergent viruses discovered in arthropods and vertebrates revise the evolutionary history of the flaviviridae and related viruses. J Virol 90:659–669

Shi J, Hu Z, Deng F, Shen S (2018) Tick-borne viruses. Virol Sin 33:21–43

Szabó MP, Mangold AJ, João CF, Bechara GH, Guglielmone AA (2005) Biological and DNA evidence of two dissimilar populations of the Rhipicephalus sanguineus tick group (Acari: Ixodidae) in South America. Vet Parasitol 130:131–140

Tan Z, Yu H, Xu L, Zhao Z, Zhang P, Qu Y, He B, Tu C (2019) Virome profiling of rodents in Xinjiang Uygur Autonomous Region, China: isolation and characterization of a new strain of Wenzhou virus. Virology 529:122–134

Tokarz R, Williams SH, Sameroff S, Leon MS, Jain K, Lipkin WI (2014) Virome analysis of Amblyomma americanum, Dermacentor variabilis, and Ixodes scapularis ticks reveals novel highly divergent vertebrate and invertebrate viruses. J Virol 88:11480–11492

Tree MO, McKellar DR, Kieft KJ, Watson AM, Ryman KD, Conway MJ (2016) Insect-specific flavivirus infection is restricted by innate immunity in the vertebrate host. Virology 497:81–91

Xia H, Hu C, Zhang D, Tang S, Zhang Z, Kou Z, Fan Z, Bente D, Zeng C, Li T (2015) Metagenomic profile of the viral communities in Rhipicephalus spp. ticks from Yunnan, China. PLoS ONE 10:0121609

Yu XJ, Liang MF, Zhang SY, Liu Y, Li JD, Sun YL, Zhang L, Zhang QF, Popov VL, Li C et al (2011) Fever with thrombocytopenia associated with a novel bunyavirus in China. N Engl J Med 364:1523–1532

Zhang YZ, Shi M, Holmes EC (2018) Using metagenomics to characterize an expanding virosphere. Cell 172:1168–1172
Acknowledgements
This work was supported by the National Key Research and Development Program of China (2017YFC1200202) and the Shanghai Pudong New Area Science and Technology Development Fund (Grant No. PKJ2018-N02).
Ethics declarations
Conflict of interest
The authors declare that they have no conflict of interest.
Animal and Human Rights Statement
This article does not contain any studies with human or animal subjects performed by any of the authors.
About this article
Cite this article
Zhao, T., Gong, H., Shen, X. et al. Comparison of Viromes in Ticks from Different Domestic Animals in China. Virol. Sin. 35, 398–406 (2020). https://doi.org/10.1007/s12250-020-00197-3
Received:

Accepted:

Published:

Issue Date:

DOI: https://doi.org/10.1007/s12250-020-00197-3
Keywords
Ticks

Viral metagenomics

Virome