Access options
Buy single article
Instant access to the full article PDF.
US$ 39.95
Tax calculation will be finalised during checkout.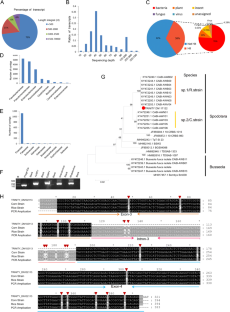 References
Bentivenha JPF, Rodrigues JG, Lima MF, Marcon P, Popham HJR, Omoto C (2019) Baseline Susceptibility of Spodoptera frugiperda (Lepidoptera: Noctuidae) to SfMNPV and evaluation of cross-resistance to major insecticides and bt proteins. J Econ Entomol 112:91–98

Buchfink B, Xie C, Huson DH (2015) Fast and sensitive protein alignment using DIAMOND. Nat Methods 12:59–60

Carneiro TR, Fernandes OA (2012) Interspecific interaction between Telenomus remus (Hymenoptera: Platygastridae) and Trichogramma pretiosum (Hymenoptera: Trichogrammatidae) on Spodoptera frugiperda (Lepidoptera: Noctuidae) eggs. Anais Da Academia Brasileira De Ciencias 84:1127–1135

Cock MJW, Beseh PK, Buddie AG, Cafa G, Crozier J (2017) Molecular methods to detect Spodoptera frugiperda in Ghana, and implications for monitoring the spread of invasive species in developing countries. Sci Rep 7:4103

Cruz-Avalos AM, Bivián-Hernández MD, Ibarra JE, Del Rincón-Castro MC (2019) High virulence of Mexican entomopathogenic fungi againse fall armyworm, (Lepidoptera: Noctuidae). J Econ Entomol 112:99–107

Early R, González-Moreno P, Murphy ST, Day R (2018) Forecasting the global extent of invasion of the cereal pest Spodoptera frugiperda, the fall armyworm. NeoBiota 40:25–50

Goergen G, Kumar PL, Sankung SB, Togola A, Tamo M (2016) First report of outbreaks of the fall armyworm Spodoptera frugiperda (J E Smith) (Lepidoptera, Noctuidae), a New Alien invasive pest in West and Central Africa. PLoS ONE 11:e0165632

Guo JF, Zhao JZ, He K, Zhang F, Wang Z (2018) Watch out for the invasion of S. frugiperda to China. Plant Protect 44:5–14

Harrison RD, Thierfelder C, Baudron F, Chinwada P, Midega C, Schaffner U, van den Berg J (2019) Agro-ecological options for fall armyworm (Spodoptera frugiperda JE Smith) management: providing low-cost, smallholder friendly solutions to an invasive pest. J Environ Manage 243:318–330

Huson DH, Beier S, Flade I, Gorska A, El-Hadidi M, Mitra S, Ruscheweyh HJ, Tappu R (2016) MEGAN community edition—interactive exploration and analysis of large-scale microbiome sequencing data. PLoS Comput Biol 12:e1004957

Juarez ML, Murua MG, Garcia MG, Ontivero M, Vera MT, Vilardi JC, Groot AT, Castagnaro AP, Gastaminza G, Willink E (2012) Host association of Spodoptera frugiperda (Lepidoptera: Noctuidae) corn and rice strains in Argentina, Brazil, and Paraguay. J Econ Entomol 105:573–582

Kakumani PK, Malhotra P, Mukherjee SK, Bhatnagar RK (2014) A draft genome assembly of the army worm, Spodoptera frugiperda. Genomics 104:134–143

Kenis M, du Plessis H, Van den Berg J, Ba MN, Goergen G, Kwadjo KE, Baoua I, Tefera T, Buddie A, Cafa G, Offord L, Rwomushana I, Polaszek A (2019) Telenomus remus, a candidate parasitoid for the biological control of Spodoptera Frugiperda in Africa, is already Present on the Continent. Insects 10:92

Li S-J, Huang J-P, Chang Y-Y, Quan S-Y, Yi W-T, Chen Z-S, Liu S-Q, Cheng X-W, Huang G-H (2015) Development of Microplitis similis (Hymenoptera: Braconidae) on two candidate host species, Spodoptera litura and Spodoptera exigua (Lepidoptera: Noctuidae). Fla Entomol 98:736–741

López MA, Martínez-Castillo AM, García-Gutiérrez C, Cortez-Mondaca E, Escobedo-Bonilla CM (2018) Parasitoids and entomopathogens associated with fall armyworm, Spodoptera frugiperda, in Northern Sinaloa. Southwestern Entomologist 43:867–882

Molina-Ochoa J, Carpenter JE, Heinrichs EA, Foster JE (2003) Parasitoids and parasites of Spodoptera frugiperda (Lepidoptera: Noctuidae) in the Americas and Caribbean Basin: an inventory. Fla Entomol 86:254–289

Nagoshi RN (1938) The fall armyworm triose phosphate isomerase (Tpi) gene as a marker of strain identity and interstrain mating. Ann Entomol Soc Am 103:283–292

Ou-Yang YY, Zhao YP, Hopkins RJ, Chen XY, Huang GH, Wang X (2018) Parasitism of Two Spodoptera spp. by Microplitis prodeniae (Hymenoptera: Braconidae). J Econ Entomol 111:1131–1136

Zhang L, Jin MH, Zhang DD, Jinag YY, Liu J, Wu KM, Xiao YT (2019) Molecular identification of invasive fall armyworm Spodoptera frugiperda in Yunnan Province. Plant protection 45:19–24
Acknowledgement
This research was supported by the grant from the National Key R&D Program of China (2017YFD0200400).
Ethics declarations
Conflict of interest
The authors have declared no competing interests.
Animal and human rights statement
This article does not contain any studies with human or animal subjects performed by any of the authors.
Electronic supplementary material
Below is the link to the electronic supplementary material.
About this article
Cite this article
Shi, J., Li, W., Wang, Y. et al. Meta-Transcriptome Profiling of Novel Invasive Pest Spodoptera frugiperda in Yunnan, China. Virol. Sin. 35, 240–244 (2020). https://doi.org/10.1007/s12250-019-00188-z
Received:

Accepted:

Published:

Issue Date: