Abstract
Grass carp reovirus (GCRV), the genus Aquareovirus in family Reoviridae, is viewed as the most pathogenic aquareovirus. To understand the molecular mechanism of how aquareovirus initiates productive infection, the roles of endosome and microtubule in cell entry of GCRV are investigated by using quantum dots (QDs)-tracking in combination with biochemical approaches. We found that GCRV infection and viral protein synthesis were significantly inhibited by pretreating host cells with endosome acidification inhibitors NH4Cl, chloroquine and bafilomycin A1 (Bafi). Confocal images indicated that GCRV particles could colocalize with Rab5, Rab7 and lysosomes in host cells. Further ultrastructural examination validated that viral particle was found in late endosomes. Moreover, disruption of microtubules with nocodazole clearly blocked GCRV entry, while no inhibitory effects were observed with cytochalasin D treated cells in viral infection, hinting that intracellular transportation of endocytic uptake in GCRV infected cells is via microtubules but not actin filament. Notably, viral particles were observed to transport along microtubules by using QD-labeled GCRV. Altogether, our results suggest that GCRV can use endosomes and microtubules to initiate productive infection.
Access options
Buy single article
Instant access to the full article PDF.
US$ 39.95
Tax calculation will be finalised during checkout.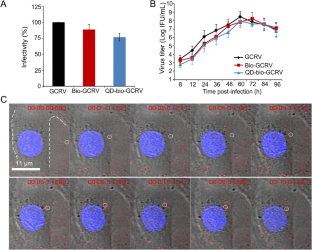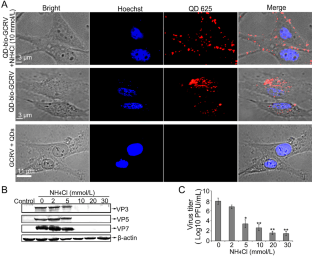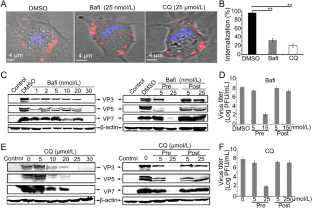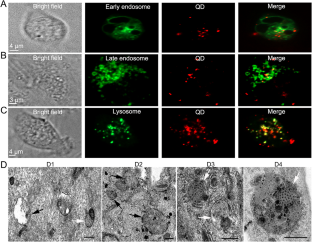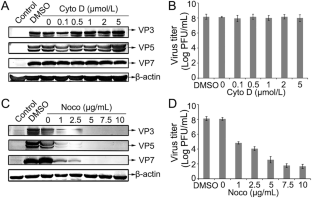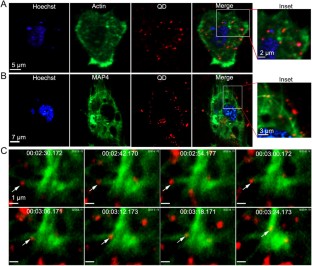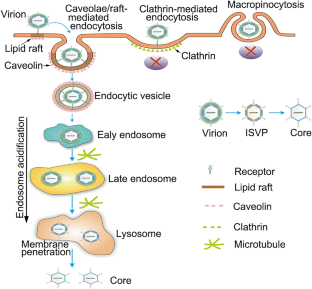 References
Bruchez M, Moronne M, Gin P, Weiss S, Alivisatos AP (1998) Semiconductor nanocrystals as fluorescent biological labels. Science 281:2013–2016

Chandran K, Walker SB, Chen Y, Contreras CM, Schiff LA, Baker TS, Nibert ML (1999) In vitro recoating of reovirus cores with baculovirus-expressed outer-capsid proteins μ1 and ς3. J Virol 73:3941–3950

Chandran K, Farsetta DL, Nibert ML (2002) Strategy for nonenveloped virus entry: a hydrophobic conformer of the reovirus membrane penetration protein μ1 mediates membrane disruption. J Virol 76:9920–9933

Chen Q, Guo H, Zhang F, Fang Q (2018) N-terminal myristoylated VP5 is required for penetrating cell membrane and promoting infectivity in aquareoviruses. Virol Sin 33:287–290

Doherty GJ, McMahon HT (2009) Mechanisms of endocytosis. Annu Rev Biochem 78:857–902

Eilers U, Klumperman J, Hauri H-P (1989) Nocodazole, a microtubule-active drug, interferes with apical protein delivery in cultured intestinal epithelial cells (Caco-2). J Cell Biol 108:13–22

Fan C, Shao L, Fang Q (2010) Characterization of the nonstructural protein NS80 of grass carp reovirus. Arch Virol 155:1755–1763

Fang Q, Ke L, Cai Y (1989) Growth characterization and high titre culture of GCHV. Virol Sin 4:315–319

Fang Q, Shah S, Liang Y, Zhou H (2005) 3D reconstruction and capsid protein characterization of grass carp reovirus. Sci China C Life Sci 48:593–600

Fang Q, Seng E, Ding Q, Zhang L (2008) Characterization of infectious particles of grass carp reovirus by treatment with proteases. Arch Virol 153:675–682

Forzan M, Marsh M, Roy P (2007) Bluetongue virus entry into cells. J Virol 81:4819–4827

Furlong DB, Nibert M, Fields B (1988) Sigma 1 protein of mammalian reoviruses extends from the surfaces of viral particles. J Virol 62:246–256

Guo H, Sun X, Yan L, Shao L, Fang Q (2013) The NS16 protein of aquareovirus-C is a fusion-associated small transmembrane (FAST) protein, and its activity can be enhanced by the nonstructural protein NS26. Virus Res 171:129–137

Huang WR, Wang YC, Chi PI, Wang L, Wang CY, Lin CH, Liu HJ (2011) Cell entry of avian reovirus follows a caveolin-1-mediated and dynamin-2-dependent endocytic pathway that requires activation of p38 mitogen-activated protein kinase (MAPK) and Src signaling pathways as well as microtubules and small GTPase Rab5 protein. J Biol Chem 286:30780–30794

Jaafar FM, Goodwin AE, Belhouchet M, Merry G, Fang Q, Cantaloube J-F, Biagini P, de Micco P, Mertens PP, Attoui H (2008) Complete characterisation of the American grass carp reovirus genome (genus Aquareovirus: family Reoviridae) reveals an evolutionary link between aquareoviruses and coltiviruses. Virology 373:310–321

Ke L, Fang Q, Cai Y (1990) Characteristics of a novel isolate of grass carp haemorrhagic virus. Acta Hydrobiol Sin 14:153–159

King AM, Lefkowitz E, Adams MJ, Carstens EB (2011) Virus taxonomy: 9th report of the international committee on taxonomy of viruses vol 9, Elsevier

Li X, Fang Q (2013) High-resolution 3D structures reveal the biological functions of reoviruses. Virol Sin 28:318–325

Liu H-J, Lin P-Y, Wang L-R, Hsu H-Y, Liao M-H, Shih W-L (2008) Activation of small GTPases RhoA and Rac1 is required for avian reovirus p10-induced syncytium formation. Mol Cell 26:396–403

Liu S-L, Zhang Z-L, Tian Z-Q, Zhao H-S, Liu H, Sun E-Z, Xiao GF, Zhang W, Wang H-Z, Pang D-W (2011) Effectively and efficiently dissecting the infection of influenza virus by quantum-dot-based single-particle tracking. ACS Nano 6:141–150

Lopez S, Arias C (2010) How viruses hijack endocytic machinery. Nat Educ 3:16–23

Mabit H, Nakano MY, Prank U, Saam B, Döhner K, Sodeik B, Greber UF (2002) Intact microtubules support adenovirus and herpes simplex virus infections. J Virol 76:9962–9971

Maginnis MS, Mainou BA, Derdowski A, Johnson EM, Zent R, Dermody TS (2008) NPXY motifs in the β1 integrin cytoplasmic tail are required for functional reovirus entry. J Virol 82:3181–3191

Mainou BA, Dermody TS (2011) SRC kinase mediates productive endocytic sorting of reovirus during cell entry. J Virol 85:3203–3213

Mainou BA, Dermody TS (2012) Transport to late endosomes is required for efficient reovirus infection. J Virol 86:8346–8358

Mainou BA, Zamora PF, Ashbrook AW, Dorset DC, Kim KS, Dermody TS (2013) Reovirus cell entry requires functional microtubules. MBio 4:e00405–e00413

McDonald D, Vodicka MA, Lucero G, Svitkina TM, Borisy GG, Emerman M, Hope TJ (2002) Visualization of the intracellular behavior of HIV in living cells. J Cell Biol 159:441–452

Medintz IL, Uyeda HT, Goldman ER, Mattoussi H (2005) Quantum dot bioconjugates for imaging, labelling and sensing. Nat Mater 4:435

Nicola AV, Aguilar HC, Mercer J, Ryckman B, Wiethoff CM (2013) Virus entry by endocytosis. Adv Virol. https://doi.org/10.1155/2013/469538

Patel A, Mohl B-P, Roy P (2016) Entry of bluetongue virus capsid requires the late endosome-specific lipid lysobisphosphatidic acid. J Biol Chem 291:12408–12419

Rangel AA, Rockemann DD, Hetrick FM, Samal SK (1999) Identification of grass carp haemorrhage virus as a new genogroup of aquareovirus. J General Virol 80:2399–2402

Rao Y, Su J (2015) Insights into the antiviral immunity against grass carp (Ctenopharyngodon idella) reovirus (GCRV) in grass carp. J Immunol Res. https://doi.org/10.1155/2015/670437

Salsman J, Top D, Boutilier J, Duncan R (2005) Extensive syncytium formation mediated by the reovirus FAST proteins triggers apoptosis-induced membrane instability. J Virol 79:8090–8100

Sánchez EG, Quintas A, Pérez-Núñez D, Nogal M, Barroso S, Carrascosa ÁL, Revilla Y (2012) African swine fever virus uses macropinocytosis to enter host cells. PLoS Pathogens 8:e1002754

Schulz WL, Haj AK, Schiff LA (2012) Reovirus uses multiple endocytic pathways for cell entry. J Virol 86:12665–12675

Shao L, Guo H, Yan L-M, Liu H, Fang Q (2013) Aquareovirus NS80 recruits viral proteins to its inclusions, and its C-terminal domain is the primary driving force for viral inclusion formation. PLoS ONE 8:e55334

Silverstein SC, Astell C, Levin DH, Schonberg M, Acs G (1972) The mechanisms of reovirus uncoating and gene activation in vivo. Virology 47:797–806

Stenmark H (2009) Rab GTPases as coordinators of vesicle traffic. Nat Rev Mol Cell Biol 10:513

Sturzenbecker L, Nibert M, Furlong D, Fields B (1987) Intracellular digestion of reovirus particles requires a low pH and is an essential step in the viral infectious cycle. J Virol 61:2351–2361

Suomalainen M, Greber UF (2013) Uncoating of non-enveloped viruses. Curr Opin Virol 3:27–33

Wang Q, Zeng W, Liu C, Zhang C, Wang Y, Shi C, Wu S (2012) Complete genome sequence of a reovirus isolated from grass carp, indicating different genotypes of GCRV in China. J Virol 86:12466

Yan L, Zhang J, Guo H, Yan S, Chen Q, Zhang F, Fang Q (2015) Aquareovirus NS80 initiates efficient viral replication by retaining core proteins within replication-associated viral inclusion bodies. PLoS ONE 10:e0126127

Yan S, Zhang J, Guo H, Yan L, Chen Q, Zhang F, Fang Q (2015) VP5 autocleavage is required for efficient infection by in vitro-recoated aquareovirus particles. J Gen Virol 96:1795–1800

Zhang F, Zheng Z, Liu S-L, Lu W, Zhang Z, Zhang C, Zhou P, Zhang Y, Long G, He Z (2013) Self-biotinylation and site-specific double labeling of baculovirus using quantum dots for single-virus in situ tracking. Biomaterials 34:7506–7518

Zhang F, Yan S, Guo H, Chen Q, Fang Q (2017) Characterization of viral entry and infection of quantum dot-labeled grass carp reovirus. Virol Sin 32:163–166

Zhang F, Guo H, Zhang J, Chen Q, Fang Q (2018) Identification of the caveolae/raft-mediated endocytosis as the primary entry pathway for aquareovirus. Virology 513:195–207
Acknowledgements
We thank Prof. Hanzhong Wang for providing plasmids encoding Rab5, Rab7, actin and MAP4; Ding Gao, Anna Du and Pei Zhang for ultrathin section preparation and EM observation. We also thank the support from "Center for Instrumental Analysis and Metrology, the Core Facility and Technical Support, Wuhan Institute of Virology". This work is supported in part by grants from the National Natural Science Foundation of China (31672693, 31972838 and 31400139, 31372565).
Ethics declarations
Conflict of interest
The authors declare that they have no conflict of interest.
Animal and Human Rights Statement
This article does not contain any studies with human or animal subjects performed by any of the authors.
Electronic Supplementary Material
About this article
Cite this article
Zhang, F., Guo, H., Chen, Q. et al. Endosomes and Microtubles are Required for Productive Infection in Aquareovirus. Virol. Sin. 35, 200–211 (2020). https://doi.org/10.1007/s12250-019-00178-1
Received:

Accepted:

Published:

Issue Date:
Keywords
Aquareovirus

Cell entry

Quantum dot

Endosome

Microtubule