Access options
Buy single article
Instant access to the full article PDF.
USD 39.95
Price excludes VAT (USA)
Tax calculation will be finalised during checkout.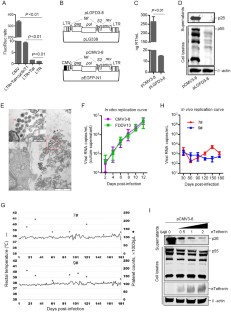 References
Bieniasz PD, Grdina TA, Bogerd HP, Cullen BR (1999) Highly divergent lentiviral Tat proteins activate viral gene expression by a common mechanism. Mol Cell Biol 19:4592–4599

Carvalho M, Derse D (1991) Mutational analysis of the equine infectious anemia virus Tat-responsive element. J Virol 65:3468–3474

Cook RF, Leroux C, Cook SJ, Berger SL, Lichtenstein DL, Ghabrial NN, Montelaro RC, Issel CJ (1998) Development and characterization of an in vivo pathogenic molecular clone of equine infectious anemia virus. J Virol 72:1383–1393

Cook RF, Leroux C, Issel CJ (2013) Equine infectious anemia and equine infectious anemia virus in 2013: a review. Vet Microbiol 167:181–204

Craigo JK, Montelaro RC (2013) Lessons in AIDS vaccine development learned from studies of equine infectious, anemia virus infection and immunity. Viruses 5:2963–2976

Du C, Ma J, Liu Q, Li YF, He XJ, Lin YZ, Wang XF, Meng QW, Wang X, Zhou JH (2015) Mice transgenic for equine cyclin T1 and ELR1 are susceptible to equine infectious anemia virus infection. Retrovirology 12:36

Frech K, Brack-Werner R, Werner T (1996) Common modular structure of lentivirus LTRs. Virology 224:256–267

He X, Shao YM, Xue F, Fan XJ, Shen RX (2003) Construction of infectious chimeric clones of equine infectious anemia virus (EIAV). Chin J Virol 19:128–132

Jiang CG, Gao X, Ma J, Lin YZ, Wang XF, Zhao LP, Hua YP, Liu D, Zhou JH (2011) C-terminal truncation of the transmembrane protein of an attenuated lentiviral vaccine alters its in vitro but not in vivo replication and weakens its potential pathogenicity. Virus Res 158:235–245

Ma J, Wang SS, Lin YZ, Liu HF, Wei HM, Du C, Wang XF, Zhou JH (2013) An attenuated EIAV strain and its molecular clone strain differentially induce the expression of Toll-like receptors and type-I interferons in equine monocyte-derived macrophages. Vet Microbiol 166:263–269

Shen T, Liang H, Tong X, Fan X, He X, Ma Y, Xiang W, Shen R, Zhang X, Shao Y (2006) Amino acid mutations of the infectious clone from Chinese EIAV attenuated vaccine resulted in reversion of virulence. Vaccine 24:738–749

Wang XF, Lin YZ, Li Q, Liu Q, Zhao WW, Du C, Chen J, Wang X, Zhou JH (2016) Genetic evolution during the development of an attenuated EIAV vaccine. Retrovirology 13:9

Wang XF, Liu Q, Wang YH, Wang S, Chen J, Lin YZ, Ma J, Zhou JH, Wang X (2018) Characterization of equine infectious anemia virus long terminal repeat quasispecies in vitro and in vivo. J Virol 92:e02117–e02150

Yin X, Hu Z, Gu Q, Wu X, Zheng YH, Wei P, Wang X (2014) Equine tetherin blocks retrovirus release and its activity is antagonized by equine infectious anemia virus envelope protein. J Virol 88:1259–1270
Acknowledgements
This work is supported by grants from the National Natural Science Foundation of China (31672578 to X-F W), the Chinese Postdoctoral Science Foundation Project (2015M571386 to X-F W), and the Postdoctoral Foundation of Heilongjiang Province, China (LBH-Z14033).
Ethics declarations
Conflict of interest
The authors declare that they have no conflict of interest.
Animal and Human Rights Statement
Animal experiments in this study were approved by the Ethics Committees of Harbin Veterinary Research Institute (HVRI), Chinese Academy of Agricultural Sciences (CAAS).
Additional information
Xue-Feng Wang and Bowen Bai have contributed equally to this work.
About this article
Cite this article
Wang, XF., Bai, B., Lin, Y. et al. High-Efficiency Rescue of Equine Infectious Anemia Virus from a CMV-Driven Infectious Clone. Virol. Sin. 34, 725–728 (2019). https://doi.org/10.1007/s12250-019-00153-w
Received:

Accepted:

Published:

Issue Date:

DOI: https://doi.org/10.1007/s12250-019-00153-w