Abstract
Since late 2011, outbreaks of pseudorabies virus (PRV) have occurred in southern China causing major economic losses to the pig industry. We previously reported that variant PRV forms and recombination in China could be the source of continued epidemics. Here, we analyzed samples from intensive pig farms in eastern China between 2017 and 2019, and sequenced the main glycoproteins (gB, gC, gD, and gE) to study the evolution characteristics of PRV. Based on the gC gene, we found that PRV variants belong to clade 2 and detected a founder effect during by the PRV epidemic. In addition, we detected inter- and intra-clade recombination; in particular, inter-clade recombination in the gB genes of strains FJ-ZXF and FJ-W2, which were recombinant with clade 1 strains. We also found specific amino-acid changes and positively selected sites, possibly associated with functional changes. This analysis of the emergence of PRV in China illustrates the need for continuous monitoring and the development of vaccines against specific variants of PRV.
Access options
Buy single article
Instant access to the full article PDF.
USD 39.95
Price excludes VAT (USA)
Tax calculation will be finalised during checkout.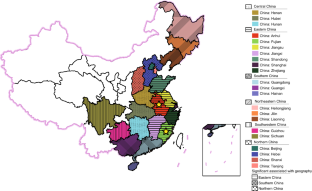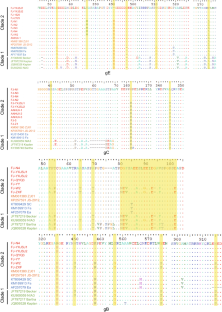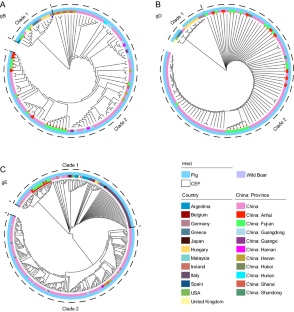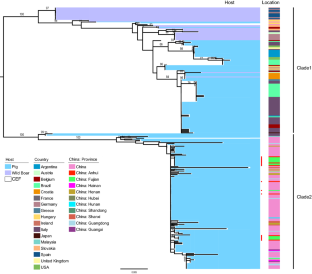 References
An TQ, Peng JM, Tian ZJ, Zhao HY, Li N, Liu YM, Chen JZ, Leng CL, Sun Y, Chang D, Tong GZ (2013) Pseudorabies virus variant in bartha-k61-vaccinated pigs, China, 2012. Emerg Infect Dis 19:1749–1755

Delport W, Poon AFY, Frost SDW, Pond SLK (2010) Datamonkey 2010: a suite of phylogenetic analysis tools for evolutionary biology. Bioinformatics 26:2455–2457

Drummond AJ, Rambaut A (2007) BEAST: Bayesian evolutionary analysis by sampling trees. BMC Evol Biol 7:214

Flynn SJ, Ryan P (1995) A heterologous heparin-binding domain can promote functional attachment of a pseudorabies virus gC mutant to cell surfaces. J Virol 69:834–839

Flynn SJ, Ryan P (1996) The receptor-binding domain of pseudorabies virus glycoprotein C is composed of multiple discrete units that are functionally redundant. J Virol 70:1355–1364

Hall TA (1999) BioEdit : a user-friendly biological sequence alignment editor and analysis program for Windows 95/98/NT. Nucleic Acids Symp Ser 41:95–98

He WT, Auclert LZ, Zhai X, Wong G, Zhang C, Zhu H, Xing G, Wang S, He W, Li K, Wang L, Han G-Z, Veit M, Zhou J, Su S (2019a) Interspecies transmission, genetic diversity, and evolutionary dynamics of pseudorabies virus. J Infect Dis 219:1705–1715

He WT, Li GR, Zhu HN, Shi WF, Wang RY, Zhang C, Bi YH, Lai A, Gao GF, Su S (2019b) Emergence and adaptation of H3N2 canine influenza virus from avian influenza virus: an overlooked role of dogs in interspecies transmission. Transbound Emerg Dis 66:842–851

Hu RM, Zhou Q, Song WB, Sun EC, Zhang MM, He QG, Chen HC, Wu B, Liu ZF (2015) Novel pseudorabies virus variant with defects in TK, gE and gI protects growing pigs against lethal challenge. Vaccine 33:5733–5740

Karger A, Mettenleiter TC (1993) Glycoproteins gIII and gp50 play dominant roles in the biphasic attachment of pseudorabies virus. Virology 194:654

Kazutaka K, Kei-Ichi K, Hiroyuki T, Takashi M (2005) MAFFT version 5: improvement in accuracy of multiple sequence alignment. Nucleic Acids Res 33:511–518

Kimman TG, De WN, Oei-Lie N, Pol JM, Berns AJ, Gielkens AL (1992) Contribution of single genes within the unique short region of Aujeszky's disease virus (suid herpesvirus type 1) to virulence, pathogenesis and immunogenicity. J Gen Virol 73:243–251

Kong L (2000) Epidemiological situation of pseudorabies and vaccine application in China. Swine Prod 1:39–40

Kosakovsky Pond SL, Frost SD (2005) Not so different after all: a comparison of methods for detecting amino acid sites under selection. Mol Biol Evol 22:1208

Kumar S, Stecher G, Tamura K (2016) MEGA7: molecular evolutionary genetics analysis version 7.0 for bigger datasets. Mol Biol Evol 33:1870

Lam-Tung N, Schmidt HA, Arndt VH, Bui Quang M (2015) IQ-TREE: a fast and effective stochastic algorithm for estimating maximum-likelihood phylogenies. Mol Biol Evol 32:268–274

Li GR, He WT, Zhu HA, Bi YH, Wang RY, Xing G, Zhang C, Zhou JY, Yuen KY, Gao GF, Su S (2018) Origin, genetic diversity, and evolutionary dynamics of novel porcine circovirus 3. Adv Sci 5:10

Luo Y, Li N, Cong X, Wang CH, Du M, Li L, Zhao B, Yuan J, Liu DD, Li S, Li Y, Sun Y, Qiu HJ (2014) Pathogenicity and genomic characterization of a pseudorabies virus variant isolated from Bartha-K61-vaccinated swine population in China. Vet Microbiol 174:107–115

Murphy FA, Fauquet CM, Bishop DHL, Ghabrial SA, Jarvis AW, Martelli GP, Mayo MA, Summers MD (2000) The international committee on taxonomy of viruses. Arch Virol Suppl 10:1–586

Murrell B, Wertheim JO, Moola S, Weighill T, Scheffler K, Pond SLK (2012) Detecting individual sites subject to episodic diversifying selection. PLoS Genet 8:e1002764

Murrell B, Moola S, Mabona A, Weighill T, Sheward D, Pond SLK, Scheffler K (2013) FUBAR: a fast, unconstrained Bayesian approximation for inferring selection. Mol Biol Evol 30:1196–1205

Ober BT, Summerfield A, Mattlinger C, Wiesmuller KH, Jung G, Pfaff E, Saalmuller A, Rziha HJ (1998) Vaccine-induced, pseudorabies virus-specific, extrathymic CD4+CD8+ memory T-helper cells in swine. J Virol 72:4866–4873

Ober B, Teufel BU, Wiesmüller K-H, Jung G, Pfaff E, Saalmüller A, Rziha H (2000) The porcine humoral immune response against pseudorabies virus specifically targets attachment sites on glycoprotein gC. J Virol 74:1752–1760

Parker J, Rambaut A, Pybus OG (2008) Correlating viral phenotypes with phylogeny: accounting for phylogenetic uncertainty. Infect Genet Evol 8:239–246

Pomeranz LE, Reynolds AE, Hengartner CJ (2005) Molecular biology of pseudorabies virus: impact on neurovirology and veterinary medicine. Microbiol Mol Biol Rev 69:462–500

Provine WB (2004) Ernst Mayr: genetics and speciation. Genetics 167:1041–1046

Smith MD, Wertheim JO, Weaver S, Murrell B, Scheffler K, Pond SLK (2015) Less is more: an adaptive branch-site random effects model for efficient detection of episodic diversifying selection. Mol Biol Evol 32:1342–1353

Sozzi E, Moreno A, Lelli D, Cinotti S, Alborali GL, Nigrelli A, Luppi A, Bresaola M, Catella A, Cordioli P (2014) Genomic characterization of pseudorabies virus strains isolated in Italy. Transbound Emerg Dis 61:334–340

Stamatakis A (2014) RAxML version 8: a tool for phylogenetic analysis and post-analysis of large phylogenies. Bioinformatics 30:1312–1313

Su S, Wong G, Shi W, Liu J, Lai ACK, Zhou J, Liu W, Bi Y, Gao GF (2016) Epidemiology, genetic recombination, and pathogenesis of coronaviruses. Trends Microbiol 24:490–502

Su S, Gu M, Liu D, Cui J, Gao GF, Zhou J, Liu X (2017) Epidemiology, evolution, and pathogenesis of H7N9 influenza viruses in five epidemic waves since 2013 in China. Trends Microbiol 25:713

Sun Y, Luo YZ, Wang CH, Yuan J, Li N, Song K, Qiu HJ (2016) Control of swine pseudorabies in China: opportunities and limitations. Vet Microbiol 183:119–124

Templeton AR (1980) The theory of speciation via the founder principle. Genetics 94:1011

Tong GZ, Chen HC (1999) Pseudorabies epidemic status and control measures in China. Chin Vet Med 19(1–2):1–2 (in Chinese)

Wang CH, Yuan J, Qin HY, Luo Y, Cong X, Li Y, Chen J, Li S, Sun Y, Qiu HJ (2014) A novel gE-deleted pseudorabies virus (PRV) provides rapid and complete protection from lethal challenge with the PRV variant emerging in Bartha-K61-vaccinated swine population in China. Vaccine 32:3379–3385

Wang X, Wu CX, Song XR, Chen HC, Liu ZF (2017) Comparison of pseudorabies virus China reference strain with emerging variants reveals independent virus evolution within specific geographic regions. Virology 506:92–98

Wu R, Bai C, Sun J, Chang S, Zhang X (2013) Emergence of virulent pseudorabies virus infection in northern China. J Vet Sci 14:363–365

Yang HC (2015) Epidemiological situation of swine diseases in 2014 and the epidemiological trend and control strategies in 2015. Swine Ind Sci 32:38–40 (in Chinese)

Ye C, Zhang QZ, Tian ZJ, Zheng H, Zhao K, Liu F, Guo JC, Tong W, Jiang CG, Wang SJ (2015) Genomic characterization of emergent pseudorabies virus in China reveals marked sequence divergence: evidence for the existence of two major genotypes. Virology 483:32–43

Ye C, Guo JC, Gao JC, Wang TY, Zhao K, Chang XB, Wang Q, Peng JM, Tian ZJ, Cai XH (2016) Genomic analyses reveal that partial sequence of an earlier pseudorabies virus in China is originated from a Bartha-vaccine-like strain. Virology 491:56–63

Yue F, Cui S, Zhang C, Yoon KJ (2009) A multiplex PCR for rapid and simultaneous detection of porcine circovirus type 2, porcine parvovirus, porcine pseudorabies virus, and porcine reproductive and respiratory syndrome virus in clinical specimens. Virus Genes 38:392–397

Zaripov MM, Morenkov OS, Fodor N, Braun A, Schmatchenko VV, Fodor I (1999) Distribution of B-cell epitopes on the pseudorabies virus glycoprotein B. J Gen Virol 80:537
Acknowledgements
This work was financially supported by the National Key Research and Development Program of China (2017YFD0500101), the Natural Science Foundation of Jiangsu Province (BK20170721), the China Association for Science and Technology Youth Talent Lift Project (2017-2019).
Ethics declarations
Conflict of interest
The authors declare that they have no conflict of interest.
Animal and Human Rights Statement
This article does not contain any studies with human participants or animals performed by any of the authors.
Electronic supplementary material
Below is the link to the electronic supplementary material.
About this article
Cite this article
Zhai, X., Zhao, W., Li, K. et al. Genome Characteristics and Evolution of Pseudorabies Virus Strains in Eastern China from 2017 to 2019. Virol. Sin. 34, 601–609 (2019). https://doi.org/10.1007/s12250-019-00140-1
Received:

Accepted:

Published:

Issue Date:

DOI: https://doi.org/10.1007/s12250-019-00140-1
Keywords
Pseudorabies virus (PRV)

Glycoproteins

Founder effect

Epidemic

Eastern China