Access options
Buy single article
Instant access to the full article PDF.
USD 39.95
Price excludes VAT (USA)
Tax calculation will be finalised during checkout.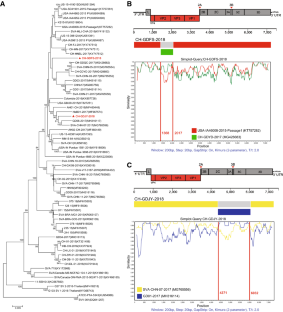 References
Chen P, Yang F, Cao W, Liu H, Zhang K, Liu X, Xu Z, Zhu Z, Zheng H (2018) The distribution of different clades of seneca valley viruses in Guangdong Province, China. Virol Sin 33:394–401

Hales LM, Knowles NJ, Reddy PS, Xu L, Hay C, Hallenbeck PL (2008) Complete genome sequence analysis of Seneca Valley virus-001, a novel oncolytic picornavirus. J Gen Virol 89:1265–1275

Jayawardena N, Burga LN, Easingwood RA, Takizawa Y, Wolf M, Bostina M (2018) Structural basis for anthrax toxin receptor 1 recognition by Seneca Valley Virus. Proc Natl Acad Sci U S A 115:E10934–E10940

Leme RA, Alfieri AF, Alfieri AA (2017) Update on Senecavirus Infection in Pigs. Viruses 9: pii:E170

Liu J, Ren X, Li Z, Xu G, Lu R, Zhang K, Ning Z (2018) Genetic and phylogenetic analysis of reemerged novel Seneca Valley virus strains in Guangdong province, 2017. Transbound Emerg Dis 65:614–617

Martin DP, Murrell B, Golden M, Khoosal A, Muhire B (2015) RDP4: Detection and analysis of recombination patterns in virus genomes. Virus Evol 1:vev003

Pasma T, Davidson S, Shaw SL (2008) Idiopathic vesicular disease in swine in Manitoba. Can Vet J 49:84–85

Saeng-Chuto K, Rodtian P, Temeeyasen G, Wegner M, Nilubol D (2018) The first detection of Senecavirus A in pigs in Thailand, 2016. Transbound Emerg Dis 65:285–288

Sun D, Vannucci F, Knutson TP, Corzo C, Marthaler DG (2017) Emergence and whole-genome sequence of Senecavirus A in Colombia. Transbound Emerg Dis 64:1346–1349

Wang Z, Zhang X, Yan R, Yang P, Wu Y, Yang D, Bian C, Zhao J (2018) Emergence of a novel recombinant Seneca Valley virus in Central China, 2018. Emerg Microbes Infect 7:180

Wu Q, Zhao X, Bai Y, Sun B, Xie Q, Ma J (2017) The first identification and complete genome of senecavirus a affecting pig with idiopathic vesicular disease in China. Transbound Emerg Dis 64:1633–1640

Xue Q, Liu H, Zhu Z, Yang F, Xue Q, Cai X, Liu X, Zheng H (2018) Seneca valley virus 3C protease negatively regulates the type I interferon pathway by acting as a viral deubiquitinase. Antiviral Res 160:183–189

Zhang J, Pineyro P, Chen Q, Zheng Y, Li G, Rademacher C, Derscheid R, Guo B, Yoon KJ, Madson D, Gauger P, Schwartz K, Harmon K, Linhares D, Main R (2015) Full-length genome sequences of Senecavirus A from recent idiopathic vesicular disease outbreaks in U.S. Swine. Genome Announc 3:e01270-15

Zhao X, Wu Q, Bai Y, Chen G, Zhou L, Wu Z, Li Y, Zhou W, Yang H, Ma J (2017) Phylogenetic and genome analysis of seven senecavirus A isolates in China. Transbound Emerg Dis 64:2075–2082
Acknowledgements
This work was supported by the Key Research and Development Program of Guangdong Province (2019B020218004).
Ethics declarations
Conflict of interest
The authors declare that they have no conflict of interest.
Animal and Human Rights Statement
All institutional and national guidelines for the care and use of animals were followed.
About this article
Cite this article
Liu, J., Zha, Y., Li, H. et al. Novel Recombinant Seneca Valley Virus Isolated from Slaughtered Pigs in Guangdong Province. Virol. Sin. 34, 722–724 (2019). https://doi.org/10.1007/s12250-019-00139-8
Received:

Accepted:

Published:

Issue Date:

DOI: https://doi.org/10.1007/s12250-019-00139-8