Abstract
Our previous work has shown that Saffold virus (SAFV) induced several rodent and primate cell lines to undergo apoptosis (Xu et al. in Emerg Microb Infect 3:1–8, 2014), but the essential viral proteins of SAFV involved in apoptotic activity lack study. In this study, we individually transfected the viral proteins of SAFV into HEp-2 and Vero cells to assess their ability to induce apoptosis, and found that the 2B and 3C proteins are proapoptotic. Further investigation indicated the transmembrane domain of the 2B protein is essential for the apoptotic activity and tetramer formation of the 2B protein. Our research provides clues for the possible mechanisms of apoptosis induced by SAFV in different cell lines. It also opens up new directions to study viral proteins (the 2B, 3C protein), and sets the stage for future exploration of any possible link between SAFV, inclusive of its related uncultivable genotypes, and multiple sclerosis.
Access options
Buy single article
Instant access to the full article PDF.
USD 39.95
Price excludes VAT (USA)
Tax calculation will be finalised during checkout.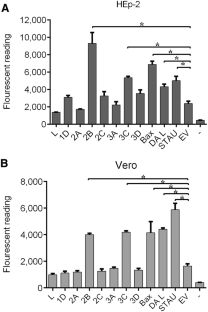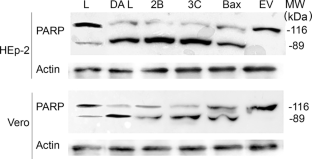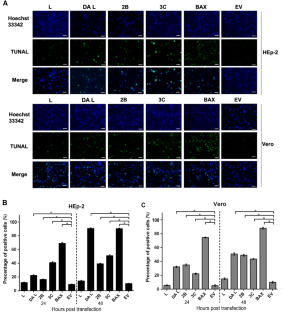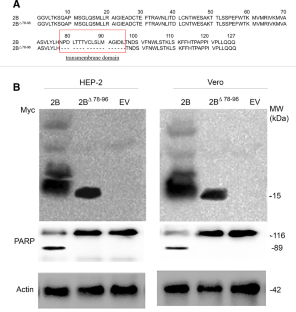 References
Aldabe R, Barco A, Carrasco L (1996) Membrane permeabilization by poliovirus proteins 2b And 2bc. J Biol Chem 271:23134–23137

Barber GN (2001) Host defense, viruses and apoptosis. Cell Death Differ 8:113

Brahic M, Bureau J-F, Michiels T (2005) The genetics of the persistent infection and demyelinating disease caused by Theiler's virus. Annu Rev Microbiol 59:279–298

Calandria C, Irurzun A, Barco Á, Carrasco L (2004) Individual expression of poliovirus 2a pro and 3c pro induces activation of Caspase-3 and parp cleavage in hela cells. Virus Res 104:39–49

Campanella M, As De Jong, Kw Lanke, Wj Melchers, Willems Ph, Pinton P, Rizzuto R, Fj Van Kuppeveld (2004) The coxsackievirus 2b protein suppresses apoptotic host cell responses by manipulating intracellular Ca2+ homeostasis. J Biol Chem 279:18440–18450

Chau DH, Yuan J, Zhang H, Cheung P, Lim T, Liu Z, Sall A, Yang D (2007) Coxsackievirus B3 proteases 2a and 3c induce apoptotic cell death through mitochondrial injury and cleavage of Eif4gi but not Dap5/P97/Nat1. Apoptosis 12:513–524

Chua KB, Voon K, Yu M, Ali WN, Kasri AR, Wang LF (2011) Saffold virus infection in children, Malaysia, 2009. Emerg Infect Dis 17:1562–1564

De Jong AS, Schrama IW, Willems PH, Galama JM, Melchers WJ, Van Kuppeveld FJ (2002) Multimerization reactions of coxsackievirus proteins 2b, 2c And 2bc: a mammalian two-hybrid analysis. J Gen Virol 83:783–793

De Jong AS, Wessels E, Dijkman HB, Galama JM, Melchers WJ, Willems PH, Van Kuppeveld FJ (2003) Determinants for membrane association and permeabilization of the coxsackievirus 2b protein and the identification of the golgi complex as the target organelle. J Biol Chem 278:1012–1021

De Jong AS, Visch H-J, De Mattia F, Van Dommelen MM, Swarts HG, Luyten T, Callewaert G, Melchers WJ, Willems PH, Van Kuppeveld FJ (2006) The coxsackievirus 2b protein increases efflux of ions from the endoplasmic reticulum and Golgi, thereby inhibiting protein trafficking through the Golgi. J Biol Chem 281:14144–14150

De Jong AS, De Mattia F, Van Dommelen MM, Lanke K, Melchers WJ, Willems PH, Van Kuppeveld FJ (2008) Functional analysis of picornavirus 2b proteins: effects on calcium homeostasis and intracellular protein trafficking. J Virol 82:3782–3790

Delhaye S, Van Pesch V, Michiels T (2004) The leader protein of Theiler's virus interferes with nucleocytoplasmic trafficking of cellular proteins. J Virol 78:4357–4362

Doedens JR, Kirkegaard K (1995) Inhibition of cellular protein secretion by poliovirus proteins 2b and 3a. EMBO J 14:894

Elmore S (2007) Apoptosis: a review of programmed cell death. Toxicol Pathol 35:495–516

Fan J, Son K-N, Sy Arslan, Liang Z, Hl Lipton (2009) Theiler's murine encephalomyelitis virus leader protein is the only nonstructural protein tested that induces apoptosis when transfected into mammalian cells. J Virol 83:6546–6553

Ito M, Yanagi Y, Ichinohe T (2012) Encephalomyocarditis virus viroporin 2b activates Nlrp3 inflammasome. PLoS Pathog 8:E1002857

Jelachich M, Hl Lipton (1999) Restricted Theiler's Murine encephalomyelitis virus infection in murine macrophages induces apoptosis. J Gen Virol 80:1701–1705

Jelachich M, Bandyopadhyay P, Blum K, Hl Lipton (1995) Theiler's virus growth in murine macrophage cell lines depends on the state of differentiation. Virology 209:437–444

Jelachich M, Bramlage C, Lipton HL (1999) Differentiation of M1 myeloid precursor cells into macrophages results in binding and infection by Theiler's Murine encephalomyelitis virus and apoptosis. J Virol 73:3227–3235

Jones MS, Lukashov VV, Ganac RD, Schnurr DP (2007) Discovery of a novel human picornavirus in a stool sample from a pediatric patient presenting with fever of unknown origin. J Clin Microbiol 45:2144–2150

Kuyumcu-Martinez NM, Van Eden ME, Younan P, Lloyd RE (2004) Cleavage of poly (A)-binding protein by poliovirus 3c protease inhibits host cell translation: a novel mechanism for host translation shutoff. Mol Cell Biol 24:1779–1790

Li M-L, Hsu T-A, Chen T-C, Chang S-C, Lee J-C, Chen C-C, Stollar V, Shih S-R (2002) The 3c Protease activity of enterovirus 71 induces human neural cell apoptosis. Virology 293:386–395

Morishima N, Nakanishi K, Takenouchi H, Shibata T, Yasuhiko Y (2002) An endoplasmic reticulum stress-specific caspase cascade in apoptosis cytochrome C-independent activation of caspase-9 by caspase-12. J Biol Chem 277:34287–34294

Naeem A, Hosomi T, Nishimura Y, Mm Alam, Oka T, Ssz Zaidi, Shimizu H (2014) Genetic diversity of circulating Saffold viruses in Pakistan and Afghanistan. J Gen Virol 95:1945–1957

Obuchi M, Ohara Y, Takegami T, Murayama T, Takada H, Iizuka H (1997) Theiler's Murine encephalomyelitis virus subgroup strain-specific infection in a Murine Macrophage-like cell line. J Virol 71:729–733

Ohara Y, Himeda T, Asakura K, Sawada M (2002) Distinct cell death mechanisms by Theiler's Murine encephalomyelitis virus (Tmev) infection in microglia and macrophage. Neurosci Lett 327:41–44

Shaw-Jackson C, Michiels T (1997) Infection of macrophages by Theiler's Murine encephalomyelitis virus is highly dependent on their activation or differentiation state. J Virol 71:8864–8867

Sze C, Tan Y-J (2015) Viral membrane channels: role and function in the virus life cycle. Viruses 7:3261–3284

Van Kuppeveld FJ, Hoenderop JG, Smeets RL, Willems PH, Dijkman HB, Galama JM, Melchers WJ (1997) Coxsackievirus protein 2b modifies endoplasmic reticulum membrane and plasma membrane permeability and facilitates virus release. EMBO J 16:3519–3532

Xu Y, Cbl Victorio, Ng Q, Yj Tan, Kb Chua (2014) Saffold virus is able to productively infect primate and rodent cell lines and induces apoptosis in these cells. Emerg Microb Infect 3:1–8

Xu Y, Cbl Victorio, Ng Q, Prabakaran M, Tan Y-J, Kb Chua (2016) Intracellular localization of Saffold virus leader (L) protein differs in Vero and Hep-2 cells. Emerg Microb Infect 5:E109
Acknowledgements
This research was fully funded by Temasek Lifesciences Laboratory, an affiliate of National University of Singapore and Nanyang Technological University, Singapore and did not receive any specific grant from any funding agency in the public, commercial, or not-for-profit sectors.
Ethics declarations
Conflict of interest
There is no competing interest in this project.
Animal and Human Rights Statement
This article does not contain any studies with human or animal subjects performed by any of the authors.
About this article
Cite this article
Xu, Y., Victorio, C.B.L., Meng, T. et al. The Saffold Virus-Penang 2B and 3C Proteins, but not the L Protein, Induce Apoptosis in HEp-2 and Vero Cells. Virol. Sin. 34, 262–269 (2019). https://doi.org/10.1007/s12250-019-00116-1
Received:

Accepted:

Published:

Issue Date:

DOI: https://doi.org/10.1007/s12250-019-00116-1
Keywords
Saffold virus (SAFV)

Apoptosis

Viral proteins