Access options
Buy single article
Instant access to the full article PDF.
USD 39.95
Price excludes VAT (USA)
Tax calculation will be finalised during checkout.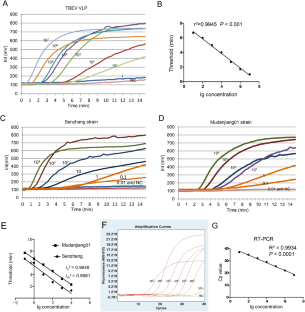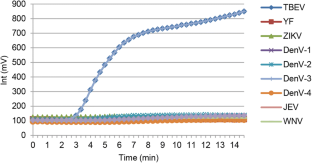 References
Banzhoff A, Bröker M, Zent O (2008) Protection against tick-borne encephalitis (TBE) for people living in and travelling to TBE-endemic areas. Travel Med Infect Dis 6:331–341

Carletti T, Zakaria MK, Marcello A (2017) The host cell response to tick-borne encephalitis virus. Biochem Biophys Res Commun 492:533–540

Eulera M, Wangb Y, Nentwichc O, Piepenburgc O, Huferta FT, Weidmann M (2012) Recombinase polymerase amplification assay for rapid detection of Rift Valley fever virus. J Clin Virol 54:308–312

Maffert P, Reverchon S, Nasser W, Rozand C, Abaibou H (2017) New nucleic acid testing devices to diagnose infectious diseases in resource-limited settings. Eur J Clin Microbiol Infect Dis 36:1717–1731

Mansfield KL, Johnson N, Phipps LP, Stephenson JR, Fooks AR, Solomon T (2009) Tick-borne encephalitis virus—a review of an emerging zoonosis. J Gen Virol 90:1781–1794

Piepenburg O, Williams CH, Stemple DL, Armes NA (2006) DNA detection using recombination proteins. PLoS Biol 4:e204

Schwaiger M, Cassinotti P (2003) Development of a quantitative real-time RT-PCR assay with internal control for the laboratory detection of tick borne encephalitis virus (TBEV) RNA. J Clin Virol 27:136–145

Zhang X, Zheng Z, Shu B, Mao P, Bai B, Hu Q, Cui Z, Wang H (2016) Isolation and characterization of a Far-Eastern strain of tick-borne encephalitis virus in China. Virus Res 213:6–10
Acknowledgements
This work was supported by the National Major Science Program Foundation (Nos. 2018ZX10711001-003, 2018ZX10302401-008 and 2017ZX10305501-010), the Major Special Program Foundation (No. AWS15J006), and the National China Science Foundation (No. 81501789).
Ethics declarations
Conflict of interest
The authors declare that they have no conflict of interest.
Animal and Human Rights Statement
This study was approved by the ethics committee of Beijing Institute of Microbiology and Epidemiology. Informed consent was obtained from all of the patients whose sera or CSF samples were used in this study.
Electronic supplementary material
Below is the link to the electronic supplementary material.
About this article
Cite this article
Jia, J., Li, Y., Wu, X. et al. Reverse Transcription Recombinase Polymerase Amplification Assays for Rapid Detection of Tick-Borne Encephalitis Virus Infection. Virol. Sin. 34, 338–341 (2019). https://doi.org/10.1007/s12250-019-00105-4
Received:

Accepted:

Published:

Issue Date:

DOI: https://doi.org/10.1007/s12250-019-00105-4