Abstract
The incidence of Japanese encephalitis (JE) has significantly decreased in China due to JE vaccines. In this study, we investigated the post-JE vaccination seroprevalence and protection provided by vaccinated sera against Japanese encephalitis virus (JEV) to elucidate the persistence and waning of antibodies to JEV among JE-SA14-14-2-vaccinated children. A total of 300 serum samples were collected from vaccinated children aged 3–10 years in Zhaotong, Yunnan, China. The seroprevalence of anti-JEV antibodies was determined by enzyme-linked immune sorbent assay and plaque reduction neutralization test. The highest seropositivity of 82% was observed in vaccinated children during the first 0.5–1.5 years after booster vaccination. Then, the seropositivity began to decline and remained lower than the original level observed in the 0.5–1.5-year group. An association was found between the waning of seroprevalence and elapsed time of the post-booster vaccination. Similarly, the neutralizing antibody (nAb) titres gradually decreased over time, and the levels showed a positive correlation with the protective efficacy in mice. This finding suggests that nAbs play an important role in the antiviral process and that the nAb titre is an adequately credible parameter for evaluating the protective efficacy induced by the JE vaccine. Our results provide data that clarify the persistence and waning of antibodies to JEV, which may help elucidate the pathogenesis of JE.
Access options
Buy single article
Instant access to the full article PDF.
USD 39.95
Price excludes VAT (USA)
Tax calculation will be finalised during checkout.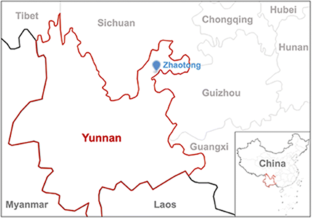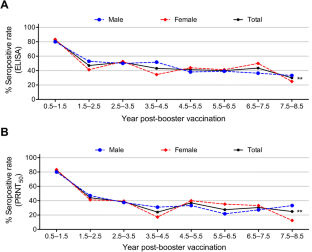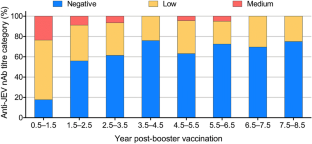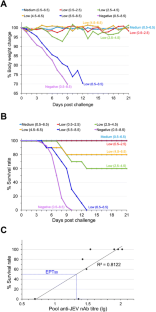 References
Baldovin T, Mel R, Bertoncello C, Carpene G, Soppelsa F, Giliberti A, Baldo V (2012) Persistence of immunity to tick-borne encephalitis after vaccination and natural infection. J Med Virol 84:1274–1278

Buddhari D, Aldstadt J, Endy TP, Srikiatkhachorn A, Thaisomboonsuk B, Klungthong C, Nisalak A, Khuntirat B, Jarman RG, Fernandez S, Thomas SJ, Scott TW, Rothman AL, Yoon IK (2014) Dengue virus neutralizing antibody levels associated with protection from infection in thai cluster studies. PLoS Negl Trop Dis 8:e3230

Campbell GL, Hills SL, Fischer M, Jacobson JA, Hoke CH, Hombach JM, Marfin AA, Solomon T, Tsai TF, Tsu VD, Ginsburg AS (2011) Estimated global incidence of Japanese encephalitis: a systematic review. Bull World Health Organ 89(766–774):774A–774E

Gao X, Li X, Li M, Fu S, Wang H, Lu Z, Cao Y, He Y, Zhu W, Zhang T, Gould EA, Liang G (2014) Vaccine strategies for the control and prevention of Japanese encephalitis in Mainland China, 1951–2011. PLoS Negl Trop Dis 8:e3015

Hegde NR, Gore MM (2017) Japanese encephalitis vaccines: immunogenicity, protective efficacy, effectiveness, and impact on the burden of disease. Hum Vaccines Immunother 13:1–18

Hombach J, Solomon T, Kurane I, Jacobson J, Wood D (2005) Report on a WHO consultation on immunological endpoints for evaluation of new Japanese encephalitis vaccines, WHO, Geneva, 2–3 September, 2004. Vaccine 23:5205–5211

Hsu LC, Chen YJ, Hsu FK, Huang JH, Chang CM, Chou P, Lin IF, Chang FY (2014) The incidence of Japanese encephalitis in Taiwan—a population-based study. PLoS Negl Trop Dis 8:e3030

Khan SA, Kakati S, Dutta P, Chowdhury P, Borah J, Topno R, Jadhav SM, Mohapatra PK, Mahanta J, Gupte MD (2016) Immunogenicity & safety of a single dose of live-attenuated Japanese encephalitis vaccine SA 14-14-2 in adults. Indian J Med Res 144:886–892

Konishi E, Ajiro N, Nukuzuma C, Mason PW, Kurane I (2003) Comparison of protective efficacies of plasmid DNAs encoding Japanese encephalitis virus proteins that induce neutralizing antibody or cytotoxic T lymphocytes in mice. Vaccine 21:3675–3683

Konishi E, Kitai Y, Tabei Y, Nishimura K, Harada S (2010) Natural Japanese encephalitis virus infection among humans in west and east Japan shows the need to continue a vaccination program. Vaccine 28:2664–2670

Lee DW, Choe YJ, Kim JH, Song KM, Cho H, Bae GR, Lee JK (2012) Epidemiology of Japanese encephalitis in South Korea, 2007–2010. Int J Infect Dis 16:e448–e452

Lee EY, Kim JY, Lee DK, Yoon IS, Ko HL, Chung JW, Chang J, Nam JH (2016) Sublingual immunization with Japanese encephalitis virus vaccine effectively induces immunity through both cellular and humoral immune responses in mice. Microbiol Immunol 60:846–853

Li X, Ma SJ, Liu X, Jiang LN, Zhou JH, Xiong YQ, Ding H, Chen Q (2014) Immunogenicity and safety of currently available Japanese encephalitis vaccines: a systematic review. Hum Vaccin Immunother 10:3579–3593

Li X, Cui S, Gao X, Wang H, Song M, Li M, Fu S, Lv Z, He Y, Lei W, Wang B, Lu X, Liang G (2016) The spatio-temporal distribution of Japanese encephalitis cases in different age groups in Mainland China, 2004–2014. PLoS Negl Trop Dis 10:e0004611

Liu X, Yu Y, Li M, Liang G, Wang H, Jia L, Dong G (2011) Study on the protective efficacy of SA14-14-2 attenuated Japanese encephalitis against different JE virus isolates circulating in China. Vaccine 29:2127–2130

Luo D, Yin H, Xili L, Song J, Wang Z (1994) The efficacy of Japanese encephalitis vaccine in Henan, China: a case-control study. Southeast Asian J Trop Med Public Health 25:643–646

Mansfield KL, Hernandez-Triana LM, Banyard AC, Fooks AR, Johnson N (2017) Japanese encephalitis virus infection, diagnosis and control in domestic animals. Vet Microbiol 201:85–92

Misra UK, Kalita J (2010) Overview: Japanese encephalitis. Prog Neurobiol 91:108–120

Monath TP, Fowler E, Johnson CT, Balser J, Morin MJ, Sisti M, Trent DW (2011) An inactivated cell-culture vaccine against yellow fever. N Engl J Med 364:1326–1333

Ohrr H, Tandan JB, Sohn YM, Shin SH, Pradhan DP, Halstead SB (2005) Effect of single dose of SA 14-14-2 vaccine 1 year after immunisation in Nepalese children with Japanese encephalitis: a case-control study. Lancet 366:1375–1378

Oya A (1988) Japanese encephalitis vaccine. Acta Paediatr Jpn 30:175–184

Pan JR, Yan JY, Zhou JY, Tang XW, He HQ, Xie RH, Mao HY, Zhang YJ, Xie SY (2016) Sero-molecular epidemiology of Japanese encephalitis in Zhejiang, an eastern province of China. PLoS Negl Trop Dis 10:e0004936

Saxena V, Dhole TN (2008) Preventive strategies for frequent outbreaks of Japanese encephalitis in Northern India. J Biosci 33:505–514

Simon LV, Kruse B (2017) Encephalitis, Japanese. StatPearls, Treasure Island

Sirivichayakul C, Sabchareon A, Limkittikul K, Yoksan S (2014) Plaque reduction neutralization antibody test does not accurately predict protection against dengue infection in Ratchaburi cohort. Thailand. Virol J 11:48

Sohn YM, Tandan JB, Yoksan S, Ji M, Ohrr H (2008) A 5-year follow-up of antibody response in children vaccinated with single dose of live attenuated SA14-14-2 Japanese encephalitis vaccine: immunogenicity and anamnestic responses. Vaccine 26:1638–1643

Solomon T, Dung NM, Kneen R, Gainsborough M, Vaughn DW, Khanh VT (2000) Japanese encephalitis. J Neurol Neurosurg Psychiatry 68:405–415

Tandale BV, Khan SA, Kushwaha KP, Rahman H, Gore MM, Japanese Encephalitis Vaccination Efficacy Case Control Study G (2018) Effectiveness of Japanese encephalitis SA 14-14-2 live attenuated vaccine among Indian children: retrospective 1:4 matched case-control study. J Infect Public Health 11:713–719

Tseng HF, Tan HF, Chang CK, Huang WL, Ho WC (2003) Seroepidemiology study of Japanese encephalitis neutralizing antibodies in southern Taiwan: a comparative study between urban city and country townships. Am J Infect Control 31:435–440

Turtle L, Tatullo F, Bali T, Ravi V, Soni M, Chan S, Chib S, Venkataswamy MM, Fadnis P, Yaich M, Fernandez S, Klenerman P, Satchidanandam V, Solomon T (2017) Cellular immune responses to live attenuated Japanese encephalitis (JE) vaccine SA14-14-2 in adults in a JE/dengue co-endemic area. PLoS Negl Trop Dis 11:e0005263

Upreti SR, Lindsey NP, Bohara R, Choudhary GR, Shakya S, Gautam M, Giri JN, Fischer M, Hills SL (2017) Updated estimation of the impact of a Japanese encephalitis immunization program with live, attenuated SA 14-14-2 vaccine in Nepal. PLoS Negl Trop Dis 11:e0005866

Van Gessel Y, Klade CS, Putnak R, Formica A, Krasaesub S, Spruth M, Cena B, Tungtaeng A, Gettayacamin M, Dewasthaly S (2011) Correlation of protection against Japanese encephalitis virus and JE vaccine (IXIARO(R)) induced neutralizing antibody titers. Vaccine 29:5925–5931

Wang H, Liang G (2015) Epidemiology of Japanese encephalitis: past, present, and future prospects. Ther Clin Risk Manag 11:435–448

Wang R, Liao X, Fan D, Wang L, Song J, Feng K, Li M, Wang P, Chen H, An J (2018) Maternal immunization with a DNA vaccine candidate elicits specific passive protection against post-natal Zika virus infection in immunocompetent BALB/c mice. Vaccine 36:3522–3532.

Wu CJ, Huang HW, Tao MH (2003) Induction of cross-protection against two wild-type Taiwanese isolates of Japanese encephalitis virus using Beijing-1 strain DNA vaccine. Vaccine 21:3938–3945

Xin YY, Ming ZG, Peng GY, Jian A, Min LH (1988) Safety of a live-attenuated Japanese encephalitis virus vaccine (SA14-14-2) for children. Am J Trop Med Hyg 39:214–217

Zhang L, Luan RS, Jiang F, Rui LP, Liu M, Li YX, Yin ZD, Luo HM (2012) Epidemiological characteristics of Japanese encephalitis in Guizhou Province, China, 1971–2009. Biomed Environ Sci 25:297–304
Acknowledgements
This work was supported by grants from the National Natural Science Foundation of China (81471957, 81772172, 81671971, U1602223 and 81871641) and a grant from the Open Research Projects of Key Laboratory of Beijing Ditan Hospital, Capital Medical University (DTKF201705). These funding sources played no part in the decision to publish, data analysis, or writing of the manuscript.
Ethics declarations
Conflict of interest
The authors declare that there are no competing interests.
Animal and Human Rights Statement
All animal experiments were performed under approval of the Institutional Animal Care and Use Committee of Chinese Capital Medical University. All animal experiments were performed under diethyl ether anaesthesia, and all efforts were made to minimize suffering. This study was performed in strict accordance with institutional review board approval from the Ethics Committee of Yunnan Institute of Parasitic Diseases, China. Written informed consent for serum sample collection was obtained from the parents or legal guardians on behalf of the vaccinated children. Their guardians completed questionnaires including demographic information and their integrated JE vaccination history. According to records from the local Centre for Disease Control and Prevention, these children had received two doses of the SA14-14-2 JE vaccine (Chengdu Institute of Biological Products, China).
Electronic Supplementary Material
Below is the link to the electronic supplementary material.
About this article
Cite this article
Wang, R., Xie, L., Gao, N. et al. Decreases in Both the Seroprevalence of Serum Antibodies and Seroprotection against Japanese Encephalitis Virus among Vaccinated Children. Virol. Sin. 34, 243–252 (2019). https://doi.org/10.1007/s12250-019-00099-z
Received:

Accepted:

Published:

Issue Date:

DOI: https://doi.org/10.1007/s12250-019-00099-z
Keywords
Japanese encephalitis virus (JEV)

SA14-14-2

Seroprevalence

Neutralizing antibodies

Waning of antibody