Access options
Buy single article
Instant access to the full article PDF.
USD 39.95
Price excludes VAT (USA)
Tax calculation will be finalised during checkout.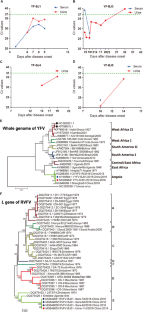 References
Andries AC, Duong V, Ly S, Cappelle J, Kim KS, Lorn Try P, Ros S, Ong S, Huy R, Horwood P, Flamand M, Sakuntabhai A, Tarantola A, Buchy P (2015) Value of routine dengue diagnostic tests in urine and saliva specimens. PLoS Negl Trop Dis 9:e0004100

Barbosa CM, Di Paola N, Cunha MP, Rodrigues-Jesus MJ, Araujo DB, Silveira VB, Leal FB, Mesquita FS, Botosso VF, Zanotto PMA, Durigon EL, Silva MV, Oliveira DBL (2018) Yellow fever virus rna in urine and semen of convalescent patient, brazil. Emerg Infect Dis 24:176–178

Barzon L, Pacenti M, Franchin E, Pagni S, Martello T, Cattai M, Cusinato R, Palu G (2013) Excretion of west nile virus in urine during acute infection. J Infect Dis 208:1086–1092

Chen Z, Liu L, Lv Y, Zhang W, Li J, Zhang Y, Di T, Zhang S, Liu J, Li J, Qu J, Hua W, Li C, Wang P, Zhang Q, Xu Y, Jiang R, Wang Q, Chen L, Wang S, Pang X, Liang M, Ma X, Li X, Wang Q, Zhang F, Li D (2016) A fatal yellow fever virus infection in China: description and lessons. Emerg Microbes Infect 5:e69

Chen C, Jiang D, Ni M, Li J, Chen Z, Liu J, Ye H, Wong G, Li W, Zhang Y, Wang B, Bi Y, Chen D, Zhang P, Zhao X, Kong Y, Shi W, Du P, Xiao G, Ma J, Gao GF, Cui J, Zhang F, Liu W, Bo X, Li A, Zeng H, Liu D (2018) Phylogenomic analysis unravels evolution of yellow fever virus within hosts. PLoS Negl Trop Dis 12:e0006738

Domingo C, Charrel RN, Schmidt-Chanasit J, Zeller H, Reusken C (2018) Yellow fever in the diagnostics laboratory. Emerg Microbes Infect 7:129

Gourinat AC, O'Connor O, Calvez E, Goarant C, Dupont-Rouzeyrol M (2015) Detection of zika virus in urine. Emerg Infect Dis 21:84–86

Haneche F, Leparc-Goffart I, Simon F, Hentzien M, Martinez-Pourcher V, Caumes E, Maquart M (2016) Rift valley fever in kidney transplant recipient returning from mali with viral RNA detected in semen up to four months from symptom onset, France, autumn 2015. Euro Surveill 21:30222

Ling Y, Chen J, Huang Q, Hu Y, Zhu A, Ye S, Xu L, Lu H (2016) Yellow fever in a worker returning to china from Angola, March 2016. Emerg Infect Dis 22:1317–1318

Liu J, Sun Y, Shi W, Tan S, Pan Y, Cui S, Zhang Q, Dou X, Lv Y, Li X, Li X, Chen L, Quan C, Wang Q, Zhao Y, Lv Q, Hua W, Zeng H, Chen Z, Xiong H, Jiang C, Pang X, Zhang F, Liang M, Wu G, Gao GF, Liu WJ, Li A, Wang Q (2017) The first imported case of Rift valley fever in china reveals a genetic reassortment of different viral lineages. Emerg Microbes Infect 6:e4

Mansfield KL, Banyard AC, McElhinney L, Johnson N, Horton DL, Hernandez-Triana LM, Fooks AR (2015) Rift valley fever virus: a review of diagnosis and vaccination, and implications for emergence in europe. Vaccine 33:5520–5531

Martins RM, Maia Mde L, Farias RH, Camacho LA, Freire MS, Galler R, Yamamura AM, Almeida LF, Lima SM, Nogueira RM, Sa GR, Hokama DA, de Carvalho R, Freire RA, Pereira Filho E, Leal Mda L, Homma A (2013) 17dd yellow fever vaccine: a double blind, randomized clinical trial of immunogenicity and safety on a dose-response study. Hum Vaccin Immunother 9:879–888

Reusken C, Knoester M, GeurtsvanKessel C, Koopmans M, Knapen DG, Bierman WFW, Pas S (2017) Urine as sample for molecular diagnosis of natural yellow fever virus infections. J Clin Microbiol 55:3294–3296

Song R, Guan S, Lee SS, Chen Z, Chen C, Han L, Xu Y, Li A, Zeng H, Ye H, Zhang F (2018) Late or lack of vaccination linked to importation of yellow fever from Angola to China. Emerg Infect Dis 24:1383–1386

Wang L, Zhou P, Fu X, Zheng Y, Huang S, Fang B, Zhang G, Jia K, Li S (2016) Yellow fever virus: increasing imported cases in China. J Infect 73:377–380

Weaver SC, Charlier C, Vasilakis N, Lecuit M (2018) Zika, chikungunya, and other emerging vector-borne viral diseases. Annu Rev Med 69:395–408

WHO 2018, posting date. Yellow fever—brazil. http://www.who.int/csr/don/09-March-2018-yellow-fever-brazil/en/. Accessed 9 Mar 2018

Zhang FC, Li XF, Deng YQ, Tong YG, Qin CF (2016) Excretion of infectious zika virus in urine. Lancet Infect Dis 16:641–642
Acknowledgements
This work is supported by grants from the National Science and Technology Major Project of China (2016ZX10004222 and 2016YFC1200800), Strategic Priority Research Program of the Chinese Academy of Sciences (XDB29010102), Sanming Project of Medicine in Shenzhen (SZSM201412003), Shenzhen Municipal Government of China (JCYJ20160427151920801) and Beijing Municipal Science & Technology Commission (Z161100000116049), and the National Natural Science Foundation of China (NSFC) International Cooperation and Exchange Program (816110193). Y.B. is supported by the NSFC Outstanding Young Scholars (31822055) and Youth Innovation Promotion Association of Chinese Academy of Sciences (CAS) (2017122).
Ethics declarations
Conflict of interest
The authors declare that they have no conflict of interest.
Animal and Human Rights Statement
Informed consent was obtained from all patients for the collection and use of all clinical specimens. This article does not contain any studies with animal subjects performed by any of the authors.
Electronic supplementary material
Below is the link to the electronic supplementary material.
About this article
Cite this article
Li, M., Wang, B., Li, L. et al. Rift Valley Fever Virus and Yellow Fever Virus in Urine: A Potential Source of Infection. Virol. Sin. 34, 342–345 (2019). https://doi.org/10.1007/s12250-019-00096-2
Received:

Accepted:

Published:

Issue Date:

DOI: https://doi.org/10.1007/s12250-019-00096-2