Abstract
Oxymatrine (OMT), as the main active component of Sophoraflavescens, exhibits a variety of pharmacological properties, including anti-oxidative, anti-inflammatory, anti-tumor, and anti-viral activities, and currently is extensively employed to treat viral hepatitis; however, its effects on parvovirus infection have yet to be reported. In the present study, we investigated the effects of OMT on cell viability, virus DNA replication, viral gene expression, cell cycle, and apoptosis in Walter Reed canine cells/3873D infected with minute virus of canines (MVC). OMT, at concentrations below 4 mmol/L(no cellular toxicity), was found to inhibit MVC DNA replication and reduce viral gene expression at both mRNA and protein levels, which was associated with the inhibition of cell cycle S-phase arrest in early-stage of MVC infection. Furthermore, OMT significantly increased cell viability, decreased MVC-infected cell apoptosis, and reduced the expression of activated caspase 3. Our results suggest that OMT has potential application in combating parvovirus infection.
Access options
Buy single article
Instant access to the full article PDF.
USD 39.95
Price excludes VAT (USA)
Tax calculation will be finalised during checkout.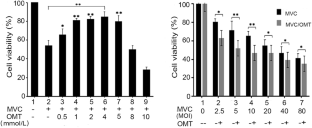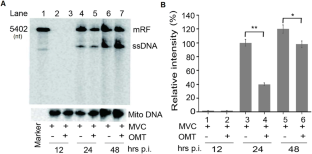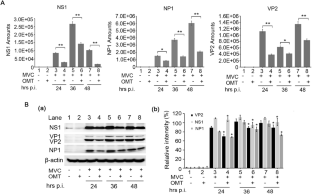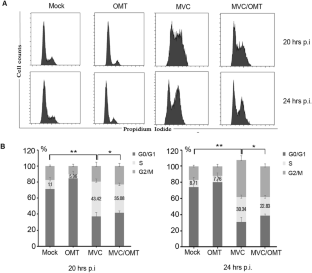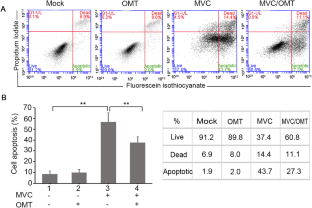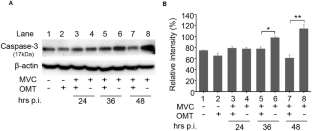 References
Allander T, Tammi MT, Eriksson M, Bjerkner A, Tiveljung-Lindell A, Andersson B (2005) Cloning of a human parvovirus by molecular screening of respiratory tract samples. Proc Natl Acad Sci 102:12891–12896

Binn LN, Lazar EC, Eddy GA, Kajima M (1970) Recovery and characterization of a minute virus of canines. Infect Immun 1:503–508

Carmichael L (1987) Canine parvovirus type 1 (minute virus of canines). In: Horzinek M (ed) Virus infections of carnivores. 1. Virus infections of vertebrates. Elsevier, Amsterdam, pp 63–67

Carmichael LE, Schlafer DH, Hashimoto A (1991) Pathogenicity of minute virus of canines (MVC) for the canine fetus. Cornell Vet 81:151–171

Chen AY, Qiu J (2010) Parvovirus infection-induced cell death and cell cycle arrest. Future Virol 5:731–743

Chen AY, Luo Y, Cheng F, Sun Y, Qiu J (2010) Bocavirus infection induces mitochondrion-mediated apoptosis and cell cycle arrest at G2/M phase. J Virol 84:5615–5626

Dai JP, Wang QW, Su Y, Gu LM, Deng HX, Chen XX, Li WZ, Li KS (2018) Oxymatrine inhibit influenza a virus replication and inflammation via TLR4, p38 MAPK and NF-κB pathways. Int J Mol Sci 19:965

Dai Z, Wang L, Wang X, Zhao B, Zhao W, Bhardwaj SS, Ye J, Yin Z, Zhang J, Zhao S (2018) Oxymatrine induces cell cycle arrest and apoptosis and suppresses the invasion of human glioblastoma cells through the EGFR/PI3 K/Akt/mTOR signaling pathway and STAT3. Oncol Rep 40:867–876

Decaro N, Altamura M, Pratelli A, Pepe M, Tinelli A, Casale D, Martella V, Tafaro A, Camero M, Elia G, Tempesta M, Jirillo E, Buonavoglia C (2002) Evaluation of the innate immune response in pups during canine parvovirus type 1 infection. New Microbiol 25:291–298

Decaro N, Amorisco F, Lenoci D, Lovero A, Colaianni ML, Losurdo M, Desario C, Martella V, Buonavoglia C (2012) Molecular characterization of Canine minute virus associated with neonatal mortality in a litter of Jack Russell terrier dogs. J Vet Diagn Invest 24:755–758

Doley J, Singh LV, Kumar GR, Sahoo AP, Saxena L, Chaturvedi U, Saxena S, Kumar R, Singh PK, Rajmani RS, Santra L, Palia SK, Tiwari S, Harish DR, Kumar A, Desai GS, Gupta S, Gupta SK, Tiwari AK (2014) Canine parvovirus type 2a (CPV-2a)-induced apoptosis in MDCK involves both extrinsic and intrinsic pathways. Appl Biochem Biotechnol 172:497–508

Eminaga S, Palus V, Cherubini GB (2011) Minute virus as a possible cause of neurological problems in dogs. Vet Rec 168:111–112

Guo B, Zhang T, Su J, Wang K, Li X (2015) Oxymatrine targets EGFR(p-Tyr845) and inhibits EGFR-related signaling pathways to suppress the proliferation and invasion of gastric cancer cells. Cancer Chemother Pharmacol 75:353–363

Guzman JR, Koo JS, Goldsmith JR, Muhlbauer M, Narula A, Jobin C (2013) Oxymatrine prevents NF-kappa B nuclear translocation and ameliorates acute intestinal inflammation. Sci Rep 3:1629

Jang HK, Tohya Y, Han KY, Kim TJ, Song CS, Mochizuki M (2003) Seroprevalence of canine calicivirus and canine minute virus in the Republic of Korea. Vet Rec 153:150–152

Jiang Y, Zhu Y, Mu Q, Luo H, Zhi Y, Shen X (2017) Oxymatrine provides protection against Coxsackievirus B3-induced myocarditis in BALB/c mice. Antivir Res 141:133–139

Kapoor A, Mehta N, Esper F, Poljsak-Prijatelj M, Quan PL, Qaisar N, Delwart E, Lipkin WI (2010) Identification and characterization of a new bocavirus species in gorillas. PLoS ONE 5:e11948

Lau SK, Yeung HC, Li KS, Lam CS, Cai JP, Yuen MC, Wang M, Zheng BJ, Woo PC, Yuen KY (2017) Identification and genomic characterization of a novel rat bocavirus from brown rats in China. Infect Genet Evol 47:68–76

Li T, Peng T (2013) Traditional Chinese herbal medicine as a source of molecules with antiviral activity. Antivir Res 97:1–9

Li B, Ma J, Xiao S, Fang L, Zeng S, Wen L, Zhang X, Ni Y, Guo R, Yu Z, Zhou J, Mao A, Lv L, Wang X, He K (2012) Complete genome sequence of a novel species of Porcine Bocavirus, PBoV5. J Virol 86:1286–1287

Lin M, Yang LY, Li WY, Peng YP, Zheng JK (2009) Inhibition of the replication of hepatitis B virus in vitro by oxymatrine. J Int Med Res 37:1411–1419

Liu Y, Xu Y, Ji W, Li X, Sun B, Gao Q, Su C (2014) Anti-tumor activities of matrine and oxymatrine: literature review. Tumour Biol 35:5111–5119

Liu C, Liu F, Li Z, Qu L, Liu D (2015) First report of feline bocavirus associated with severe enteritis of cat in Northeast China. J Vet Med Sci 80:731–735

Liu Y, Yao W, Si L, Hou J, Wang J, Xu Z, Li W, Chen J, Li R, Li P, Bo L, Xiao X, Lan J, Xu D (2018) Chinese herbal extract Suduxing had potent inhibitory effects on both wild-type and entecavir-resistant hepatitis B virus (HBV) in vitro and effectively suppressed HBV replication in mouse model. Antivir Res 155:39–47

Luo Y, Chen AY, Qiu J (2011) Bocavirus infection induces a DNA damage response that facilitates viral DNA replication and mediates cell death. J Virol 85:133–145

Luo Y, Kleiboeker S, Deng X, Qiu J (2013a) Human parvovirus B19 infection causes cell cycle arrest of human erythroid progenitors at late S phase that favors viral DNA replication. J Virol 87:12766–12775

Luo Y, Deng X, Cheng F, Li Y, Qiu J (2013b) SMC1-mediated intra-S phase arrest facilitates Bocavirus DNA replication. J Virol 87:4017–4032

Min H, Yu W, Mengneng W, Jian J (2016) Meta-analysis of clinical value of oxymatrine on sustained virological response in chronic hepatitis B. Ann Hepatol 15:482–491

Ohshima T, Kishi M, Mochizuki M (2004) Sequence analysis of an Asian isolate of minute virus of canines (canine parvovirus type 1). Virus Genes 29:291–296

Ohshima T, Kawakami K, Abe T, Mochizuki M (2010) A minute virus of canines (MVC: canine bocavirus) isolated from an elderly dog with severe gastroenteritis, and phylogenetic analysis of MVC strains. Vet Microbiol 145:334–338

Oleksiewicz MB, Alexandersen S (1997) S-phase-dependent cell cycle disturbances caused by Aleutian mink disease parvovirus. J Virol 71:1386–1396

Shan TL, Cui L, Dai XQ, Guo W, Shang XG, Yu Y, Zhang W, Kang YJ, Shen Q, Yang ZB, Zhu JG, Hua XG (2010) Sequence analysis of an isolate of minute virus of canines in China reveals the closed association with bocavirus. Mol Biol Rep 37:2817–2820

Shi GF, Li Q (2005) Effects of oxymatrine on experimental hepatic fibrosis and its mechanism in vivo. World J Gastroenterol 11:268–271

Sun YN, Chen AY, Cheng F, Guan WX, Johnson FB, Qiu JM (2009) Molecular characterization of infectious clones of the minute virus of canines reveals unique features of bocaviruses. J Virol 83:3956–3967

Tattersall P (2006) The evolution of parvovirus taxonomy. In: Kerr J, Cotmore SF, Bloom ME, Linden RM, Parrish CR (eds) Parvoviruses. Hodder Arnold, London, pp 5–14

Torun S, Yilmaz Z (2005) A serological evidence of minute virus of canines (canine parvovirus type-1) in dogs in Turkey. Turk J Anim Sci 29:923–925

Wang YP, Zhao W, Xue R, Zhou ZX, Liu F, Han YX, Ren G, Peng ZG, Cen S, Chen HS, Li YH, Jiang JD (2011) Oxymatrine inhibits hepatitis B infection with an advantage of overcoming drug-resistance. Antivir Res 89:227–231

Wolter S, Richards R, Armentrout RW (1980) Cell cycle-dependent replication of the DNA of minute virus of mice, a parvovirus. Biochim Biophys Acta 607:420–431

Wu XL, Zeng WZ, Jiang MD, Qin JP, Xu H (2008) Effect of oxymatrine on the TGF beta-Smad signaling pathway in rats with CCl4-induced hepatic fibrosis. World J Gastroenterol 14:2100–2105

Xiong YQ, Zhou JH, Zhang MY, You FF, Li DL, Chen Q (2018) Presence of rat bocavirus in oropharyngeal and fecal samples from murine rodents in China. Arch Virol 163:3099–3103

Yang S, Wang Y, Li W, Fan Z, Jiang L, Lin Y, Fu X, Shen Q, Sun Z, Wang X, Deng X, Zhang W, Delwart E (2016) A novel bocavirus from domestic mink, China. Virus Genes 52:887–890

Yu XH, Zhu JS, Yu HF, Zhu L (2004) Immunomodulatory effect of oxymatrine on induced CCl4-hepatic fibrosis in rats. Chin Med J 117:1856–1858 (in Chinese)

Zhang J, Bai Y, Zhu B, Hao S, Chen Z, Wang H, Guan W (2017) Mutations in the C-terminus of HBoV NS1 affect the function of NP1. Sci Rep 7:7407

Zhang L, Wang Z, Zhang J, Luo X, Du Q, Chang L, Zhao X, Huang Y, Tong D (2018) Porcine parvovirus infection impairs progesterone production in luteal cells through mitogen-activated protein kinases, p53, and mitochondria-mediated apoptosis. Biol Reprod 98:558–569
Acknowledgements
We are thankful to Professor Jianming Qiu (Department of Microbiology, Molecular Genetics and Immunology, University of Kansas Medical Center, USA) for providing WRD cells and bocavirus MVC, and Huanzhou Xu (a member of Guan's lab, Wuhan Institute of Virology, CAS, China) for technical help, and Xiangli Hao (School of Foreign Languages, Ningxia Medical University, China) for his assistance in language polishing. This work was funded by the Natural Sciences Foundation of China (31760041) to YS, the West China first-class Disciplines Basic Medical Sciences at Ningxia Medical University (No. NXYLXK2017B07) and Innovative Training Program for College Students (201510752010) to NL.
Ethics declarations
Conflict of interest
The authors declare that they have no conflict of interest.
Animal and Human Rights Statement
This article does not contain any studies with human or animal subjects performed by any of the authors.
Electronic Supplementary Material
Below is the link to the electronic supplementary material.
About this article
Cite this article
Ding, Y., Li, N., Sun, J. et al. Oxymatrine Inhibits Bocavirus MVC Replication, Reduces Viral Gene Expression and Decreases Apoptosis Induced by Viral Infection. Virol. Sin. 34, 78–87 (2019). https://doi.org/10.1007/s12250-019-00088-2
Received:

Accepted:

Published:

Issue Date:

DOI: https://doi.org/10.1007/s12250-019-00088-2
Keywords
Oxymatrine (OMT)

Minute virus of canines (MVC)

Infection

Replication

Apoptosis