Abstract
Exosomes are cell-derived vesicles that are secreted by many eukaryotic cells. It has recently attracted attention as vehicles of intercellular communication. Virus-infected cells release exosomes, which contain viral proteins, RNA, and pathogenic molecules. However, the role of exosomes in virus infection process remains unclear and needs to be further investigated. In this study, we aimed to evaluate the effects of exosomes on rabies virus infection. OptiPrep™ density gradient centrifugation was used to isolate exosomes from rabies virus-infected cell culture supernatants. A rabies virus G protein enzyme-linked immunosorbent assay and acetylcholinesterase activity assays were performed to verify the centrifugation fractions. Exosomes were then characterized using transmission electron microscopy and Western blotting. Our results showed that rabies virus infection increased the release of exosomes. Treatment with GW4869 and si-Rab27a, two exosomal secretion inhibitors, inhibited exosome release. Furthermore, the inhibitors reduced the levels of extracellular and intracellular viral RNA. These data indicated that exosomes may participate in the viral infection process. Moreover, our results establish a basis for future research into the roles of exosomes in rabies virus infection and as potential targets for developing new antiviral strategies.
This is a preview of subscription content, log in to check access.
Access options
Buy single article
Instant access to the full article PDF.
US$ 39.95
Price includes VAT for USA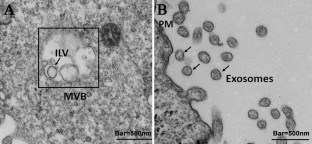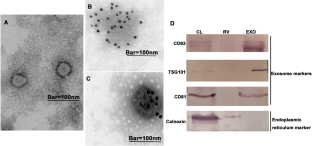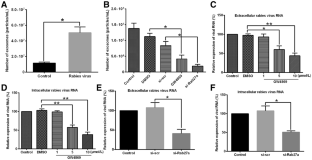 References
Alenquer M, Amorim MJ (2015) Exosome biogenesis. Regul Funct Viral Infect Viruses 7:5066–5083

Anderson MR, Kashanchi F, Jacobson S (2016) Exosomes in viral disease. Neurotherapeutics 13:535–546

Baglio SR, van Eijndhoven MA, Koppers-Lalic D, Berenguer J, Lougheed SM, Gibbs S, Léveillé N, Rinkel RN, Hopmans ES, Swaminathan S et al (2016) Sensing of latent EBV infection through exosomal transfer of 5′ppp RNA. Proc Natl Acad Sci USA 113:E587–E596

Cantin R, Diou J, Belanger D, Tremblay AM, Gilbert C (2008) Discrimination between exosomes and HIV-1: purification of both vesicles from cell-free supernatants. J Immunol Methods 338:21–30

Chahar HS, Bao X, Casola A (2015) Exosomes and their role in the life cycle and pathogenesis of RNA viruses. Viruses 7:3204–3225

Fevrier M, Dorgham K, Rebollo A (2011) CD4 + T cell depletion in human immunodeficiency virus (HIV) infection: role of apoptosis. Viruses 3:586–612

Fu Y, Zhang L, Zhang F, Tang T, Zhou Q, Feng C, Jin Y, Wu Z (2017) Exosome-mediated miR-146a transfer suppresses type I interferon response and facilitates EV71 infection. PLoS Pathog 13:e1006611

Gastpar R, Gehrmann M, Bausero MA, Asea A, Gross C, Schroeder JA, Multhoff G (2005) Heat shock protein 70 surface-positive tumor exosomes stimulate migratory and cytolytic activity of natural killer cells. Cancer Res 65:5238

Harding CV, Heuser JE, Stahl PD (2013) Exosomes: looking back three decades and into the future. J Cell Biol 200:367–371

Huang Y, Li Y, Zhang H, Zhao R, Jing R, Xu Y, He M, Peer J, Kim YC, Luo J, Tong Z, Zheng J (2018) Zika virus propagation and release in human fetal astrocytes can be suppressed by neutral sphingomyelinase-2 inhibitor GW4869. Cell Discov 4:19

Jaworski E, Narayanan A, Van Duyne R, Shabbeer-Meyering S, Iordanskiy S, Saifuddin M, Das R, Afonso PV, Sampey GC, Chung M et al (2014) Human T-lymphotropic virus type 1-infected cells secrete exosomes that contain Tax protein. J Biol Chem 289:22284–22305

Konadu KA, Huang MB, Roth W, Armstrong W, Powell M, Villinger F, Bond V (2016) Isolation of exosomes from the plasma of hiv-1 positive individuals. J Vis Exp. https://doi.org/10.3791/53495

Lenassi M, Lenassi M, Cagney G, Liao M, Vaupotic T, Bartholomeeusen K, Cheng Y, Krogan NJ, Plemenitas A, Peterlin BM (2010) HIV Nef is secreted in exosomes and triggers apoptosis in bystander CD4 + T cells. Traffic 11:110–122

Li J, Liu K, Liu Y, Xu Y, Zhang F, Yang H, Liu J, Pan T, Chen J, Wu M, Zhou X, Yuan Z (2013) Exosomes mediate the cell-to-cell transmission of IFN-alpha-induced antiviral activity. Nat Immunol 14:793–803

Liu Z, Zhang X, Yu Q, He JJ (2014) Exosome-associated hepatitis C virus in cell cultures and patient plasma. Biochem Biophys Res Commun 455:218–222

Liu L, Zhou Q, Xie Y, Zuo L, Zhu F, Lu J (2017) Extracellular vesicles: novel vehicles in herpesvirus infection. Virol Sin 32:349–356

Luo X, Fan Y, Park IW, He JJ (2015) Exosomes are unlikely involved in intercellular Nef transfer. PLoS ONE 10:e0124436

Meckes DG, Raab-Traub N Jr (2011) Microvesicles and viral infection. J Virol 85:12844–12854

Meckes DG, Shair KH Jr., Marquitz AR, Kung CP, Edwards RH, Raab-Traub N (2010) Human tumor virus utilizes exosomes for intercellular communication. Proc Natl Acad Sci USA 107:20370–20375

Momen-Heravi F, Balaj L, Alian S, Mantel PY, Halleck AE, Trachtenberg AJ, Soria CE, Oquin S, Bonebreak CM, Saracoglu E, Skog J, Kuo WP (2013) Current methods for the isolation of extracellular vesicles. Biol Chem 394:1253–1262

Nagashima S, Jirintai S, Takahashi M, Kobayashi T, Tanggis Nishizawa T, Kouki T, Yashiro T, Okamoto H (2014) Hepatitis E virus egress depends on the exosomal pathway, with secretory exosomes derived from multivesicular bodies. J Gen Virol 95:2166–2175

Nour AM, Modis Y (2014) Endosomal vesicles as vehicles for viral genomes. Trends Cell Biol 24:449–454

Raab-Traub N, Dittmer DP (2017) Viral effects on the content and function of extracellular vesicles. Nat Rev Microbiol 15:559–572

Ramakrishnaiah V, Thumann C, Fofana I, Habersetzer F, Pan Q, de Ruiter PE, Willemsen R, Demmers JA, Stalin Raj V, Jenster G et al (2013) Exosome-mediated transmission of hepatitis C virus between human hepatoma Huh7.5 cells. Proc Natl Acad Sci USA 110:13109–13113

Rieu S, Géminard C, Rabesandratana H, Sainte-Marie J, Vidal M (2000) Exosomes released during reticulocyte maturation bind to fibronectin via integrin α4β1. Eur J Biochem 267:583–590

Sampey GC, Saifuddin M, Schwab A, Barclay R, Punya S, Chung MC, Hakami RM, Zadeh MA, Lepene B, Klase ZA et al (2016) Exosomes from HIV-1-infected cells stimulate production of pro-inflammatory cytokines through trans-activating response (TAR) RNA. J Biol Chem 291:1251–1266

Schnell MJ, McGettigan JP, Wirblich C, Papaneri A (2010) The cell biology of rabies virus: using stealth to reach the brain. Nat Rev Microbiol 8:51–61

Schorey JS, Harding CV (2016) Extracellular vesicles and infectious diseases: new complexity to an old story. J Clin Invest 126:1181–1189

Schwab A, Meyering SS, Lepene B, Iordanskiy S, van Hoek ML, Hakami RM, Kashanchi F (2015) Extracellular vesicles from infected cells: potential for direct pathogenesis. Front Microbiol 6:1132

Simons M, Raposo G (2009) Exosomes–vesicular carriers for intercellular communication. Curr Opin Cell Biol 21:575–581

Thery C, Zitvogel L, Amigorena S (2002) Exosomes: composition, biogenesis and function. Nat Rev Immunol 2:569–579

Théry C, Amigorena S, Raposo G, Clayton A (2006) Isolation and characterization of exosomes from cell culture supernatants and biological fluids. https://doi.org/10.1002/0471143030.cb0322s30

Verweij FJ, van Eijndhoven MA, Middeldorp J, Pegtel DM (2013) Analysis of viral microRNA exchange via exosomes in vitro and in vivo. Methods Mol Biol 1024:53–68

Warrell MJ, Warrell DA (2004) Rabies and other lyssavirus diseases. Lancet 363:959–969

Yanez-Mo M, Siljander PR, Andreu Z, Zavec AB, Borràs FE, Buzas EI, Buzas K, Casal E, Cappello F, Carvalho J et al (2015) Biological properties of extracellular vesicles and their physiological functions. J Extracell Vesicles 4:27066
Acknowledgements
This work was supported by the National Natural Science Foundation of China (Grant No. 31770184) and Construction Project of Provincial-School of Jilin Province (No. 440050316A28).
Ethics declarations
Conflict of interest
The authors declare that they have no conflict of interest.
Animal and Human Rights Statement
This article does not contain any studies with human or animal subjects performed by any of the authors.
About this article
Cite this article
Wang, J., Wu, F., Liu, C. et al. Exosomes Released from Rabies Virus-Infected Cells May be Involved in the Infection Process. Virol. Sin. 34, 59–65 (2019). https://doi.org/10.1007/s12250-019-00087-3
Received:

Accepted:

Published:

Issue Date:
Keywords
Exosomes

Rabies virus

Isolation

Virus infection