Access options
Buy single article
Instant access to the full article PDF.
USD 39.95
Price excludes VAT (USA)
Tax calculation will be finalised during checkout.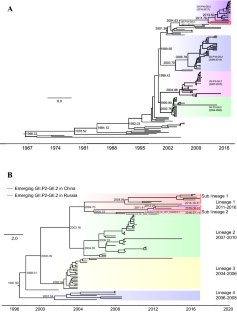 References
Ao Y, Wang J, Ling H, He Y, Dong X, Wang X, Peng J, Zhang H, Jin M, Duan Z (2017) Norovirus GII.P16/GII.2-associated gastroenteritis, China, 2016. Emerg Infect Dis 23:1172–1175

Ao Y, Cong X, Jin M, Sun X, Wei X, Wang J, Zhang Q, Song J, Yu J, Cui J, Qi J, Tan M, Duan Z (2018) Genetic analysis of reemerging GII.P16–GII.2 noroviruses in 2016–2017 in China. J Infect Dis 218:133–143

Bidalot M, Thery L, Kaplon J, De Rougemont A, Ambert-Balay K (2016) Emergence of new recombinant noroviruses GII.p16–GII.4 and GII.p16–GII.2, France, winter 2016 to 2017. Euro Surveill 22.pii:30508

Cannon JL, Barclay L, Collins NR, Wikswo ME, Castro CJ, Magana LC, Gregoricus N, Marine RL, Chhabra P, Vinje J (2017) Genetic and epidemiologic trends of norovirus outbreaks in the United States from 2013 to 2016 demonstrated emergence of novel GII.4 recombinant viruses. J Clin Microbiol 55:2208–2221

Chan MC, Lee N, Hung TN, Kwok K, Cheung K, Tin EK, Lai RW, Nelson EA, Leung TF, Chan PK (2015) Rapid emergence and predominance of a broadly recognizing and fast-evolving norovirus GII.17 variant in late 2014. Nat Commun 6:10061

Eden JS, Tanaka MM, Boni MF, Rawlinson WD, White PA (2013) Recombination within the pandemic norovirus GII.4 lineage. J Virol 87:6270–6282

Glass RI, Parashar UD, Estes MK (2009) Norovirus gastroenteritis. N Engl J Med 361:1776–1785

Hall AJ, Eisenbart VG, Etingue AL, Gould LH, Lopman BA, Parashar UD (2012) Epidemiology of foodborne norovirus outbreaks, United States, 2001–2008. Emerg Infect Dis 18:1566–1573

Lindesmith LC, Beltramello M, Donaldson EF, Corti D, Swanstrom J, Debbink K, Lanzavecchia A, Baric RS (2012) Immunogenetic mechanisms driving norovirus GII.4 antigenic variation. PLoS Pathog 8:e1002705

Mizukoshi F, Nagasawa K, Doan YH, Haga K, Yoshizumi S, Ueki Y, Shinohara M, Ishikawa M, Sakon N, Shigemoto N, Okamoto-Nakagawa R, Ochi A, Murakami K, Ryo A, Suzuki Y, Katayama K, Kimura H (2017) Molecular evolution of the RNA-dependent RNA polymerase and capsid genes of human norovirus genotype GII.2 in Japan during 2004–2015. Front Microbiol 8:705

Niendorf S, Jacobsen S, Faber M, Eis-Hubinger AM, Hofmann J, Zimmermann O, Hohne M, Bock CT (2017) Steep rise in norovirus cases and emergence of a new recombinant strain GII.P16–GII.2, Germany, winter 2016. Euro Surveill 22.pii:30447

Parra GI, Squires RB, Karangwa CK, Johnson JA, Lepore CJ, Sosnovtsev SV, Green KY (2017) Static and evolving norovirus genotypes: implications for epidemiology and immunity. PLoS Pathog 13:e1006136

Thongprachum A, Okitsu S, Khamrin P, Maneekarn N, Hayakawa S, Ushijima H (2017) Emergence of norovirus GII.2 and its novel recombination during the gastroenteritis outbreak in Japanese children in mid-2016. Infect Genet Evol 51:86–88

Tohma K, Lepore CJ, Ford-Siltz LA, Parra GI (2017) Phylogenetic analyses suggest that factors other than the capsid protein play a role in the epidemic potential of GII.2 norovirus. mSphere 2.pii:e00187–17

Vinjé J (2015) Advances in laboratory methods for detection and typing of norovirus. J Clin Microbiol 53:373–381
Acknowledgements
This work was supported by the Special National Project on Research and Development of Key Biosafety Technologies (2016YFC1201900) and the National Natural Science Foundation of China (31500139).
Ethics declarations
Conflict of interest
The authors declare that they have no conflict of interest.
Animal and Human Rights Statement
This study was approved by the Institutional Review Board of the China CDC for human subject protection.
Electronic supplementary material
Below is the link to the electronic supplementary material.
About this article
Cite this article
Ao, Y., Xie, X., Dong, X. et al. Genetic Analysis of an Emerging GII.P2–GII.2 Norovirus Associated with a 2016 Outbreak of Acute Gastroenteritis in China. Virol. Sin. 34, 111–114 (2019). https://doi.org/10.1007/s12250-019-00084-6
Received:

Accepted:

Published:

Issue Date:

DOI: https://doi.org/10.1007/s12250-019-00084-6