Access options
Buy single article
Instant access to the full article PDF.
USD 39.95
Price excludes VAT (USA)
Tax calculation will be finalised during checkout.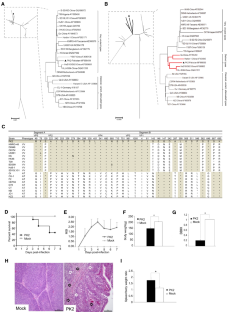 References
Abed M, Soubies S, Courtillon C, Briand FX, Allée C, Amelot M, De Boisseson C, Lucas P, Blanchard Y, Belahouel A (2018) Infectious bursal disease virus in algeria: detection of highly pathogenic reassortant viruses. Infect Genet Evol 60:48–57

Gao L, Li K, Qi X, Gao H, Gao Y, Qin L, Wang Y, Shen N, Kong X, Wang X (2014) Triplet amino acids located at positions 145/146/147 of the RNA polymerase of very virulent infectious bursal disease virus contribute to viral virulence. J Gen Virol 95:888–897

He X, Xiong Z, Yang L, Guan D, Yang X, Wei P (2014) Molecular epidemiology studies on partial sequences of both genome segments reveal that reassortant infectious bursal disease viruses were dominantly prevalent in southern china during 2000–2012. Arch Virol 159:3279–3292

Hernández M, Tomás G, Marandino A, Iraola G, Maya L, Mattion N, Hernández D, Villegas P, Banda A, Panzera Y (2015) Genetic characterization of south american infectious bursal disease virus reveals the existence of a distinct worldwide-spread genetic lineage. Avian Pathol 44:212–221

Hon CC, Lam TY, Drummond A, Rambaut A, Lee YF, Yip CW, Zeng F, Lam PY, Ng PT, Leung FC (2006) Phylogenetic analysis reveals a correlation between the expansion of very virulent infectious bursal disease virus and reassortment of its genome segment b. J Virol 80:8503–8509

Jackwood D, Gough R, Sommer S (2005) Nucleotide and amino acid sequence analysis of a birnavirus isolated from penguins. Vet Rec 156:550–552

Jackwood DJ, Sommer-Wagner SE, Crossley BM, Stoute ST, Woolcock PR, Charlton BR (2011) Identification and pathogenicity of a natural reassortant between a very virulent serotype 1 infectious bursal disease virus (IBDV) and a serotype 2 IBDV. Virology 420:98–105

Kumar S, Tamura K, Nei M (2004) Mega 3: integrated software for molecular evolutionary genetics analysis and sequence alignment. Brief Bioinform 5:150–163

Le Nouen C, Rivallan G, Toquin D, Darlu P, Morin Y, Beven V, de Boisseson C, Cazaban C, Comte S, Gardin Y (2006) Very virulent infectious bursal disease virus: reduced pathogenicity in a rare natural segment-b-reassorted isolate. J Gen Virol 87:209–216

Lu Z, Zhang L, Wang N, Chen Y, Gao L, Wang Y, Gao H, Gao Y, Li K, Qi X (2015) Naturally occurring reassortant infectious bursal disease virus in northern china. Virus Res 203:92–95

Nwagbo IO, Shittu I, Nwosuh CI, Ezeifeka GO, Odibo FJ, Michel LO, Jackwood DJ (2016) Molecular characterization of field infectious bursal disease virus isolates from nigeria. Vet World 9:1420

Qi X, Gao L, Qin L, Deng X, Wu G, Zhang L, Yu F, Ren X, Gao Y, Gao H (2011) Genomic sequencing and molecular characteristics of a very virulent strain of infectious bursal disease virus isolated in china. Agr Sci Technol 12:1946–1949

Shabbir MZ, Ali M, Abbas M, Chaudhry UN, Munir M (2016) Molecular characterization of infectious bursal disease viruses from pakistan. Arch Virol 161:2001–2006

Thompson JD, Gibson TJ, Plewniak F, Jeanmougin F, Higgins DG (1997) The clustal_x windows interface: flexible strategies for multiple sequence alignment aided by quality analysis tools. Nucleic Acids Res 25:4876–4882

Yuwen Y, Gao Y, Gao H, Qi X, Li T, Liu W, Wang X (2008) Sequence analysis of the VP2 hypervariable region of eight very virulent infectious bursal disease virus isolates from the northeast of china. Avian Dis 52:284–290
Acknowledgements
This work was supported by the National Key Research and Development Program of China (Nos. 2016YFE0203200, 2017YFD0500704), the Major Project of National Natural Science Foundation of China (No. 31430087), the Modern Agro-industry Technology Research System (No. CARS-41-G15).
Ethics declarations
Conflict of interest
The authors declare that they have no conflict of interest.
Animal and Human Rights Statement
Animal experiments in this study were approved by the Ethics Committees of Harbin Veterinary Research Institute (HVRI), Chinese Academy of Agricultural Sciences (CAAS) (Approval Number: SQ-2017-080).
Electronic supplementary material
Below is the link to the electronic supplementary material.
About this article
Cite this article
Hussain, A., Wu, T., Li, H. et al. Pathogenic Characterization and Full Length Genome Sequence of a Reassortant Infectious Bursal Disease Virus Newly Isolated in Pakistan. Virol. Sin. 34, 102–105 (2019). https://doi.org/10.1007/s12250-019-00082-8
Received:

Accepted:

Published:

Issue Date:

DOI: https://doi.org/10.1007/s12250-019-00082-8