Abstract
The Cyclophragma undans nucleopolyhedrovirus (CyunNPV), a potential pest control agent, was isolated from Cyclophragma undans (Lepidoptera: Lasiocampidae), an important forest pest. In the present study, we performed detailed genome analysis of CyunNPV and compared its genome to those of other Group I alphabaculoviruses. Sequencing of the CyunNPV genome using the Roche 454 sequencing system generated 142,900 bp with a G + C content of 45%. Genome analysis predicted a total of 147 hypothetical open reading frames comprising 38 baculoviral core genes, 24 lepidopteran baculovirus conserved genes, nine Group I Alphabaculovirus conserved genes, 71 common genes, and five genes that are unique to CyunNPV. In addition, the genome contains 13 homologous repeated sequences (hrs). Phylogenetic analysis groups CyunNPV under a distinct branch within clade "a" of Group I in the genus Alphabaculovirus. Unlike other members of Group I, CyunNPV harbors only nine of the 11 genes previously determined to be specific to Group I viruses. Furthermore, the CyunNPV lacks the tyrosine phosphatase gene and the ac30 gene. The CyunNPV F-like protein contains two insertions of continuous polar amino acids, one at the conventional fusion peptide and a second insertion at the pre-transmembrane domain. The insertions are likely to affect the fusion function and suggest an evolutionary process that led to inactivation of the F-like protein. The above findings imply that CyunNPV is a distinct species under Group I Alphabaculovirus.
Access options
Buy single article
Instant access to the full article PDF.
USD 39.95
Price excludes VAT (USA)
Tax calculation will be finalised during checkout.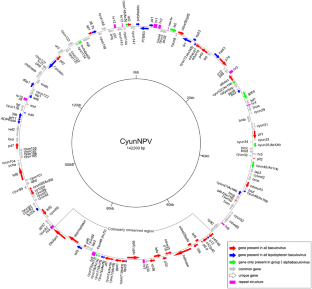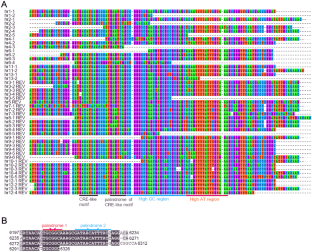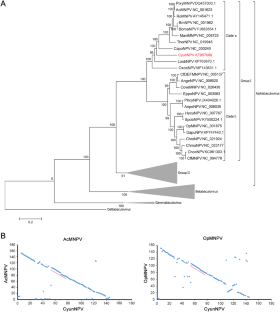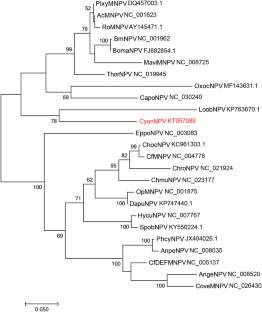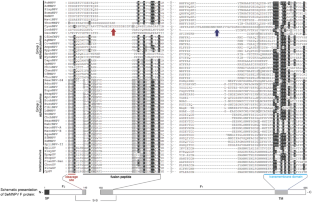 References
Bulach DM, Kumar CA, Zaia A, Liang B, Tribe DE (1999) Group II nucleopolyhedrovirus subgroups revealed by phylogenetic analysis of polyhedrin and DNA polymerase gene sequences. J Invertebr Pathol 73:59–73

Carstens EB, Ball LA (2009) Ratification vote on taxonomic proposals to the international committee on taxonomy of viruses (2008). Arch Virol 154:1181–1188

Conant GC, Wolfe KH (2008) GenomeVx: simple web-based creation of editable circular chromosome maps. Bioinformatics 24:861–862

Deng F, Wang R, Fang M, Jiang Y, Xu X, Wang H, Chen X, Arif BM, Guo L, Wang H, Hu Z (2007) Proteomics analysis of Helicoverpa armigera single nucleocapsid nucleopolyhedrovirus identified two new occlusion-derived virus-associated proteins, HA44 and HA100. J Virol 81:9377–9385

Ferrelli ML, Salvador R, Biedma ME, Berretta MF, Haase S, Sciocco-Cap A, Ghiringhelli PD, Romanowski V (2012) Genome of Epinotia aporema granulovirus (EpapGV), a polyorganotropic fast killing betabaculovirus with a novel thymidylate kinase gene. BMC Genom 13:548

Garavaglia MJ, Miele SA, Iserte JA, Belaich MN, Ghiringhelli PD (2012) The ac53, ac78, ac101, and ac103 genes are newly discovered.core genes in the family Baculoviridae. J Virol 86:12069–12079

Gross CH, Shuman S (1998) Characterization of a baculovirus-encoded RNA 5'-triphosphatase. J Virol 72:7057–7063

Guarino LA, Gonzalez MA, Summers MD (1986) Complete sequence and enhancer function of the homologous DNA regions of Autographa californica nuclear polyhedrosis virus. J Virol 60:224–229

Habib S, Hasnain SE (2000) Differential activity of two non-hr origins during replication of the baculovirus Autographa californica nuclear polyhedrosis virus genome. J Virol 74:5182–5189

Hayakawa T, Ko R, Okano K, Seong SI, Goto C, Maeda S (1999) Sequence analysis of the Xestia c-nigrum granulovirus genome. Virology 262:277–297

Herniou EA, Olszewski JA, Cory JS, O'Reilly DR (2003) The genome sequence and evolution of baculoviruses. Annu Rev Entomol 48:211–234

Hu ZH, Arif BM, Jin F, Martens JW, Chen XW, Sun JS, Zuidema D, Goldbach RW, Vlak JM (1998a) Distinct gene arrangement in the Buzura suppressaria single-nucleocapsid nucleopolyhedrovirus genome. J Gen Virol 79:2841–2851

Hu ZH, Arif BM, Sun JS, Chen XW, Zuidema D, Goldbach RW, Vlak JM (1998b) Genetic organization of the HindIII-I region of the single-nucleocapsid nucleopolyhedrovirus of Buzura suppressaria. Virus Res 55:71–82

Huang JP, Tang WQ, Shu QH (1983) A study on cyclophragma undans nuclear polyhedrosis virus. J Cent South Univ For Technol 3:136–142 (In Chinese)

Huang J, Hao B, Deng F, Sun X, Wang H, Hu Z (2008) Open reading frame Bm21 of Bombyx mori nucleopolyhedrovirus is not essential for virus replication in vitro, but its deletion extends the median survival time of infected larvae. J Gen Virol 89:922–930

Ijkel WFJ, Westenberg M, Goldbach RW, Blissard GW, Vlak JM, Zuidema D (2000) A novel baculovirus envelope fusion protein with a proprotein convertase cleavage site. Virology 275:30–41

Jehle JA, Blissard GW, Bonning BC, Cory JS, Herniou EA, Rohrmann GF, Theilmann DA, Thiem SM, Vlak JM (2006) On the classification and nomenclature of baculoviruses: a proposal for revision. Arch Virol 151:1257–1266

Jiang Y, Deng F, Rayner S, Wang H, Hu Z (2009) Evidence of a major role of GP64 in group I alphabaculovirus evolution. Virus Res 142:85–91

Jones DT, Taylor WR, Thornton JM (1992) The rapid generation of mutation data matrices from protein sequences Computer applications in the biosciences. CABIOS 8:275–282

Kamita SG, Nagasaka K, Chua JW, Shimada T, Mita K, Kobayashi M, Maeda S, Hammock BD (2005) A baculovirus-encoded protein tyrosine phosphatase gene induces enhanced locomotory activity in a lepidopteran host. Proc Natl Acad Sci USA 102:2584–2589

Kool M, Voeten JT, Goldbach RW, Tramper J, Vlak JM (1993) Identification of seven putative origins of Autographa californica multiple nucleocapsid nuclear polyhedrosis virus DNA replication. J Gen Virol 74:2661–2668

Landais I, Vincent R, Bouton M, Devauchelle G, Duonor-Cerutti M, Ogliastro M (2006) Functional analysis of evolutionary conserved clustering of bZIP binding sites in the baculovirus homologous regions (hrs) suggests a cooperativity between host and viral transcription factors. Virology 344:421–431

Lauzon HA, Lucarotti CJ, Krell PJ, Feng Q, Retnakaran A, Arif BM (2004) Sequence and organization of the Neodiprion lecontei nucleopolyhedrovirus genome. J Virol 78:7023–7035

Li Y, Miller LK (1995) Properties of a baculovirus mutant defective in the protein phosphatase gene. J Virol 69:4533–4537

Liu X, Yin F, Zhu Z, Hou D, Wang J, Zhang L, Wang M, Wang H, Hu Z, Deng F (2014) Genomic sequencing and analysis of Sucra jujuba nucleopolyhedrovirus. PLoS ONE 9:e110023

Lorizate M, Huarte N, Saez-Cirion A, Nieva JL (2008) Interfacial pre-transmembrane domains in viral proteins promoting membrane fusion and fission. Biochem Biophys Acta 1778:1624–1639

Lung OY, Cruz-Alvarez M, Blissard GW (2003) Ac23, an envelope fusion protein homolog in the baculovirus Autographa californica multicapsid nucleopolyhedrovirus, is a viral pathogenicity factor. J Virol 77:328–339

Pearson MN, Bjornson RM, Ahrens C, Rohrmann GF (1993) Identification and characterization of a putative origin of DNA replication in the genome of a baculovirus pathogenic for Orgyia pseudotsugata. Virology 197:715–725

Pearson MN, Groten C, Rohrmann GF (2000) Identification of the lymantria dispar nucleopolyhedrovirus envelope fusion protein provides evidence for a phylogenetic division of the Baculoviridae. J Virol 74:6126–6131

Pearson MN, Russell RL, Rohrmann GF (2001) Characterization of a baculovirus-encoded protein that is associated with infected-cell membranes and budded virions. Virology 291:22–31

Rodems SM, Friesen PD (1995) Transcriptional enhancer activity of hr5 requires dual-palindrome half sites that mediate binding of a dimeric form of the baculovirus transregulator IE1. J Virol 69:5368–5375

Rohrmann GF, Karplus PA (2001) Relatedness of baculovirus and gypsy retrotransposon envelope proteins. BMC Evol Biol 1:1

Sainz B Jr, Rausch JM, Gallaher WR, Garry RF, Wimley WC (2005) The aromatic domain of the coronavirus class I viral fusion protein induces membrane permeabilization: putative role during viral entry. Biochemistry 44:947–958

Salzwedel K, West JT, Hunter E (1999) A conserved tryptophan-rich motif in the membrane-proximal region of the human immunodeficiency virus type 1 gp41 ectodomain is important for Env-mediated fusion and virus infectivity. J Virol 73:2469–2480

Sheng Z, Charbonneau H (1993) The baculovirus Autographa californica encodes a protein tyrosine phosphatase. J Biol Chem 268:4728–4733

Solovyev VV, Salamov AA (1999) INFOGENE: a database of known gene structures and predicted genes and proteins in sequences of genome sequencing projects. Nucleic Acids Res 27:248–250

Takagi T, Taylor GS, Kusakabe T, Charbonneau H, Buratowski S (1998) A protein tyrosine phosphatase-like protein from baculovirus has RNA 5′-triphosphatase and diphosphatase activities. Proc Natl Aca Sci USA 95:9808–9812

Tamura K, Stecher G, Peterson D, Filipski A, Kumar S (2013) MEGA6: molecular evolutionary genetics analysis version 6.0. Mol Biol Evol 30:2725–2729

Tan Y, Jiang L, Wang M, Yin F, Deng F, Liu M, Hu Z, Wang H (2008) Mutagenesis and nuclear magnetic resonance analyses of the fusion peptide of Helicoverpa armigera single nucleocapsid nucleopolyhedrovirus F protein. J Virol 82:8138–8148

Theilmann DA, Stewart S (1992) Tandemly repeated sequence at the 3' end of the IE-2 gene of the baculovirus Orgyia pseudotsugata multicapsid nuclear polyhedrosis virus is an enhancer element. Virology 187:97–106

van Oers MM, Vlak JM (2007) Baculovirus genomics. Curr Drug Targets 8:1051–1068

Wang M, Tan Y, Yin F, Deng F, Vlak JM, Hu Z, Wang H (2008) The F-like protein Ac23 enhances the infectivity of the budded virus of gp64-null Autographa californica multinucleocapsid nucleopolyhedrovirus pseudotyped with baculovirus envelope fusion protein F. J Virol 82:9800–9804

Wang M, Wang J, Yin F, Tan Y, Deng F, Chen X, Jehle JA, Vlak JM, Hu Z, Wang H (2014) Unraveling the entry mechanism of baculoviruses and its evolutionary implications. J Virol 88:2301–2311

Westenberg M, Wang H, Ijkel WFJ, Goldbach RW, Vlak JM, Zuidema D (2002) Furin is involved in baculovirus envelope fusion protein activation. J Virol 76:178–184

Westenberg M, Veenman F, Roode EC, Goldbach RW, Vlak JM, Zuidema D (2004) Functional analysis of the putative fusion domain of the baculovirus envelope fusion protein F. J Virol 78:6946–6954

Wu Y, Carstens EB (1996) Initiation of baculovirus DNA replication: early promoter regions can function as infection-dependent replicating sequences in a plasmid-based replication assay. J Virol 70:6967–6972

Xiao KJ, Shu QH (1984) Biology of the oak caterpillar Cyclophragma undans (Walker). J Cent South Univ For Technol 4:59–64 (In Chinese)

Yin F, Zhu Z, Liu X, Hou D, Wang J, Zhang L, Wang M, Kou Z, Wang H, Deng F, Hu Z (2015) The complete genome of a new Betabaculovirus from Clostera anastomosis. PLoS ONE 10:e0132792

Yu IL, Lin YC, Robinson JH, Lung O (2009) Transduction of vertebrate cells with Spodoptera exigua multiple nucleopolyhedrovirus F protein-pseudotyped gp64-null Autographa californica multiple nucleopolyhedrovirus. J Gen Virol 90:2282–2287

Zanotto PM, Kessing BD, Maruniak JE (1993) Phylogenetic interrelationships among baculoviruses: evolutionary rates and host associations. J Invertebr Pathol 62:147–164

Zhu Z, Yin F, Liu X, Hou D, Wang J, Zhang L, Arif B, Wang H, Deng F, Hu Z (2014) Genome sequence and analysis of Buzura suppressaria nucleopolyhedrovirus: a group II Alphabaculovirus. PLoS ONE 9:e86450
Acknowledgements
This work was supported by the National Key R&D Program of China (Grant No. 2017YFD0200400) and the Strategic Priority Research Program of the Chinese Academy of Sciences (Grant No. XDB11030400). We acknowledge the technical support and core facility of the Wuhan Institute of Virology for their technical assistance.
Ethics declarations
Conflict of interest
The authors declare that they have no competing interests.
Animal and Human Rights Statement
This article does not contain any studies with human or animal subjects performed by any of the authors.
Electronic supplementary material
Below is the link to the electronic supplementary material.
About this article
Cite this article
Zhu, Z., Wang, J., Wang, Q. et al. Genome Characteristics of the Cyclophragma Undans Nucleopolyhedrovirus: A Distinct Species in Group I of Alphabaculovirus. Virol. Sin. 33, 359–368 (2018). https://doi.org/10.1007/s12250-018-0047-9
Received:

Accepted:

Published:

Issue Date:

DOI: https://doi.org/10.1007/s12250-018-0047-9
Keywords
Cyclophragma undans nucleopolyhedrovirus (CyunNPV)

Baculovirus

Group I Alphabaculovirus

F protein