Abstract
This study aimed to investigate the serological characteristics of Ebola virus (EBOV) infection during the late phase of the Ebola outbreak in Sierra Leone. In total, 877 blood samples from 694 suspected Ebola virus disease (EVD) cases assessed from March to December 2015, were analyzed via real-time reverse transcription polymerase chain reaction (RT-PCR) for viral RNA and enzyme-linked immunosorbent assay (ELISA) and Luminex to detect antibodies against EBOV. Viral load and EBOV-specific IgM/IgG titers displayed a declining trend during March to December 2015. Viral RNA load decreased rapidly at earlier stages after disease onset, while EBOV-specific IgM and IgG still persisted in 58.1% (18/31) and 93.5% (29/31) of the confirmed EVD patients and in 3.8% (25/663) and 17.8% (118/663) of the RNA-negative suspected patients in the later phase, respectively. Dynamic analysis of longitudinally collected samples from eight EVD patients revealed typically reversed trends of declining viral load and increasing IgM and/or IgG titers in response to the EBOV infection. The present results indicate that certain populations of Sierra Leone developed immunity to an EBOV infection in the late phase of the outbreak, providing novel insights into the risk assessment of EBOV infections among human populations.
Access options
Buy single article
Instant access to the full article PDF.
USD 39.95
Price excludes VAT (USA)
Tax calculation will be finalised during checkout.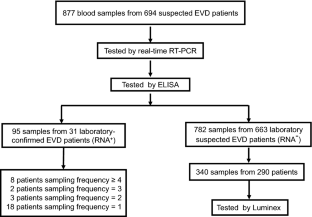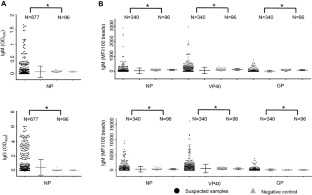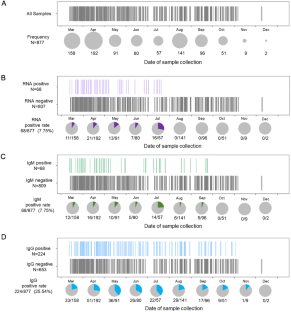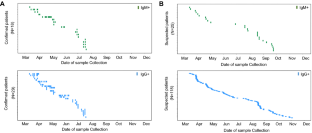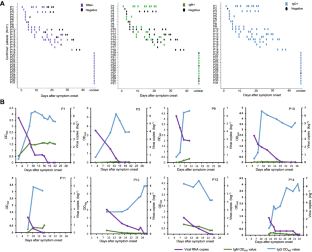 References
Ayouba A, Toure A, Butel C, Keita AK, Binetruy F, Sow MS, Foulongne V, Delaporte E, Peeters M (2017) Development of a sensitive and specific serological assay based on Luminex technology for detection of antibodies to Zaire Ebola virus. J Clin Microbiol 55:165–176

Baize S, Pannetier D, Oestereich L, Rieger T, Koivogui L, Magassouba N, Soropogui B, Sow MS, Keita S, De Clerck H, Tiffany A, Dominguez G, Loua M, Traore A, Kolie M, Malano ER, Heleze E, Bocquin A, Mely S, Raoul H, Caro V, Cadar D, Gabriel M, Pahlmann M, Tappe D, Schmidt-Chanasit J, Impouma B, Diallo AK, Formenty P, Van Herp M, Gunther S (2014) Emergence of Zaire Ebola virus disease in Guinea. N Engl J Med 371:1418–1425

Blackley DJ, Wiley MR, Ladner JT, Fallah M, Lo T, Gilbert ML, Gregory C, D'Ambrozio J, Coulter S, Mate S, Balogun Z, Kugelman J, Nwachukwu W, Prieto K, Yeiah A, Amegashie F, Kearney B, Wisniewski M, Saindon J, Schroth G, Fakoli L, Diclaro JW 2nd, Kuhn JH, Hensley LE, Jahrling PB, Stroher U, Nichol ST, Massaquoi M, Kateh F, Clement P, Gasasira A, Bolay F, Monroe SS, Rambaut A, Sanchez-Lockhart M, Scott Laney A, Nyenswah T, Christie A, Palacios G (2016) Reduced evolutionary rate in reemerged Ebola virus transmission chains. Sci Adv 2:e1600378

Bower H, Glynn JR (2017) A systematic review and meta-analysis of seroprevalence surveys of ebolavirus infection. Sci Data 4:160133

Broadhurst MJ, Brooks TJ, Pollock NR (2016) Diagnosis of Ebola virus disease: past, Present, and Future. Clin Microbiol Rev 29:773–793

Bustin SA, Benes V, Nolan T, Pfaffl MW (2005) Quantitative real-time RT-PCR-a perspective. J Mol Endocrinol 34:597–601

de La Vega MA, Caleo G, Audet J, Qiu X, Kozak RA, Brooks JI, Kern S, Wolz A, Sprecher A, Greig J, Lokuge K, Kargbo DK, Kargbo B, Di Caro A, Grolla A, Kobasa D, Strong JE, Ippolito G, Van Herp M, Kobinger GP (2015) Ebola viral load at diagnosis associates with patient outcome and outbreak evolution. J Clin Invest 125:4421–4428

Dean NE, Halloran ME, Yang Y, Longini IM (2016) Transmissibility and pathogenicity of ebola virus: a systematic review and meta-analysis of household secondary attack rate and asymptomatic infection. Clin Infect Dis 62:1277–1286

Deen GF, Broutet N, Xu W, Knust B, Sesay FR, McDonald SLR, Ervin E, Marrinan JE, Gaillard P, Habib N, Liu H, Liu W, Thorson AE, Yamba F, Massaquoi TA, James F, Ariyarajah A, Ross C, Bernstein K, Coursier A, Klena J, Carino M, Wurie AH, Zhang Y, Dumbuya MS, Abad N, Idriss B, Wi T, Bennett SD, Davies T, Ebrahim FK, Meites E, Naidoo D, Smith SJ, Ongpin P, Malik T, Banerjee A, Erickson BR, Liu Y, Liu Y, Xu K, Brault A, Durski KN, Winter J, Sealy T, Nichol ST, Lamunu M, Bangura J, Landoulsi S, Jambai A, Morgan O, Wu G, Liang M, Su Q, Lan Y, Hao Y, Formenty P, Stroher U, Sahr F (2017) Ebola RNA persistence in semen of Ebola virus disease survivors—final report. N Engl J Med 377:1428–1437

Gao GF, Feng Y (2014) On the ground in Sierra Leone. Science 346:666

Garske T, Cori A, Ariyarajah A, Blake IM, Dorigatti I, Eckmanns T, Fraser C, Hinsley W, Jombart T, Mills HL, Nedjati-Gilani G, Newton E, Nouvellet P, Perkins D, Riley S, Schumacher D, Shah A, Van Kerkhove MD, Dye C, Ferguson NM, Donnelly CA (2017) Heterogeneities in the case fatality ratio in the West African Ebola outbreak 2013-2016. Philos Trans R Soc Lond B Biol Sci 372:20160308

Glynn JR, Bower H, Johnson S, Houlihan CF, Montesano C, Scott JT, Semple MG, Bangura MS, Kamara AJ, Kamara O, Mansaray SH, Sesay D, Turay C, Dicks S, Wadoum REG, Colizzi V, Checchi F, Samuel D, Tedder RS (2017) Asymptomatic infection and unrecognised Ebola virus disease in Ebola-affected households in Sierra Leone: a cross-sectional study using a new non-invasive assay for antibodies to Ebola virus. Lancet Infect Dis 17:645–653

Heinz F, Anthony S, Thoms G (2013) Filoviridae: Marburg and Ebola viruses. In: Knipe D, Howley P (eds) Fields virology, Chapter 32, 6th edn. Williams and Wilkins, Baltimore, pp 945–947

Ksiazek TG, West CP, Rollin PE, Jahrling PB, Peters CJ (1999) ELISA for the detection of antibodies to Ebola viruses. J Infect Dis 179(Suppl 1):S192–198

Lequin RM (2005) Enzyme immunoassay (EIA)/enzyme-linked immunosorbent assay (ELISA). Clin Chem 51:2415–2418

Leroy EM, Baize S, Volchkov VE, Fisher-Hoch SP, Georges-Courbot MC, Lansoud-Soukate J, Capron M, Debre P, McCormick JB, Georges AJ (2000) Human asymptomatic Ebola infection and strong inflammatory response. Lancet 355:2210–2215

Li A, Li W, Li J, Zhang S, Qu J, Li C, Zhang Q, Liang M, Li D (2014) Development of real-time RT-PCR assay for detection of Zaire Ebolavirus. Chin J Exp Clin Virol 28:321–323 (in Chinese)

Lu HJ, Qian J, Kargbo D, Zhang XG, Yang F, Hu Y, Sun Y, Cao YX, Deng YQ, Su HX, Dafae F, Sun Y, Wang CY, Nie WM, Bai CQ, Xia ZP, Liu K, Kargbo B, Gao GF, Jiang JF (2015) Ebola Virus Outbreak Investigation, Sierra Leone, September 28-November 11, 2014. Emerg Infect Dis 21:1921–1927

Lucht A, Grunow R, Moller P, Feldmann H, Becker S (2003) Development, characterization and use of monoclonal VP40-antibodies for the detection of Ebola virus. J Virol Methods 111:21–28

Lucht A, Grunow R, Otterbein C, Moller P, Feldmann H, Becker S (2004) Production of monoclonal antibodies and development of an antigen capture ELISA directed against the envelope glycoprotein GP of Ebola virus. Med Microbiol Immunol 193:181–187

Niikura M, Ikegami T, Saijo M, Kurane I, Miranda ME, Morikawa S (2001) Detection of Ebola viral antigen by enzyme-linked immunosorbent assay using a novel monoclonal antibody to nucleoprotein. J Clin Microbiol 39:3267–3271

Pang Z, Li A, Li J, Qu J, He C, Zhang S, Li C, Zhang Q, Liang M, Li D (2014) Comprehensive multiplex one-step real-time TaqMan qRT-PCR assays for detection and quantification of hemorrhagic fever viruses. PLoS ONE 9:e95635

Rougeron V, Feldmann H, Grard G, Becker S, Leroy EM (2015) Ebola and Marburg haemorrhagic fever. J Clin Virol 64:111–119

Schoepp RJ, Rossi CA, Khan SH, Goba A, Fair JN (2014) Undiagnosed acute viral febrile illnesses, Sierra Leone. Emerg Infect Dis 20:1176–1182

Southern TR, Racsa LD, Albarino CG, Fey PD, Hinrichs SH, Murphy CN, Herrera VL, Sambol AR, Hill CE, Ryan EL, Kraft CS, Campbell S, Sealy TK, Schuh A, Ritchie JC, Lyon GM 3rd, Mehta AK, Varkey JB, Ribner BS, Brantly KP, Stroher U, Iwen PC, Burd EM (2015) Comparison of filmarray and quantitative real-time reverse transcriptase pcr for detection of Zaire Ebolavirus from contrived and clinical specimens. J Clin Microbiol 53:2956–2960

Sow MS, Etard JF, Baize S, Magassouba N, Faye O, Msellati P, Toure A 2nd, Savane I, Barry M, Delaporte E (2016) New evidence of long-lasting persistence of Ebola virus genetic material in semen of survivors. J Infect Dis 214:1475–1476

Uyeki TM, Mehta AK, Davey RT Jr, Liddell AM, Wolf T, Vetter P, Schmiedel S, Grunewald T, Jacobs M, Arribas JR, Evans L, Hewlett AL, Brantsaeter AB, Ippolito G, Rapp C, Hoepelman AI, Gutman J (2016) Clinical management of Ebola virus disease in the United States and Europe. N Engl J Med 374:636–646

Varkey JB, Shantha JG, Crozier I, Kraft CS, Lyon GM, Mehta AK, Kumar G, Smith JR, Kainulainen MH, Whitmer S, Stroher U, Uyeki TM, Ribner BS, Yeh S (2015) Persistence of Ebola virus in ocular fluid during convalescence. N Engl J Med 372:2423–2427

Wang Q, Zhang Y, Nie K, Wang H, Du H, Song J, Xiao K, Lei W, Guo J, Wei H, Cai K, Wang Y, Wu J, Gerald B, Kamara IL, Liang M, Wu G, Dong X (2016) Establishment of quality control system of nucleic acid detection for ebola virus in sierra leone-china friendship biological safety laboratory. Bing du xue bao 32:210–214 (in Chinese)

WHO (2016) Situation report: Ebola virus disease. Accessed 30 March 2016

WHO (2016) Statement on the 9th meeting of the IHR Emergency Committee regarding the Ebola outbreak in West Africa. 29 March 2016

Wu W, Zhang S, Qu J, Zhang Q, Li C, Li J, Jin C, Liang M, Li D (2014) Simultaneous detection of IgG antibodies associated with viral hemorrhagic fever by a multiplexed Luminex-based immunoassay. Virus Res 187:84–90

Zhou R, Sun L, Liu Y, Wu W, Li C, Liang M, Qiu P (2016) Research of human-mouse chimeric antibodies against ebola virus nucleoprotein. Bing du xue bao 32:14–18 (in Chinese)
Acknowledgements
Hundreds of Chinese and Sierra Leonean staff on-site participated in specimen collection, transportation, detection, and data analysis. We especially acknowledge the excellent work of six previous detection teams of China CDC (mobile and fixed lab) and indispensable support (materials and reagents) of the National Institute for Viral Disease Control and Prevention, China CDC. We also express our deep condolences to Dr. Abdul Kamara of the Ministry of Health and Sanitation, Sierra Leone who contributed a lot to this project but passed on after the successful control of Ebola epidemic in Sierra Leone. We also appreciate Dr. Zheng Xing and Dr. Feng Liu for the useful comments of this manuscript. This study was supported by National Mega project for Infectious Disease, Ministry of Science and technology (Grant Nos. 2016ZX10004222-002, 2016ZX10004222-003), National Natural Science Foundation of China (Grant Nos. 81373141 and 81401312) and National key project of Ebola research, National Natural Science Foundation of China (NSFC, Grant No. 81590763).
Ethics declarations
Conflict of interest
The authors declare that they have no conflict of interest.
Animal and Human Rights Statement
This study did not involve human experimentation, and all the blood samples were collected from Ebola patients with prior consent of the Ministry of Health and Sanitation of Sierra Leone. Biosafety evaluations were approved by the National Institute for Viral Disease Control and Prevention, China CDC. All experimental operations were handled following the Standard Operational Protocol approved by China CDC.
About this article
Cite this article
Liu, Y., Sun, Y., Wu, W. et al. Serological Investigation of Laboratory-Confirmed and Suspected Ebola Virus Disease Patients During the Late Phase of the Ebola Outbreak in Sierra Leone. Virol. Sin. 33, 323–334 (2018). https://doi.org/10.1007/s12250-018-0044-z
Received:

Accepted:

Published:

Issue Date:

DOI: https://doi.org/10.1007/s12250-018-0044-z
Keywords
Ebola virus (EBOV)

Late phase

Serologic investigation

IgM

IgG