Abstract
Enteric viruses are the most common cause of acute gastroenteritis (AGE) in young children and a significant public health problem globally. Hospital admissions of children under 5 years of age with diarrhea are primarily associated with group A rotavirus (RVA) infection. In this retrospective study, the population structure of viruses linked to AGE etiology in young children hospitalized with AGE in Moscow was evaluated, and molecular characterization of RVA strains was performed. Fecal specimens were collected from children under 5 years old hospitalized with AGE between 2009 and 2014 in Moscow, Russia. Multiplex real-time reverse transcription PCR was used to detect enteric viruses and for G/[P]-genotyping of isolated RVAs. Sequencing of RVA VP7 and VP4 cDNA fragments was used to validate the data obtained by PCR-genotyping. The main causes for hospitalization of children with AGE were RVA (40.1%), followed by noroviruses (11.4%), while adenoviruses, astroviruses, sapoviruses, enteroviruses, and orthoreoviruses were detected in 4.7%, 1.9%, 1.4%, 1.2%, and 0.2% of samples tested, respectively. Nosocomial infections, predominantly associated with RVAs and noroviruses, were detected in 24.8% of cases and occurred significantly more frequently in younger infants. The predominant RVA genotype was G4P[8], detected in 38.7% of RVA-positive cases, whereas genotypes G1P[8], G9P[8], G3P[8], and G2P[4] were found in 11.8%, 6.6%, 4.2%, and 3.3% of cases, respectively. Together, the presence of circulating RVA strains with rare VP7 and VP4 gene variants (G6 and P[9]) highlights the need to conduct continuous epidemiological monitoring of RVA infection.
Access options
Buy single article
Instant access to the full article PDF.
USD 39.95
Price excludes VAT (USA)
Tax calculation will be finalised during checkout.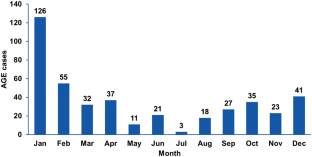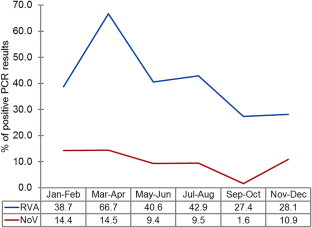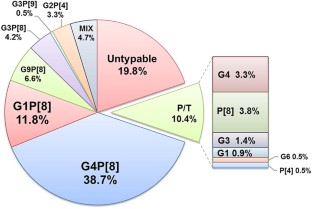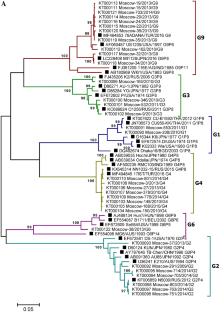 References
Abdel-Haq N, Amjad M, McGrath E, Salimnia H, Fairfax M, Asmar BI (2016) Rotavirus infections in Detroit, USA, a region of low vaccine prevalence. Virusdisease 27:179–182

Afrad MH, Hassan Z, Farjana S, Moni S, Barua S, Das SK, Faruque AS, Azim T, Rahman M (2013a) Changing profile of rotavirus genotypes in Bangladesh, 2006–2012. BMC Infect Dis 13:320

Afrad MH, Rahman MZ, Matthijnssens J, Das SK, Faruque AS, Azim T, Rahman M (2013b) High incidence of reassortant G9P[4] rotavirus strain in Bangladesh: fully heterotypic from vaccine strains. J Clin Virol 58:755–756

Arana A, Montes M, Jere KC, Alkorta M, Iturriza-Gomara M, Cilla G (2016) Emergence and spread of G3P[8] rotaviruses possessing an equine-like VP7 and a DS-1-like genetic backbone in the Basque Country (North of Spain), 2015. Infect Genet Evol 44:137–144

Bakhtoiarov GN, Kiselev IS, Zverev VV, Faizuloev EB (2014) Evaluation of real-time multiplex PCR effectiveness for group a rotavirus genotyping. Zh Mikrobiol Epidemiol Immunobiol 4:43–49 (in Russian)

Bruijning-Verhagen P, Quach C, Bonten M (2012) Nosocomial rotavirus infections: a meta-analysis. Pediatrics 129:e1011–e1019

Bucardo F, Reyes Y, Svensson L, Nordgren J (2014) Predominance of norovirus and sapovirus in Nicaragua after implementation of universal rotavirus vaccination. PLoS ONE 9:e98201

Dennehy PH (2011) Viral gastroenteritis in children. Pediatr Infect Dis J 30:63–64

Dennehy PH (2015) Rotavirus infection: A disease of the past? Infect Dis Clin North Am 29:617–635

Desselberger U (2014) Rotaviruses. Virus Res 190:75–96

Desselberger U (2017) Differences of rotavirus vaccine effectiveness by country: likely causes and contributing factors. Pathogens 6:65

Doro R, Laszlo B, Martella V, Leshem E, Gentsch J, Parashar U, Banyai K (2014) Review of global rotavirus strain prevalence data from six years post vaccine licensure surveillance: is there evidence of strain selection from vaccine pressure? Infect Genet Evol 28:446–461

Gleizes O, Desselberger U, Tatochenko V, Rodrigo C, Salman N, Mezner Z, Giaquinto C, Grimprel E (2006) Nosocomial rotavirus infection in European countries: a review of the epidemiology, severity and economic burden of hospital-acquired rotavirus disease. Pediatr Infect Dis J 25:S12–S21

Gurgel RG, Bohland AK, Vieira SC, Oliveira DM, Fontes PB, Barros VF, Ramos MF, Dove W, Nakagomi T, Nakagomi O, Correia JB, Cunliffe N, Cuevas LE (2009) Incidence of rotavirus and all-cause diarrhea in northeast Brazil following the introduction of a national vaccination program. Gastroenterology 137:1970–1975

Hemming M, Rasanen S, Huhti L, Paloniemi M, Salminen M, Vesikari T (2013) Major reduction of rotavirus, but not norovirus, gastroenteritis in children seen in hospital after the introduction of RotaTeq vaccine into the National Immunization Programme in Finland. Eur J Pediatr 172:739–746

Iturriza-Gomara M, Isherwood B, Desselberger U, Gray J (2001) Reassortment in vivo: driving force for diversity of human rotavirus strains isolated in the United Kingdom between 1995 and 1999. J Virol 75:3696–3705

Kambhampati A, Koopmans M, Lopman BA (2015) Burden of norovirus in healthcare facilities and strategies for outbreak control. J Hosp Infect 89:296–301

Leshem E, Lopman B, Glass R, Gentsch J, Banyai K, Parashar U, Patel M (2014) Distribution of rotavirus strains and strain-specific effectiveness of the rotavirus vaccine after its introduction: a systematic review and meta-analysis. Lancet Infect Dis 14:847–856

Leshem E, Tate JE, Steiner CA, Curns AT, Lopman BA, Parashar UD (2015) Acute gastroenteritis hospitalizations among US children following implementation of the rotavirus vaccine. JAMA 313:2282–2284

Lobzin YV, Kharit SM, Goveia MG, O'Brian MA, Podkolzin AT, Blokhin BM, Bekhtereva MK, Rudakova AV, Tikunova NV (2017) Burden of childhood rotavirus disease in the outpatient setting of the Russian Federation. Pediatr Infect Dis J 36:472–476

Marova AA, Oksanich AS, Kaira AN, Meskina ER, Medvedeva EA, Ivanova OE, Lukashev AN, Kyuregian KK, Kalinkina MA, Egorova OV, Zverev VV, Faizuloev EV (2012) Experience of application of multiplex qPCR for differential diagnostics of intestinal viral infections. Zh Mikrobiol Epidemiol Immunobiol 6:39–45 (in Russian)

Matthijnssens J, Ciarlet M, Rahman M, Attoui H, Banyai K, Estes MK, Gentsch JR, Iturriza-Gomara M, Kirkwood CD, Martella V, Mertens PP, Nakagomi O, Patton JT, Ruggeri FM, Saif LJ, Santos N, Steyer A, Taniguchi K, Desselberger U, Van Ranst M (2008) Recommendations for the classification of group A rotaviruses using all 11 genomic RNA segments. Arch Virol 153:1621–1629

Mayindou G, Ngokana B, Sidibe A, Moundele V, Koukouikila-Koussounda F, Christevy Vouvoungui J, Kwedi Nolna S, Velavan TP, Ntoumi F (2016) Molecular epidemiology and surveillance of circulating rotavirus and adenovirus in Congolese children with gastroenteritis. J Med Virol 88:596–605

Omore R, Tate JE, O'Reilly CE, Ayers T, Williamson J, Moke F, Schilling KA, Awuor AO, Jaron P, Ochieng JB, Oundo J, Parashar UD, Parsons MB, Bopp CC, Nasrin D, Farag TH, Kotloff KL, Nataro JP, Panchalingam S, Levine MM, Laserson KF, Nuorti JP, Mintz ED, Breiman RF (2016) Epidemiology, seasonality and factors associated with rotavirus infection among children with moderate-to-severe diarrhea in rural Western Kenya, 2008–2012: the global enteric multicenter study (GEMS). PLoS ONE 11:e0160060

O'Ryan M, Giaquinto C, Benninghoff B (2015) Human rotavirus vaccine (Rotarix): focus on effectiveness and impact 6 years after first introduction in Africa. Expert Rev Vaccines 14:1099–1112

Parker EPK, Praharaj I, Zekavati A, Lazarus RP, Giri S, Operario DJ, Liu J, Houpt E, Iturriza-Gomara M, Kampmann B, John J, Kang G, Grassly NC (2018) Influence of the intestinal microbiota on the immunogenicity of oral rotavirus vaccine given to infants in south India. Vaccine 36:264–272

Patton JT (2012) Rotavirus diversity and evolution in the post-vaccine world. Discov Med 13:85–97

Payne DC, Vinje J, Szilagyi PG, Edwards KM, Staat MA, Weinberg GA, Hall CB, Chappell J, Bernstein DI, Curns AT, Wikswo M, Shirley SH, Hall AJ, Lopman B, Parashar UD (2013) Norovirus and medically attended gastroenteritis in US children. N Engl J Med 368:1121–1130

Pitzer VE, Bilcke J, Heylen E, Crawford FW, Callens M, De Smet F, Van Ranst M, Zeller M, Matthijnssens J (2015) Did large-scale vaccination drive changes in the circulating rotavirus population in Belgium? Sci Rep 5:18585

Podkolzin AT, Fenske EB, Abramycheva NY, Shipulin GA, Sagalova OI, Mazepa VN, Ivanova GN, Semena AV, Tagirova ZG, Alekseeva MN, Molochny VP, Parashar UD, Vinje J, Maleev VV, Glass RI, Pokrovsky VI (2009) Hospital-based surveillance of rotavirus and other viral agents of diarrhea in children and adults in Russia, 2005–2007. J Infect Dis 200(Suppl 1):S228–S233

Revich BA, Shaposhnikov DA, Avaliani SL, Rubinshtein KG, Emelina SV, Shiriaev MV, Semutnikova EG, Zakharova PV, Kislova O (2015) Hazard assessment of the impact of high temperature and air pollution on public health in Moscow. Gig Sanit 94:36–40

Sashina TA, Morozova OV, Epifanova NV, Novikova NA (2017) Predominance of new G9P[8] rotaviruses closely related to Turkish strains in Nizhny Novgorod (Russia). Arch Virol 162:2387–2392

Shim JO, Chang JY, Shin S, Moon JS, Ko JS (2016) Changing distribution of age, clinical severity, and genotypes of rotavirus gastroenteritis in hospitalized children after the introduction of vaccination: a single center study in Seoul between 2011 and 2014. BMC Infect Dis 16:287

Simmonds MK, Armah G, Asmah R, Banerjee I, Damanka S, Esona M, Gentsch JR, Gray JJ, Kirkwood C, Page N, Iturriza-Gomara M (2008) New oligonucleotide primers for P-typing of rotavirus strains: Strategies for typing previously untypeable strains. J Clin Virol 42:368–373

Tam CC, O'Brien SJ, Tompkins DS, Bolton FJ, Berry L, Dodds J, Choudhury D, Halstead F, Iturriza-Gomara M, Mather K, Rait G, Ridge A, Rodrigues LC, Wain J, Wood B, Gray JJ (2012) Changes in causes of acute gastroenteritis in the United Kingdom over 15 years: microbiologic findings from 2 prospective, population-based studies of infectious intestinal disease. Clin Infect Dis 54:1275–1286

Tamura K, Stecher G, Peterson D, Filipski A, Kumar S (2013) MEGA6: molecular evolutionary genetics analysis version 6.0. Mol Biol Evol 30:2725–2729

Tate JE, Burton AH, Boschi-Pinto C, Parashar UD (2016) Global, regional, and national estimates of rotavirus mortality in children < 5 years of age, 2000–2013. Clin Infect Dis 62:S96–S105

Velasquez DE, Parashar UD, Jiang B (2014) Strain diversity plays no major role in the varying efficacy of rotavirus vaccines: an overview. Infect Genet Evol 28:561–571

Zhirakovskaia EV, Aksanova R, Gorbunova MG, Tikunov A, Kuril'shchikov AM, Sokolov SN, Netesov SV, Tikunova NV (2012) Genetic diversity of group A rotavirus isolates found in Western Siberia in 2007–2011. Mol Gen Mikrobiol Virusol 4:33–41
Acknowledgements
The study of the distribution of RVA G/[P]-genotypes was at the expense of the Russian Science Foundation (Grant No. 16-15-10332).
Ethics declarations
Conflict of interest
The authors declared that they have no conflict of interests.
Animal and Human Rights Statement
The study protocol was approved by the Medical Ethics Review Committees of the hospitals in Russia. Written consent was provided by the parents.
Electronic supplementary material
Below is the link to the electronic supplementary material.
About this article
Cite this article
Kiseleva, V., Faizuloev, E., Meskina, E. et al. Molecular-Genetic Characterization of Human Rotavirus A Strains Circulating in Moscow, Russia (2009–2014). Virol. Sin. 33, 304–313 (2018). https://doi.org/10.1007/s12250-018-0043-0
Received:

Accepted:

Published:

Issue Date:

DOI: https://doi.org/10.1007/s12250-018-0043-0
Keywords
Acute gastroenteritis (AGE)

Rotaviral enteritis

Rotavirus vaccine

Rotavirus G/[P] genotype

Moscow