Access options
Buy single article
Instant access to the full article PDF.
USD 39.95
Price excludes VAT (USA)
Tax calculation will be finalised during checkout.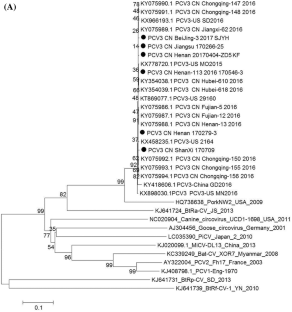 References
Fan S, Ku X, Chen F, Wang Y, Yu X, He Q (2017) Complete genome sequence of a novel porcine circovirus type 3 strain, PCV3/CN/Hubei-618/2016, isolated from China. Genome Announc 5(pii):e00100–e00117

Fu X, Fang B, Ma J, Liu Y, Bu D, Zhou P, Wang H, Jia K, Zhang G (2017) Insights into the epidemic characteristics and evolutionary history of the novel porcine circovirus type 3 in southern China. Transb Emerg Dis 65:e296–e303

Kumar S, Stecher G, Tamura K (2016) MEGA7: molecular evolutionary genetics analysis version 7.0 for bigger datasets. Mol Biol Evol 33:1870–1874

Kwon T, Yoo SJ, Park CK, Lyoo YS (2017) Prevalence of novel porcine circovirus 3 in Korean pig populations. Vet Microbiol 207:178–180

Li X, Tian K (2017) Porcine circovirus type 3: a threat to the pig industry? Vet Rec 181:659–660

Li X, Galliher-Beckley A, Huang H, Sun X, Shi J (2013) Peptide nanofiber hydrogel adjuvanted live virus vaccine enhances cross-protective immunity to porcine reproductive and respiratory syndrome virus. Vaccine 31:4508–4515

Li X, Galliher-Beckley A, Pappan L, Trible B, Kerrigan M, Beck A, Hesse R, Blecha F, Nietfeld JC, Rowland RR, Shi J (2014) Comparison of host immune responses to homologous and heterologous type II porcine reproductive and respiratory syndrome virus (PRRSV) challenge in vaccinated and unvaccinated pigs. Biomed Res Int 2014:416727

Li Y, Yan S, Li X, Yang Q, Guo L, Wang Y, Xiao Y, Tan F, Tian K (2017) From mouse to pig: is PRV vaccine safe across two species? Virus Res 236:44–49

Lv C, Yang Q, Gao X, Yao Y, Li X, Xiao Y, Tian K (2016) Complete genome sequence of a classical swine fever virus isolate belonging to new subgenotype 21d from Henan Province, Central China. Genome Announc 4(pii):e00093–e00116

Palinski R, Pineyro P, Shang P, Yuan F, Guo R, Fang Y, Byers E, Hause BM (2017) A novel porcine circovirus distantly related to known circoviruses is associated with porcine dermatitis and nephropathy syndrome and reproductive failure. J Virol 91(pii):e01879–e01916

Phan TG, Giannitti F, Rossow S, Marthaler D, Knutson TP, Li L, Deng X, Resende T, Vannucci F, Delwart E (2016) Detection of a novel circovirus PCV3 in pigs with cardiac and multi-systemic inflammation. Virol J 13:184

Shen H, Liu X, Zhang P, Wang L, Liu Y, Zhang L, Liang P, Song C (2017) Genome characterization of a porcine circovirus type 3 in South China. Transbound Emerg Dis 65:264–266

Stadejek T, Wozniak A, Milek D, Biernacka K (2017) First detection of porcine circovirus type 3 on commercial pig farms in Poland. Transbound Emerg Dis 64:1350–1353

Zhai SL, Chen SN, Xu ZH, Tang MH, Wang FG, Li XJ, Sun BB, Deng SF, Hu J, Lv DH, Wen XH, Yuan J, Luo ML, Wei WK (2014) Porcine circovirus type 2 in China: an update on and insights to its prevalence and control. Virol J 11:88

Zheng S, Wu X, Zhang L, Xin C, Liu Y, Shi J, Peng Z, Xu S, Fu F, Yu J, Sun W, Li J, Wang J (2017) The occurrence of porcine circovirus 3 without clinical infection signs in Shandong Province. Transbound Emerg Dis 64:1337–1341
Acknowledgements
This work was supported by grant from National Key Research and Development Program (2016YFD0500703), Major science and technology projects in Henan Province (171100110200), and Luoyang HeLuo Talent Plan (to Dr. Kegong Tian).
Ethics declarations
Conflict of interest
The authors declare that they do not have any conflict of interest.
Animal and Human Rights Statement
This study was approved by the Animal Care and Ethics Committee of National Research Center for Veterinary Medicine with IACUC Number 2018054.
About this article
Cite this article
Li, X., Zhang, C., Qiao, M. et al. Molecular Epidemiology of Porcine Circovirus Type 3 Infection in Swine Herds in China. Virol. Sin. 33, 373–377 (2018). https://doi.org/10.1007/s12250-018-0041-2
Received:

Accepted:

Published:

Issue Date:

DOI: https://doi.org/10.1007/s12250-018-0041-2