Abstract
Hepatitis C virus (HCV) is a global health concern, notably in Southeast Asia, and in Laos the presentation of the HCV-induced liver disease is poorly known. Our objective was thus to describe a comprehensive HCV infection pattern in order to guide national health policies. A study on a group of 1765 patients formerly diagnosed by rapid test in health centres was conducted at the Centre of Infectiology Lao Christophe Merieux in Vientiane. The demographic information of patients, their infection status (viral load: VL), liver function (aminotransferases) and treatments were analysed. Results showed that gender distribution of infected people was balanced; with median ages of 53.8 for men and 51.6 years for women (13–86 years). The majority of patients (72%) were confirmed positive (VL > 50 IU/mL) and 28% of them had high VL (> 6log10). About 23% of patients had level of aminotransferases indicative of liver damage (> 40 IU/mL); but less than 20% of patients received treatment. Patients rarely received a second sampling or medical imaging. The survey also showed that cycloferon, pegylated interferon and ribavirin were the drugs prescribed preferentially by the medical staff, without following any international recommendations schemes. In conclusion, we recommend that a population screening policy and better management of patients should be urgently implemented in the country, respecting official guidelines. However, the cost of biological analysis and treatment are significant barriers that must be removed. Public health resolutions should be immediately enforced in the perspective of meeting the WHO HCV elimination deadline by 2030.
Access options
Buy single article
Instant access to the full article PDF.
USD 39.95
Price excludes VAT (USA)
Tax calculation will be finalised during checkout.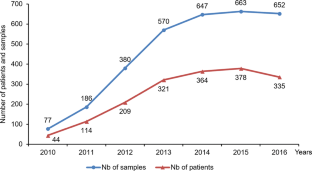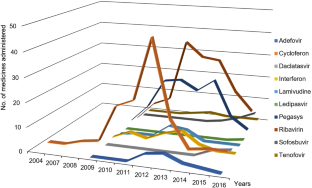 References
Aberle JH, Formann E, Steindl-Munda P, Weseslindtner L, Gurguta C, Perstinger G, Grilnberger E, Laferl H, Dienes HP, Popow-Kraupp T, Ferenci P, Holzmann H (2006) Prospective study of viral clearance and CD4(+) T-cell response in acute hepatitis C primary infection and reinfection. J Clin Virol 36:24–31

Alter MJ, Kruszon-Moran D, Nainan OV, McQuillan GM, Gao F, Moyer LA, Kaslow RA, Margolis HS (1994) The prevalence of hepatitis C virus infection in the United States, 1988 through. N Engl J Med 341:556–562

Botros M, Sikaris KA (2013) The De Ritis ratio: the test of time. Clin Biochem Rev 34:117–130

Chassagne F, Rojas Rojas T, Bertani S, Bourdy G, Eav S, Ruiz E, Pineau P, Deharo E (2016) A 13-year retrospective study on primary liver cancer in cambodia: a strikingly high hepatitis C occurrence among hepatocellular carcinoma cases. Oncology 91:106–116

Craxì A, Cammà C (2005) Prevention of hepatocellular carcinoma. Clin Liver Dis 9:329–346

De Ritis F, Coltorti M, Giusti G (2006) An enzymic test for the diagnosis of viral hepatitis: the transaminase serum activities. Clin Chim Acta 369:148–152

Durante-Mangoni E, Vallefuoco L, Sorrentino R, Iossa D, Perna E, Molaro R, Braschi U, Zampino R, Sodano G, Adinolfi LE, Utili R, Portella G (2013) Clinico-pathological significance of hepatitis C virus core antigen levels in chronic infection. J Med Virol 85:1913–1918

El-Serag HB, Mason AC (1999) Rising incidence of hepatocellular carcinoma in the United States. N Engl J Med 340:745–750

Fanning L, Kenny E, Sheehan M, Cannon B, Whelton M, O'Connell J, Collins JK, Shanahan F (1999) Viral load and clinicopathological features of chronic hepatitis C (1b) in a homogeneous patient population. Hepatol Baltim Md 29:904–907

Ishiguro S, Inoue M, Tanaka Y, Mizokami M, Iwasaki M, Tsugane S (2011) JPHC Study Group. Impact of viral load of hepatitis C on the incidence of hepatocellular carcinoma: a population-based cohort study (JPHC Study). Cancer Lett 300:173–179

Jutavijittum P, Yousukh A, Samountry B, Samountry K, Ounavong A, Thammavong T, Keokhamphue J, Toriyama K (2007) Seroprevalence of hepatitis B and C virus infections among Lao blood donors. Southeast Asian J Trop Med Public Health 38:674–679

Lee MH, Hsiao TI, Subramaniam SR, Le AK, Vu VD, Trinh HN, Zhang J, Jin M, Wong VWS, Wong GL-H, Nguyen MH (2017) HCV genotype 6 increased the risk for hepatocellular carcinoma among Asian patients with liver cirrhosis. Am J Gastroenterol 112:1111–1119

Lim SG, Aghemo A, Chen P-J, Dan YY, Gane E, Gani R, Gish RG, Guan R, Jia JD, Lim K et al (2017) Management of hepatitis C virus infection in the Asia-Pacific region: an update. Lancet Gastroenterol Hepatol 2:52–62

Linas BP, Barter DM, Morgan JR, Pho MT, Leff JA, Schackman BR, Horsburgh CR, Assoumou SA, Salomon JA, Weinstein MC, Freedberg KA, Kim AY (2015) The cost-effectiveness of sofosbuvir-based regimens for treatment of hepatitis C virus genotype 2 or 3 infection. Ann Intern Med 162:619–629

Mahajan R, Midha V, Goyal O, Mehta V, Narang V, Kaur K, Singh A, Singh D, Bhanot R, Sood A (2017) Clinical profile of hepatitis C virus infection in a developing country-India. J Gastroenterol Hepatol 33:926–933

Malyĭ VP, Pen'kov DV, Chiriukina OI (2013) Cycloferon therapy of acute and chronic virus hepatitis C. Antibiot Khimioter Antibiot Chemoter Sic 58:34–40 (in Russian)

Noh R, Lee DH, Kwon BW, Kim YH, Kim SB, Song IH (2016) Clinical impact of viral load on the development of hepatocellular carcinoma and liver-related mortality in patients with hepatitis c virus infection. Gastroenterol Res Pract 2016:7476231

Paboriboune P, Vial T, Chassagne F, Sitbounlang P, Soundala S, Bertani S, Sengmanothong D, Babin F-X, Steenkeste N, Dény P, Pineau P, Deharo E (2018) A seven-year retrospective study on the surveillance of hepatitis B in Laos. Int J Hepatol. https://doi.org/10.1155/2018/9462475

Romantsov MG, Kovalenko SN, Sologub TV, Anikina OV (2008) Immunomodulators in the 'gold standard' of the chronic viral hepatitis C therapy. Antibiot Khimioter 53:18–22 (in Russian)

Romantsov MG, Kremen' NV, Sologub TV (2010) Use of immunomodulators in the therapy of chronic hepatitis C: improving standard approach. Eksp Klin Farmakol 73:14–17 (in Russian)

Smith J, Aberle JH, Fleming VM, Ferenci P, Thomson EC, Karayiannis P, McLean AR, Holzmann H, Klenerman P (2010) Dynamic coinfection with multiple viral subtypes in acute hepatitis C. J Infect Dis 202:1770–1779

Sologub TV, Romantsev MG, Shul'diakov AA, Lin'kova IN, Radchenko VG, Kovalenko AL (2010) Efficiency of using cycloferon as part of combined therapy for chronic hepatitis C (a review of multicenter clinical trials). Ter Arkh 82:78–81 (in Russian)

Sripa B, Brindley PJ, Mulvenna J, Laha T, Smout MJ, Mairiang E, Bethony JM, Loukas A (2012) The tumorigenic liver fluke Opisthorchis viverrini—multiple pathways to cancer. Trends Parasitol 28:395–407

Stanaway JD, Flaxman AD, Naghavi M, Fitzmaurice C, Vos T, Abubakar I, Abu-Raddad LJ, Assadi R, Bhala N, Cowie B et al (2016) The global burden of viral hepatitis from 1990 to 2013: findings from the global burden of disease study 2013. Lancet 388:1081–1088

Su WP, Peng CY, Lai HC, Liao KF, Huang WH, Chuang PH, Chen CB, Jeng LB (2009) Persistent transaminase elevations in chronic hepatitis C patients with virological response during peginterferon and ribavirin therapy. Hepatogastroenterology 56:798–801

Voronkova NV, Blokhina NP, Kelli EI, Mikhaĭlov MI, Malyshev NA (2002) Prospects for interferon therapy in chronic hepatitis C with normal transaminase levels. Ter Arkh 74:12–15 (in Russian)

WHO (2014) Hepatitis C. http://www.who.int/mediacentre/factsheets/fs164_apr2014/en/. Accessed 20 April 2018

WHO (2016) Model lists of essential medicines. http://www.who.int/medicines/publications/essentialmedicines/en/. Accessed 20 April 2018

WHO (2017) Towards access 2030. http://www.who.int/medicines/publications/towards_access2030/en/. Accessed 20 April 2018
Acknowledgements
We would like to express our sincere thanks to medical staff and patients. Phimpha Paboriboune was supported by CILM, Institut de Recherche pour le Développement, Campus France and the Fondation Mérieux. We are grateful to Elizabeth Elliott for editing assistance.
Ethics declarations
Conflict of interest
The authors declare that they have no conflict of interest.
Animal and Human Rights Statement
The study was approved by the Ethic Committee of the National Authority. All participants provided written informed consent. Written consents were obtained from all children's parents involved in the study.
About this article
Cite this article
Paboriboune, P., Vial, T., Sitbounlang, P. et al. Hepatitis C in Laos: A 7-Year Retrospective Study on 1765 Patients. Virol. Sin. 33, 295–303 (2018). https://doi.org/10.1007/s12250-018-0039-9
Received:

Accepted:

Published:

Issue Date:

DOI: https://doi.org/10.1007/s12250-018-0039-9
Keywords
Hepatitis C virus (HCV)

HCV incidence

Antiviral agents

Laos