Access options
Buy single article
Instant access to the full article PDF.
USD 39.95
Price excludes VAT (USA)
Tax calculation will be finalised during checkout.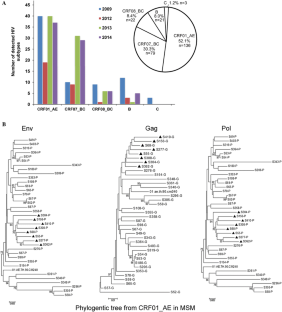 References
An M, Han X, Xu J, Chu Z, Jia M, Wu H, Lu L, Takebe Y, Shang H (2012) Reconstituting the epidemic history of HIV strain CRF01_AE among men who have sex with men (MSM) in Liaoning, northeastern China: implications for the expanding epidemic among MSM in China. J Virol 86:12402–12406

Ding J, Xu J, Huan X, Liu X, Fu G, Wang X, Qiu T, Xu X, Yang H (2012) Analysis of AIDS epidemic in 2011 in Jiangsu Province. Jiangsu J Prev Med 5:34–35 (in Chinese)

Fu Z, Zhao X, Zhao Y, Cao X, Zhang F, Shao M (2013) The AIDS epidemic analysis in Suzhou from 2005–2012. Jiangsu J Prev Med 24:48–49 (in Chinese)

Fu Z, Zhao X, Cao X, Zhao Y, Zhang F, Shao M (2014) HIV incidence among men who have sex with men in Suzhou city: a cohort study. Chin J Public Health 30:726–728 (in Chinese)

He Q, Wang Y, Lin P, Liu Y, Yang F, Fu X, Li Y, Sun B, Li J, Zhao X, Mandel J, Jain S, McFarland W (2006) Potential bridges for HIV infection to men who have sex with men in Guangzhou, China. AIDS Behav 10:S17–S23

He X, Xing H, Ruan Y, Hong K, Cheng C, Hu Y, Xin R, Wei J, Feng Y, Hsi JH, Takebe Y, Shao Y, Group for HIVMES (2012) A comprehensive mapping of HIV-1 genotypes in various risk groups and regions across China based on a nationwide molecular epidemiologic survey. PLoS ONE 7:e47289

Liao L, Xing H, Li X, Ruan Y, Zhang Y, Qin G, Shao Y (2007) Genotypic analysis of the protease and reverse transcriptase of HIV type 1 isolates from recently infected injecting drug users in western China. AIDS Res Hum Retroviruses 23:1062–1065

Ng KT, Ng KY, Khong WX, Chew KK, Singh PK, Yap JK, Tan MT, Leo YS, Laeyendecker O, Quinn TC, Kamarulzaman A, Tee KK, Ng OT (2013) Phylodynamic profile of HIV-1 subtype B, CRF01_AE and the recently emerging CRF51_01B among men who have sex with men (MSM) in Singapore. PLoS ONE 8:e80884

Qin C, Zhang P, Zhu W, Hao F, Gu A, Fen P, Zhu X, Du H (2016) HIV-1 diversity in infected individuals in Suzhou and Suqian, China. SpringerPlus 5:886

Shao M, Shi S, Zhang H, Liu C (1999a) The first HIV-1 infection case report in foreign durg users in Suzhou. J Handan Med College 12:364 (in Chinese)

Shao Y, Zhao F, Yang W (1999b) The identification of recombinant HIV-1 strains in IDUs in southwest and northwest China. Zhonghua Shi Yan He Lin Chuang Bing Du Xue Za Zhi 13:109–112 (in Chinese)

Song YH, Meng ZF, Xing H, Ruan YH, Li XP, Xin RL, Ma PF, Peng H, Shao Y (2007) Analysis of HIV-1 CRF07_BC gag p6 sequences indicating novel deletions in the central region of p6. Arch Virol 152:1553–1558

Stoeckli TC, Steffen-Klopfstein I, Erb P, Brown TM, Kalish ML (2000) Molecular epidemiology of HIV-1 in Switzerland: evidence for a silent mutation in the C2V3 region distinguishing intravenous drug users from homosexual men. Swiss HIV Cohort Study. J Acquir Immune Defic Syndr 23:58–67

Sun YM, Sun WD, Lu HY, Xin RL, He SF, Zhang Q, Yue H, Fan XG, Ma XY (2016) Surveillance for HIV infection in MSM selected through respondent driven sampling in Beijing, 2005-2012. Zhonghua Liu Xing Bing Xue Za Zhi 37:1383–1391 (in Chinese)

Xia J, Wu W, Min X, Shi S, Yang H (1993) The investigation of first AIDS patient in Suzhou Shanghai. J Prev Med 5:23 (in Chinese)

Zhao Y, Cao X, Zhan F (2005) The HIV/AIDS Survey in Suzhou from 1992-2004. Dis Surveill 20:123–124 (in Chinese)
Acknowledgements
We gratefully acknowledge the contribution of the HIV-1 patients who participated in this study and also wish to thank the staff of the local CDC for recruiting participants, collecting samples, and technical assistance. This work was supported by grants from the Open Research Fund Program of the State Key Laboratory of Virology of China (2017IOV003), the Health Department of Jiangsu Province (Y2013062), and Suzhou Science Technology Bureau (SYS201452) and in part by grants from the National Science Foundation of China (NSFC) (81101257) and the Natural Science Foundation of Heilongjiang Province (H201355).
Ethics declarations
Conflict of interest
The authors declare that they have no conflicts of interest.
Animal and human rights statement
Animal and Human Rights Statement was obtained from all patients for whom identifying information is included in this article.
Electronic supplementary material
Below is the link to the electronic supplementary material.
About this article
Cite this article
Yuan, Y., Tang, S., Li, Y. et al. Characteristics of HIV-1 Molecular Epidemiology in Suzhou, China, from 2009 to 2014. Virol. Sin. 33, 209–212 (2018). https://doi.org/10.1007/s12250-018-0022-5
Received:

Accepted:

Published:

Issue Date:

DOI: https://doi.org/10.1007/s12250-018-0022-5