Abstract
Effective oral infection is set off by interaction of a group of conserved per os infectivity factors (PIFs) with larval midgut columnar epithelial cells. We constructed pseudotyped viruses by substituting pif1, pif2 or pif3 genes of Helicoverpa armigera nucleopolyhedrovirus (HearNPV) with their homologs from Mamestra bracissae multiple nucleopolyhedrovirus and tested their infectivity to tissue culture cells and to larvae. Transfection and infection assays revealed that all recombinant viruses generated infectious budded virus in both cell culture and in larvae. Electron microscopy showed synthesized occlusion body and occlusion derived virus (ODV) were morphologically indistinguishable from those of the parental virus. By contrast, feeding assays revealed that pseudotyped viruses could not rescue oral infectivity except for pif3 pseudotyped virus that only partially rescued oral infectivity but at a mortality rate much lower than that of the parental HearNPV. Consistent with the bioassay result, PIF complex was detected in ODVs of pif3 pseudotyped virus only but not in pif1 or pif2 pseudotyped viruses. Our results suggest that PIF complex is essential for oral infectivity, and in the formation of the PIF complex, PIF1, 2 are virus-specific while PIF3 does not appear to be as specific and can function in heterologous environment, albeit to a much more limited extent.
Access options
Buy single article
Instant access to the full article PDF.
USD 39.95
Price excludes VAT (USA)
Tax calculation will be finalised during checkout.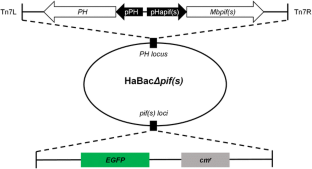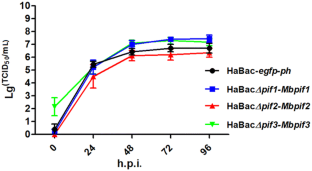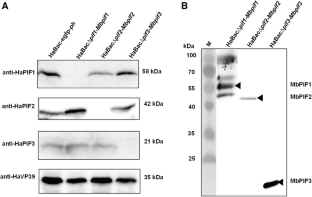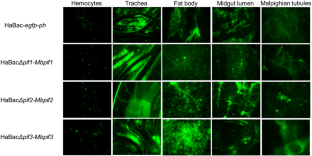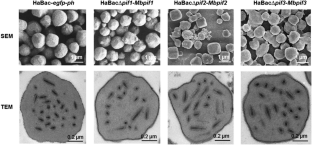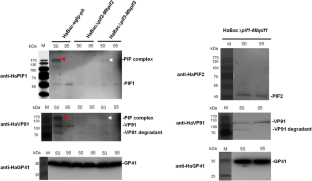 References
Braunagel SC, Elton DM, Ma H, Summers MD (1996) Identification and analysis of an Autographa californica nuclear polyhedrosis virus structural protein of the occlusion-derived virus envelope: ODV-E56. Virol 217:97–110

Clarke TE, Clem RJ (2002) Lack of involvement of haemocytes in the establishment and spread of infection in Spodoptera frugiperda larvae infected with the baculovirus Autographa californica M nucleopolyhedrovirus by intrahaemocoelic injection. J Gen Virol 83:1565–1572

Dong ZQ, Zhang J, Chen XM, He Q, Cao MY, Wang L, Li HQ, Xiao WF, Pan CX, Lu C, Pan MH (2014) Bombyx mori nucleopolyhedrovirus ORF79 is a per os infectivity factor associated with the PIF complex. Virus Res 184:62–70

Doyle CJ, Hirst ML, Cory JS, Entwistle PF (1990) Risk assessment studies: detailed host range testing of wild-type cabbage moth, Mamestra brassicae (Lepidoptera: Noctuidae), nuclear polyhedrosis virus. Appl Environ Microbiol 56:2704–2710

Fang M, Nie Y, Harris S, Erlandson MA, Theilmann DA (2009) Autographa californica multiple nucleopolyhedrovirus core gene ac96 encodes a per Os infectivity factor (PIF-4). J Virol 83:12569–12578

Javed MA, Biswas S, Willis LG, Harris S, Pritchard C, van Oers MM, Donly BC, Erlandson MA, Hegedus DD, Theilmann DA (2017) Autographa californica multiple nucleopolyhedrovirus AC83 is a per os infectivity factor (PIF) protein required for occlusion-derived virus (ODV) and budded virus nucleocapsid assembly as well as assembly of the PIF complex in ODV envelopes. J Virol 91(5):e02115

Jiantao L, Zhu L, Zhang S, Deng Z, Huang Z, Yuan M, Wu W, Yang K (2016) The Autographa californica multiple nucleopolyhedrovirus ac110 gene encodes a new per os infectivity factor. Virus Res 221:30–37

Kikhno I, Gutierrez S, Croizier L, Croizier G, Ferber ML (2002) Characterization of pif, a gene required for the per os infectivity of Spodoptera littoralis nucleopolyhedrovirus. J Gen Virol 83:3013–3022

Kuzio J, Jaques R, Faulkner P (1989) Identification of p74, a gene essential for virulence of baculovirus occlusion bodies. Virology 173:759–763

McIntosh A, Grasela J (1994) Expression of beta-galactosidase and luciferase in insect cell lines infected with a recombinant AcMNPV. In Vitro Cell Dev Biol Anim 30A:275–278

Miele SAB, Garavaglia MJ, Belaich MN, Ghiringhelli PD (2011) Baculovirus: molecular insights on their diversity and conservation. Int J Evol Biol 2011:379424

Miller LK, Fraenkel-Conrat H, Wagner RR (1997) The viruses. The Baculoviruses. Springer Science + Business Media, LLC., Berlin

Nie Y, Fang M, Erlandson MA, Theilmann DA (2012) Analysis of the Autographa californica multiple nucleopolyhedrovirus overlapping gene pair lef3 and ac68 reveals that AC68 is a per os infectivity factor and that LEF3 is critical, but not essential, for virus replication. J Virol 86:3985–3994

Ohkawa T, Washburn JO, Sitapara R, Sid E, Volkman LE (2005) Specific binding of Autographa californica M nucleopolyhedrovirus occlusion-derived virus to midgut cells of Heliothis virescens larvae is mediated by products of pif genes Ac119 and Ac022 but not by Ac115. J Virol 79:15258–15264

Peng K, Wu M, Deng F, Song J, Dong C, Wang H, Hu Z (2010a) Identification of protein–protein interactions of the occlusion-derived virus-associated proteins of Helicoverpa armigera nucleopolyhedrovirus. J Gen Virol 91:659–670

Peng K, van Oers MM, Hu Z, van Lent JW, Vlak JM (2010b) Baculovirus per os infectivity factors form a complex on the surface of occlusion-derived virus. J Virol 84:9497–9504

Peng K, van Lent JW, Boeren S, Fang M, Theilmann DA, Erlandson MA, Vlak JM, van Oers MM (2012) Characterization of novel components of the baculovirus per os infectivity factor complex. J Virol 86:4981–4988

Perera O, Green TB, Stevens SM Jr, White S, Becnel JJ (2007) Proteins associated with Culex nigripalpus nucleopolyhedrovirus occluded virions. J Virol 81:4585–4590

Pijlman GP, Pruijssers AJ, Vlak JM (2003) Identification of pif-2, a third conserved baculovirus gene required for per os infection of insects. J Gen Virol 84:2041–2049

Shang Y, Wang M, Xiao G, Wang X, Hou D, Pan K, Liu S, Li J, Wang J, Arif BM, Vlak JM, Chen X, Wang H, Deng F, Hu Z (2017) Construction and rescue of a functional synthetic baculovirus. ACS Synth Biol 6:1393–1402

Simon O, Palma L, Williams T, Lopez-Ferber M, Caballero P (2012) Analysis of a naturally-occurring deletion mutant of Spodoptera frugiperda multiple nucleopolyhedrovirus reveals sf58 as a new per os infectivity factor of lepidopteran-infecting baculoviruses. J Invertebr Pathol 109:117–126

Slack J, Arif BM (2007) The baculoviruses occlusion-derived virus: virion structure and function. Adv Virus Res 69:99–165

Song J, Wang R, Deng F, Wang H, Hu Z (2008) Functional studies of per os infectivity factors of Helicoverpa armigera single nucleocapsid nucleopolyhedrovirus. J Gen Virol 89:2331–2338

Song J, Wang X, Hou D, Huang H, Liu X, Deng F, Wang H, Arif BM, Hu Z, Wang M (2016) The host specificities of baculovirus per os infectivity factors. PLoS ONE 11:e0159862

Sparks W, Li H, Bonning B (2008) Protocols for oral infection of Lepidopteran larvae with baculovirus. J Vis Exp (19):e888

Wang H, Deng F, Pijlman GP, Chen X, Sun X, Vlak JM, Hu Z (2003) Cloning of biologically active genomes from a Helicoverpa armigera single-nucleocapsid nucleopolyhedrovirus isolate by using a bacterial artificial chromosome. Virus Res 97:57–63

Zheng Q, Shen Y, Kon X, Zhang J, Feng M, Wu X (2017) Protein–protein interactions of the baculovirus per os infectivity factors (PIFs) in the PIF complex. J Gen Virol 98:853–861
Acknowledgements
This work was supported by grants from the Key Research Program of Frontier Sciences of the Chinese Academy of Sciences (grant No. QYZDJ-SSW-SMC021), the National Natural Science Foundation of China (grants No. 31621061 and 31130058), the Virology Key Frontier Science Program of State Key Laboratory of Virology (grant No. klv-2016-03), and the National Key R&D Program of China (2017YFD0200400). This research study was sponsored by CAS-TWAS President's Fellowship for International PhD Students. We acknowledge the technical support and core facility of Wuhan institute of Virology for technical assistance.
Author Contributions
ZHH and MLW designed the study; GAM performed most of the experiments; XW, HYZ, NZ and CC participated in the experiments; GAM, LJ, FD and HLW analyzed the data; GAM, ZHH and MLW wrote and finalized the manuscript. All authors read and approved the manuscript.
Ethics declarations
Conflict of interest
The authors declare that they have no conflicts of interest.
Animal and Human Rights Statement
This article does not contain any studies with human or animal subjects performed by any of the authors.
Electronic supplementary material
Below is the link to the electronic supplementary material.
About this article
Cite this article
Makalliwa, G.A., Wang, X., Zhang, H. et al. HearNPV Pseudotyped with PIF1, 2, and 3 from MabrNPV: Infectivity and Complex Stability. Virol. Sin. 33, 187–196 (2018). https://doi.org/10.1007/s12250-018-0014-5
Received:

Accepted:

Published:

Issue Date:

DOI: https://doi.org/10.1007/s12250-018-0014-5
Keywords
Baculovirus

Oral infectivity

per os infectivity factors (PIFs)

PIF complex

Pseudotyped