Abstract
An infection by Zika virus (ZIKV), a mosquito-borne flavivirus, broke out in South American regions in 2015, and recently showed a tendency of spreading to North America and even worldwide. ZIKV was first detected in 1947 and only 14 human infection cases were reported until 2007. This virus was previously observed to cause only mild flu-like symptoms. However, recent ZIKV infections might be responsible for the increasing cases of neurological disorders such as Guillain-Barré syndrome and congenital defects, including newborn microcephaly. Therefore, researchers have established several animal models to study ZIKV transmission and pathogenesis, and test therapeutic candidates. This review mainly summarizes the reported animal models of ZIKV infection, including mice and non-human primates.
Access options
Buy single article
Instant access to the full article PDF.
USD 39.95
Price excludes VAT (USA)
Tax calculation will be finalised during checkout.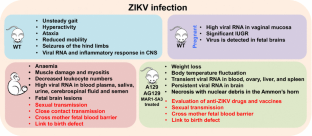 References
Adams Waldorf KM, Stencel-Baerenwald JE, Kapur RP, Studholme C, Boldenow E, Vornhagen J, Baldessari A, Dighe MK, Thiel J, Merillat S, Armistead B (2016) Fetal brain lesions after subcutaneous inoculation of Zika virus in a pregnant nonhuman primate. Nat Med 22:1256–1259

Bautista LE, Sethi AK (2016) Association between Guillain–Barré syndrome and Zika virus infection. Lancet 387:2599–2600

Bayer A, Lennemann NJ, Ouyang Y, Bramley JC, Morosky S, Marques ET Jr, Cherry S, Sadovsky Y, Coyne CB (2016) Type III interferons produced by human placental trophoblasts confer protection against Zika virus infection. Cell Host Microbe 19:705–712

Cao-Lormeau VM, Blake A, Mons S, Lastère S, Roche C, Vanhomwegen J, Dub T, Baudouin L, Teissier A, Larre P, Vial AL (2016) Guillain–Barré Syndrome outbreak associated with Zika virus infection in French Polynesia: a case–control study. Lancet 387:1531–1539

Deng YQ, Zhang NN, Li XF, Wang YQ, Tian M, Qiu YF, Fan JW, Hao JN, Huang XY, Dong HL, Fan H, Wang YG, Zhang FC, Tong YG, Xu Z, Qin CF (2017) Intranasal infection and contact transmission of Zika virus in guinea pigs. Nat Commun 8:1648

Dick GW, Kitchen SF, Haddow AJ (1952) Zika virus. I. Isolations and serological specificity. Trans R Soc Trop Med Hyg 46:509–520

Dowall SD, Graham VA, Rayner E, Atkinson B, Hall G, Watson RJ, Bosworth A, Bonney LC, Kitchen S, Hewson R (2016) A susceptible mouse model for Zika virus infection. PLoS Negl Trop Dis 10:e0004658

Drake VJ, Koprowski SL, Lough JW, Smith SM (2006) Gastrulating chick embryo as a model for evaluating teratogenicity: a comparison of three approaches. Birth Defects Res A Clin Mol Teratol 76:66–71

Dudley DM, Aliota MT, Mohr EL, Weiler AM, Lehrer-Brey G, Weisgrau KL, Mohns MS, Breitbach ME, Rasheed MN, Newman CM, Gellerup DD (2016) A rhesus macaque model of Asian-lineage Zika virus infection. Nat Commun 7:12204

Duffy MR, Chen TH, Hancock WT, Powers AM, Kool JL, Lanciotti RS, Pretrick M, Marfel M, Holzbauer S, Dubray C, Guillaumot L (2009) Zika virus outbreak on Yap Island, Federated States of Micronesia. N Engl J Med 360:2536–2543

Goodfellow FT, Tesla B, Simchick G, Zhao Q, Hodge T, Brindley MA, Stice SL (2016) Zika virus induced mortality and microcephaly in chicken embryos. Stem Cells Dev 25:1691–1697

Govero J, Esakky P, Scheaffer SM, Fernandez E, Drury A, Platt DJ, Gorman MJ, Richner JM, Caine EA, Salazar V, Moley KH (2016) Zika virus infection damages the testes in mice. Nature 540:438–442

Haddow AD, Nalca A, Rossi FD, Miller LJ, Wiley MR, Perez-Sautu U, Washington SC, Norris SL, Wollen-Roberts SE, Shamblin JD, Kimmel AE (2017) High infection rates for adult macaques after intravaginal or intrarectal inoculation with Zika virus. Emerg Infect Dis 23:1274–1281

Honda K, Taniguchi T (2006) IRFs: master regulators of signalling by Toll-like receptors and cytosolic pattern-recognition receptors. Nat Rev Immunol 6:644–658

Ko MS (2001) Embryogenomics: developmental biology meets genomics. Trends Biotechnol 19:511–518

Kumar M, Krause KK, Azouz F, Nakano E, Nerurkar VR (2017) A guinea pig model of Zika virus infection. Virol J 14:75

Lazear HM, Govero J, Smith AM, Platt DJ, Fernandez E, Miner JJ, Diamond MS (2016) A mouse model of Zika virus pathogenesis. Cell Host Microbe 19:720–730

Li G, Poulsen M, Fenyvuesvolgyi C, Yashiroda Y, Yoshida M, Simard JM, Gallo RC, Zhao RY (2017) Characterization of cytopathic factors through genome-wide analysis of the Zika viral proteins in fission yeast. Proc Natl Acad Sci USA 114:E376–E385

Lugo-Roman LA, Rico PJ, Sturdivant R, Burks R, Settle TL (2010) Effects of serial anesthesia using ketamine or ketamine/medetomidine on hematology and serum biochemistry values in rhesus macaques (Macaca mulatta). J Med Primatol 39:41–49

Ma W, Li S, Ma S, Jia L, Zhang F, Zhang Y, Zhang J, Wong G, Zhang S, Lu X, Liu M (2016) Zika virus causes testis damage and leads to male infertility in mice. Cell 167(1511–1524):e10

Macnamara FN (1954) Zika virus: a report on three cases of human infection during an epidemic of jaundice in Nigeria. Trans R Soc Trop Med Hyg 48:139–145

Manangeeswaran M, Ireland DD, Verthelyi D (2016) Zika (PRVABC59) infection is associated with T cell infiltration and neurodegeneration in CNS of immunocompetent neonatal C57Bl/6 mice. PLoS Pathog 12:e1006004

Medzhitov R (2001) Toll-like receptors and innate immunity. Nat Rev Immunol 1:135–145

Miner JJ, Cao B, Govero J, Smith AM, Fernandez E, Cabrera OH, Garber C, Noll M, Klein RS, Noguchi KK, Mysorekar IU (2016) Zika virus infection during pregnancy in mice causes placental damage and fetal demise. Cell 165:1081–1091

Osuna CE, Lim SY, Deleage C, Griffin BD, Stein D, Schroeder LT, Omange R, Best K, Luo M, Hraber PT, Andersen-Elyard H (2016) Zika viral dynamics and shedding in rhesus and cynomolgus macaques. Nat Med 22:1448–1455

Paploski IA, Prates AP, Cardoso CW, Kikuti M, Silva MM, Waller LA, Reis MG, Kitron U, Ribeiro GS (2016) time lags between exanthematous illness attributed to Zika virus, Guillain–Barré Syndrome, and microcephaly, Salvador, Brazil. Emerg Infect Dis 22:1438–1444

Pinto AK, Brien JD, Lam CY, Johnson S, Chiang C, Hiscott J, Sarathy VV, Barrett AD, Shresta S, Diamond MS (2015) Defining new therapeutics using a more immunocompetent mouse model of antibody-enhanced dengue virus infection. MBio 6:e01316–1315

Qian X, Nguyen HN, Song MM, Hadiono C, Ogden SC, Hammack C, Yao B, Hamersky GR, Jacob F, Zhong C, Yoon KJ (2016) Brain-region-specific organoids using mini-bioreactors for modeling ZIKV exposure. Cell 165:1238–1254

Sarathy VV, White M, Li L, Gorder SR, Pyles RB, Campbell GA, Milligan GN, Bourne N, Barrett AD (2015) A lethal murine infection model for dengue virus 3 in AG129 mice deficient in type I and II interferon receptors leads to systemic disease. J Virol 89:1254–1266

Schoggins JW, Rice CM (2011) Interferon-stimulated genes and their antiviral effector functions. Curr Opin Virol 1:519–525

Sejvar JJ, Baughman AL, Wise M, Morgan OW (2011) Population incidence of Guillain–Barré syndrome: a systematic review and meta-analysis. Neuroepidemiology 36:123–133

Sheehan KC, Lai KS, Dunn GP, Bruce AT, Diamond MS, Heutel JD, Dungo-Arthur C, Carrero JA, White JM, Hertzog PJ, Schreiber RD (2006) Blocking monoclonal antibodies specific for mouse IFN-alpha/beta receptor subunit 1 (IFNAR-1) from mice immunized by in vivo hydrodynamic transfection. J Interferon Cytokine Res 26:804–819

Shresta S, Kyle JL, Snider HM, Basavapatna M, Beatty PR, Harris E (2004) Interferon-dependent immunity is essential for resistance to primary dengue virus infection in mice, whereas T- and B-cell-dependent immunity are less critical. J Virol 78:2701–2710

Siddharthan V, Van Wettere AJ, Li R, Miao J, Wang Z, Morrey JD, Julander JG (2017) Zika virus infection of adult and fetal STAT2 knock-out hamsters. Virology 507:89–95

Smith DR, Hollidge B, Daye S, Zeng X, Blancett C, Kuszpit K, Bocan T, Koehler JW, Coyne S, Minogue T, Kenny T (2017) Neuropathogenesis of Zika virus in a highly susceptible immunocompetent mouse model after antibody blockade of type I interferon. PLoS Negl Trop Dis 11:e0005296

Tang H, Hammack C, Ogden SC, Wen Z, Qian X, Li Y, Yao B, Shin J, Zhang F, Lee EM, Christian KM (2016) Zika virus infects human cortical neural progenitors and attenuates their growth. Cell Stem Cell 18:587–590

Thibodeaux BA, Garbino NC, Liss NM, Piper J, Blair CD, Roehrig JT (2012) A small animal peripheral challenge model of yellow fever using interferon-receptor deficient mice and the 17D-204 vaccine strain. Vaccine 30:3180–3187

Woodruff AM, Goodpasture EW (1931) The susceptibility of the chorio-allantoic membrane of chick embryos to infection with the Fowl-Pox virus. Am J Pathol 7:209–222.5

Yockey LJ, Varela L, Rakib T, Khoury-Hanold W, Fink SL, Stutz B, Szigeti-Buck K, Van den Pol A, Lindenbach BD, Horvath TL, Iwasaki A (2016) Vaginal exposure to Zika virus during pregnancy leads to fetal brain infection. Cell 166:1247–1256.e4

Zmurko J, Marques RE, Schols D, Verbeken E, Kaptein SJ, Neyts J (2016) The viral polymerase inhibitor 7-deaza-2′-C-methyladenosine is a potent inhibitor of in vitro Zika virus replication and delays disease progression in a robust mouse infection model. PLoS Negl Trop Dis 10:e0004695
Acknowledgements
This work was supported by the National Natural Science Foundation of China (31770176), the Program for Professor of Special Appointment (Eastern Scholar) at Shanghai Institutions of Higher learning, and the Shanghai Rising-Star Program (17QA1403200) for QL.
Ethics declarations
Conflict of interest
The authors declare that they have no conflict of interest.
Animal and Human Rights Statement
This article does not contain any studies with human or animal subjects performed by any of the authors.
About this article
Cite this article
Dong, S., Liang, Q. Recent Advances in Animal Models of Zika Virus Infection. Virol. Sin. 33, 125–130 (2018). https://doi.org/10.1007/s12250-018-0007-4
Received:

Accepted:

Published:

Issue Date:

DOI: https://doi.org/10.1007/s12250-018-0007-4
Keywords
Zika virus

Flavivirus

Rodent models

Non-human primate models