The regulatory role of protein phosphorylation in human gammaherpesvirus associated cancers
Abstract
Activation of specific sets of protein kinases by intracellular signal molecules has become more and more apparent in the past decade. Phosphorylation, one of key posttranslational modification events, is activated by kinase or regulatory protein and is vital for controlling many physiological functions of eukaryotic cells such as cell proliferation, differentiation, malignant transformation, and signal transduction mediated by external stimuli. Moreovers, the reversible modification of phosphorylation and dephosphorylation can result in different features of the target substrate molecules including DNA binding, protein-protein interaction, subcellular location and enzymatic activity, and is often hijacked by viral infection. Epstein-Barr virus (EBV) and Kaposi's sarcomaassociated herpesvirus (KSHV), two human oncogenic gamma-herpesviruses, are shown to tightly associate with many malignancies. In this review, we summarize the recent progresses on understanding of molecular properties and regulatory modes of cellular and viral proteins phosphorylation influenced by these two tumor viruses, and highlight the potential therapeutic targets and strategies against their related cancers.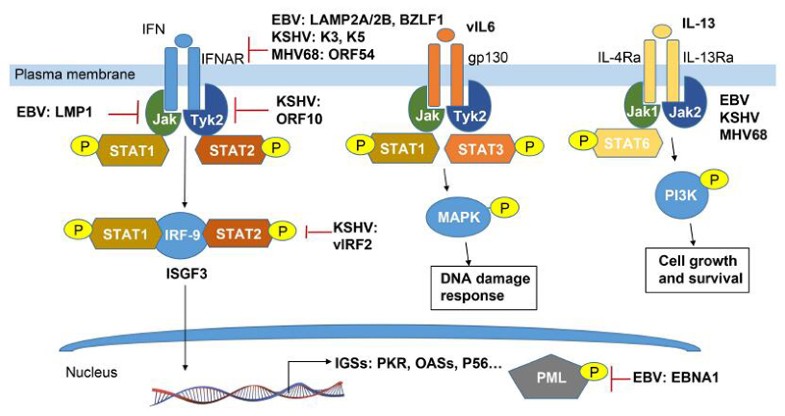 Keywords
Epstein-Barr Virus (EBV) 
Kaposi's sarcoma-associated herpesvirus (KSHV) 
phosphorylation 
Notes
Acknowledgments
The authors would like to apologize to the many researchers who have contributed to this area of research but have not been cited in this review due to space limitations. This work is supported by the National Natural Science Foundation of China (NO. 81471930, 81402542, 81672015, 81772 166), and National Key Research and Development Program of China (2016YFC1200400). FW is a scholar of Pujiang Talents in Shanghai. QC is a scholar of New Century Excellent Talents in University of China.
Copyright information
© Wuhan Institute of Virology, CAS and Springer Science+Business Media Singapore 2017
Open AccessThis article is distributed under the terms of the Creative Commons Attribution 4.0 International License (https:// creativecommons.org/licenses/by/4.0/), which permits unrestricted use, distribution, and reproduction in any medium, provided you give appropriate credit to the original author(s) and the source, provide a link to the Creative Commons license, and indicate if changes were made.