Recent progress on chikungunya virus research
Abstract
Chikungunya virus (CHIKV) is an arbovirus transmitted by Aedes mosquitos in tropical and subtropical regions across the world. After decades of sporadic outbreaks, it re-emerged in Africa, Asia, India Ocean and America suddenly, causing major regional epidemics recently and becoming a notable global health problem. Infection by CHIKV results in a spectrum of clinical diseases including an acute self-limiting febrile illness in most individuals, a chronic phase of recurrent join pain in a proportion of patients, and long-term arthralgia for months to years for the unfortunate few. No specific anti-viral drugs or licensed vaccines for CHIKV are available so far. A better understanding of virus-host interactions is essential for the development of therapeutics and vaccines. To this end, we reviewed the existing knowledge on CHIKV's epidemiology, clinical presentation, molecular virology, diagnostic approaches, host immune response, vaccine development, and available animal models. Such a comprehensive overview, we believe, will shed lights on the promises and challenges in CHIKV vaccine development.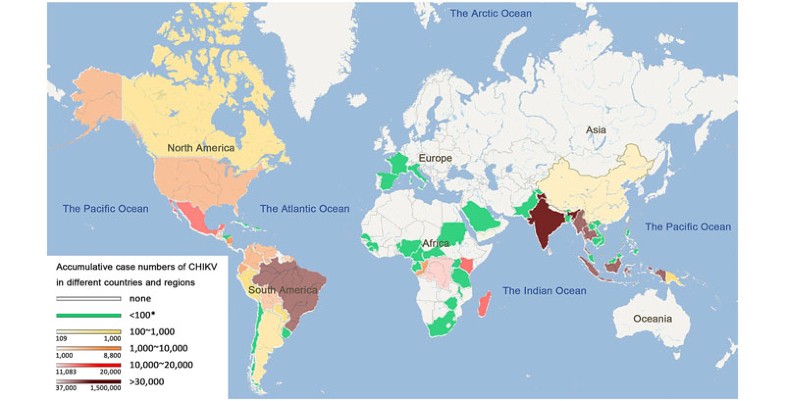 Keywords
chikungunya virus (CHIKV) 
epidemiology 
molecular virology 
host immune response 
vaccine development 
Notes
Acknowledgments
We thank Dr. Chao Zhang (Zerun Biotech Co., Ltd., China) for his help in editing the global heat map of accumulative CHIKV cases. This work is supported in part by the National Key Program Project Grant from MOST #2016YFC1201000.
Copyright information
© The Author(s) 2017
OPEN ACCESS This article is distributed under the terms of the Creative Commons Attribution 4.0 International License (https://creativecommons.org/licenses/by/4.0/), which permits unrestricted use, distribution, and reproduction in any medium, provided you give appropriate credit to the original author(s) and the source, provide a link to the Creative Commons license, and indicate if changes were made.