Human cytomegalovirus miR-US5-1 inhibits viral replication by targeting Geminin mRNA
Abstract
Viruses commonly create favorable cellular conditions for their survival through multiple mechanisms. MicroRNAs (miRNAs), which function as post-transcriptional regulators, are utilized by human cytomegalovirus (HCMV) in its infection and pathogenesis. In the present study, the DNA replication inhibitor Geminin (GMNN) was identified to be a direct target of hcmv-miR-US5-1. Overexpression of hcmv-miR-US5-1 could block the accumulation of GMNN during HCMV infection, and the decrease of GMNN expression caused by hcmv-miR-US5-1 or GMNN specific siRNA reduced HCMV DNA copies in U373 cells. Meanwhile, ectopic expression of hcmv-miR-US5-1 and consequent lower expression of GMNN influenced host cell cycle and proliferation. These results imply that hcmv-miR-US5-1 may affect viral replication and host cellular environment by regulating expression kinetics of GMNN during HCMV infection.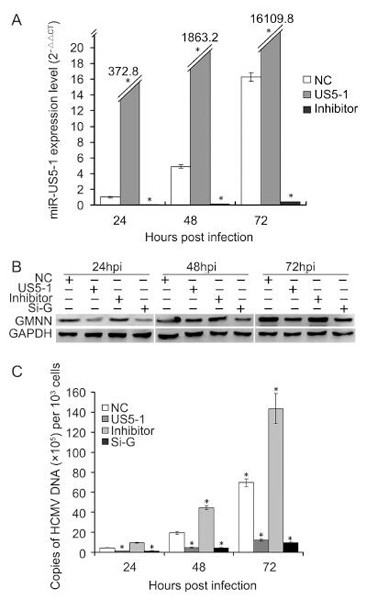 Keywords
Human cytomegalovirus (HCMV) 
hcmv-miR-US5-1 
Geminin (GMNN) 
DNA replication 
cell cycle 
Notes
Acknowledgments
This work was supported by the National Natural Science Foundation of China (81371788 and 81171580) and the Specialized Research Fund for the Doctoral Program of Higher Education (20112104110012) and the Outstanding Scientific Fund of Shengjing Hospital.
Copyright information
© Wuhan Institute of Virology, CAS and Springer Nature Singapore Pte Ltd. 2017