Detection, isolation, and characterization of chikungunya viruses associated with the Pakistan outbreak of 2016–2017
Abstract
The chikungunya virus (CHIKV) is a mosquito-transmitted alphavirus, which has infected millions of people in Africa, Asia, Americas, and Europe since it reemerged in India and Indian Ocean regions in 2005–2006. Starting in the middle of November 2016, CHIKV has been widely spread, and more than 4,000 cases of infections in humans were confirmed in Pakistan. Here, we report the first isolation and characterization of CHIKV from the Pakistan outbreak. Eight CHIKV strains were newly isolated from human serum samples using a cell culture procedure. A full-length genome sequence and eight complete envelope (E1) sequences of CHIKV from Pakistan were obtained in this study. Alignment of the CHIKV E1 sequences revealed that the eight new CHIKV isolates were highly homogeneous, with only two nonsynonymous substitutions found at generally conserved sites (E99 and Q235). Based on the comparison of 342 E1 sequences, the two nonsynonymous mutations were located in well-recognized domains associated with viral functions such as the cell fusion and vector specificity, suggesting their potential functional importance. Phylogenetic analysis indicated that the CHIKV strains from Pakistan originated from CHIKV circulating in the Indian region. This study helps elucidate the epidemics of CHIKV in Pakistan and also provides a foundation for studies of evolution and expansion of CHIKV in South Asia.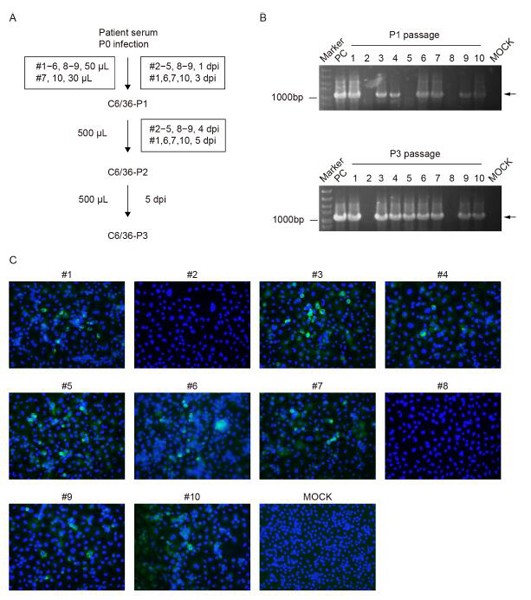 Keywords
chikungunya virus (CHIKV) 
Pakistan 
virus isolation 
clinical serum 
molecular characterization 
Notes
Acknowledgments
This work was supported by International Cooperation on key Technologies of Biosafety along the China–Pakistan Economic Corridor (153B42KYSB20170004), Major State Basic Research Development Program (2013FY 113500) and the National Natural Science Foundation of China (81572003 and 31600141). We are grateful to the Core Facility and Technical Support, Wuhan Institute of Virology, Wuhan Key Laboratory on Emerging Infectious Diseases and Biosafety, and Biosafety Level 3 Laboratory, Wuhan Institute of Virology for their helpful supports during the course of the work. We thank the administrator Hao Tang for his hard work in Biosafety Level 3 Laboratory.
Copyright information
© Wuhan Institute of Virology, CAS and Springer Nature Singapore Pte Ltd. 2017