Abstract
Rasmussen's encephalitis (RE) is a rare pediatric neurological disorder, the etiology of which remains unclear. It has been speculated that the immunopathogenesis of RE involves damage to neurons, which eventually leads to the occurrence of RE. Viral infection may be a critical factor in triggering RE immunopathogenesis. In this study, we analyzed the expression of Epstein-Barr virus (EBV) antigens as well as of Toll-like receptor 3 (TLR3), TLR9, and downstream adapter TIRdomain-containing adapter-inducing interferon-β (TRIF) in the brain tissues of 26 patients with RE and 16 control individuals using immunohistochemistry (IHC). In the RE group, EBV antigens were detected in 53% of individuals at various expression levels. In contrast, there was no detectable EBV antigen expression in control brain tissues. Moreover, we found marked increases in the expression of TLR3, TLR9, and TRIF in the brain tissues of RE patients compared with levels in the control group. Furthermore, among RE cases, EBV expression and high TLR3 expression were associated with more severe brain atrophy. Our results suggest that the elevated expression of EBV and TLRs may be involved in RE occurrence through the activation of downstream molecules.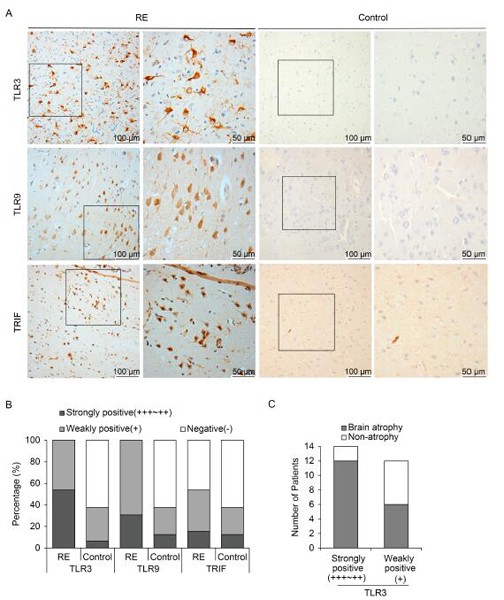 Access options
Buy single article
Instant access to the full article PDF.
USD 39.95
Price excludes VAT (USA)
Tax calculation will be finalised during checkout.
References
Alexopoulou L, Holt AC, Medzhitov R, Flavell RA. 2001. Recognition of double-stranded rna and activation of nf-kappab by toll-like receptor 3. Nature, 413: 732–738.

Allred DC, Harvey JM, Berardo M, Clark GM. 1998. Prognostic and predictive factors in breast cancer by immunohistochemical analysis. Mod Pathol, 11: 155–168.

Bauer J, Bien CG, Lassmann H. 2002. Rasmussen's encephalitis: A role for autoimmune cytotoxic t lymphocytes. Curr Opin Neurol, 15: 197–200.

Bien CG, Bauer J, Deckwerth TL, Wiendl H, Deckert M, Wiestler OD, Schramm J, Elger CE, Lassmann H. 2002. Destruction of neurons by cytotoxic t cells: A new pathogenic mechanism in rasmussen's encephalitis. Ann Neurol, 51: 311–318.

Bien CG, Granata T, Antozzi C, Cross JH, Dulac O, Kurthen M, Lassmann H, Mantegazza R, Villemure JG, Spreafico R, Elger CE. 2005. Pathogenesis, diagnosis and treatment of rasmussen encephalitis: A european consensus statement. Brain, 128: 454–471.

Bsibsi M, Ravid R, Gveric D, van Noort JM. 2002. Broad expression of toll-like receptors in the human central nervous system. J Neuropathol Exp Neurol, 61: 1013–1021.

Chen S, Guan Y, Zhang Y, Qi X, An J, Wang Y, Luan G. 2016. Elevated expression of human papillomavirus antigen in brain tissue of patients with rasmussen's encephalitis. Epilepsy Res, 126: 119–125.

Eeg-Olofsson O, Bergström T, Andermann F, Andermann E, Olivier A, Rydenhag B. 2004. Herpesviral DNA in brain tissue from patients with temporal lobe epilepsy. Acta Neurol Scand, 109: 169–174.

Farrell MA, Cheng L, Cornford ME, Grody WW, Vinters HV. 1991. Cytomegalovirus and rasmussen's encephalitis. Lancet, 337: 1551–1552.

Friedman H, Ch'ien L, Parham D. 1977. Virus in brain of child with hemiplegia, hemiconvulsions, and epilepsy. Lancet, 2: 666.

Guan Y, Zhou J, Luan G, Liu X. 2014. Surgical treatment of patients with rasmussen encephalitis. Stereotact Funct Neurosurg, 92: 86–93.

Jay V, Becker LE, Otsubo H, Cortez M, Hwang P, Hoffman HJ, Zielenska M. 1995. Chronic encephalitis and epilepsy (rasmussen's encephalitis): Detection of cytomegalovirus and herpes simplex virus 1 by the polymerase chain reaction and in situ hybridization. Neurology, 45: 108–117.

Mantegazza R, Bernasconi P, Baggi F, Spreafico R, Ragona F, Antozzi C, Bernardi G, Granata T. 2002. Antibodies against glur3 peptides are not specific for rasmussen's encephalitis but are also present in epilepsy patients with severe, early onset disease and intractable seizures. J Neuroimmunol, 131: 179–185.

Matin N, Tabatabaie O, Falsaperla R, Lubrano R, Pavone P, Mahmood F, Gullotta M, Serra A, Di Mauro P, Cocuzza S, Vitaliti G. 2015. Epilepsy and innate immune system: A possible immunogenic predisposition and related therapeutic implications. Hum Vaccin Immunother, 11: 2021–2029.

Pardo CA, Vining EP, Guo L, Skolasky RL, Carson BS, Freeman JM. 2004. The pathology of rasmussen syndrome: Stages of cortical involvement and neuropathological studies in 45 hemispherectomies. Epilepsia, 45: 516–526.

Power C, Poland SD, Blume WT, Girvin JP, Rice GP. 1990. Cytomegalovirus and rasmussen's encephalitis. Lancet, 336: 1282–1284.

Rasmussen T, Olszewski J, Lloydsmith D. 1958. Focal seizures due to chronic localized encephalitis. Neurology, 8: 435–445.

Rogers SW, Andrews PI, Gahring LC, Whisenand T, Cauley K, Crain B, Hughes TE, Heinemann SF, McNamara JO. 1994. Autoantibodies to glutamate receptor glur3 in rasmussen's encephalitis. Science, 265: 648–651.

Takahashi Y, Matsuda K, Kubota Y, Shimomura J, Yamasaki E, Kudo T, Fukushima K, Osaka H, Akasaka N, Imamura A, Yamada S, Kondo N, Fujiwara T. 2006. Vaccination and infection as causative factors in japanese patients with rasmussen syndrome: Molecular mimicry and hla class i. Clin Dev Immunol, 13: 381–387.

Varadkar S, Bien CG, Kruse CA, Jensen FE, Bauer J, Pardo CA, Vincent A, Mathern GW, Cross JH. 2014. Rasmussen's encephalitis: Clinical features, pathobiology, and treatment advances. Lancet Neurol, 13: 195–205.

Verma R, Bharti K. 2017. Toll like receptor 3 and viral infections of nervous system. J Neurol Sci, 372: 40–48.

Walter GF, Renella RR. 1989. Epstein-barr virus in brain and rasmussen's encephalitis. Lancet, 1: 279–280.

Wang L, Wei D, Huang S, Peng Z, Le X, Wu TT, Yao J, Ajani J, Xie K. 2003. Transcription factor sp1 expression is a significant predictor of survival in human gastric cancer. Clin Cancer Res, 9: 6371–6380.

Wiendl H, Bien CG, Bernasconi P, Fleckenstein B, Elger CE, Dichgans J, Mantegazza R, Melms A. 2001. Glur3 antibodies: Prevalence in focal epilepsy but no specificity for rasmussen's encephalitis. Neurology, 57: 1511–1514.

Zhang Y, Wang Y, Chen S, Guan Y, Liu C, Li T, Luan G, An J. 2017. Expression of human cytomegalovirus components in the brain tissues of patients with rasmussen's encephalitis. Virol Sin, 32: 115–121.
Acknowledgments
This work was supported by the following funds: the National Natural Science Foundation of China (81471957, 81571275, 81671971, and 81701992), the Beijing Municipal Natural Science Foundation (7144217), and the Scientific Research Common Program of Beijing Municipal Commission of Education (KM201610025001).
About this article
Cite this article
Wang, X., Wang, Y., Liu, D. et al. Elevated expression of EBV and TLRs in the brain is associated with Rasmussen's encephalitis. Virol. Sin. 32, 423–430 (2017). https://doi.org/10.1007/s12250-017-4058-8
Received:

Accepted:

Published:

Issue Date:

DOI: https://doi.org/10.1007/s12250-017-4058-8
Keywords
Rasmussen's encephalitis (RE)

Epstein-Barr virus (EBV)

Toll-Like receptor (TLR)

TIR-domain-containing adapter-inducing interferon-β (TRIF)

epilepsy