Influenza A virus-induced downregulation of miR-26a contributes to reduced IFNα/β production
Abstract
Innate immunity provides immediate defense against viral infection. Influenza A virus (IAV) is able to get past the first line of defense. Elucidation of the molecular interaction between influenza factors and the newly recognized host players in the innate response might help in our understanding of the root causes of virulence and pathogenicity of IAV. In this study, we show that expression of miR-26a leads to a significant inhibition of IAV replication. miR-26a does not directly target IAV genome. Instead, miR-26a activates the type I interferon (IFN) signaling pathway and promotes the production of IFN-stimulated genes, thus suppressing viral replication. Furthermore, ubiquitin-specific protease 3 (USP3), a negative regulator of type I IFN pathway, is targeted by miR-26a upon IAV challenge. However, miR-26a is significantly downregulated during IAV infection. Thus, downregulation of miR-26a is a new strategy evolved by IAV to counteract cellular antiviral responses. Our findings indicate that delivery of miR-26a may be a potential strategy for anti-IAV therapies.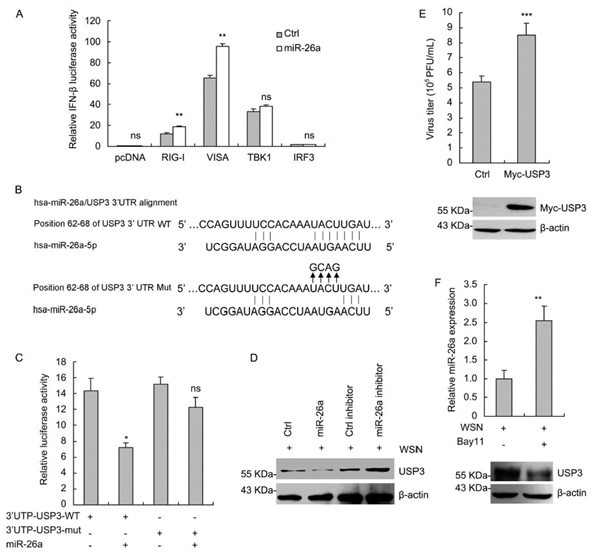 Keywords
Influenza A virus (IAV) 
innate immune response 
miR-26a 
USP3 
Notes
Acknowledgments
This work was supported by grants from the National Basic Research Program of China (973 Program, No. 2012CB518900) and the Beijing Natural Science Foundation (No. 7122109).
Copyright information
© Wuhan Institute of Virology, CAS and Springer Nature Singapore Pte Ltd. 2017