Drug resistance mutation profiles of the drug-naïve and first-line regimen-treated HIV-1-infected population of Suzhou, China
Abstract
Little is known about the prevalence of drug-resistant mutations in HIV-1-positive individuals in Suzhou, China. To elucidate the transmitted drug resistance (TDR) and acquired drug resistance mutation (ADR) profiles, we collected blood specimens from 127 drug-naïve and 117 first-line drug-treated HIV-1-infected individuals sampled from 2014 to 2016 in Suzhou. We successfully amplified pol fragments from 100 drug-naïve and 20 drug-treated samples. We then determined the drug-resistant mutations to protease (PR) and reverse-transcriptase (RT) inhibitors according to the Stanford drug resistance database. Overall, 11 and 13 individuals had transmitted (drug-naïve group) and acquired (treated group) resistance mutations, respectively. Six transmitted drug-resistant mutations were found, including two mutations (L33F and L76V) in the protease region and four (K70N/E and V179D/E) in the RT region. Only L76V was a major mutation, and K70N/E and V179D/E are known to cause low-level resistance to RT inhibitors. All 13 treated participants who had major drug resistance mutations demonstrated intermediate to high resistance to efavirenz and nevirapine, and six had a treatment duration of less than three months. No major mutations to RT inhibitors were found, implying that the epidemic of transmitted resistance mutations was not significant in this area. Our results suggest that more frequent virus load and drug resistance mutation tests should be conducted for individuals receiving antiretroviral treatment, especially for newly treated patients. Our research provides insights into the occurrence of HIV-1 drug resistance in Suzhou and will help to optimize the treatment strategy for this population.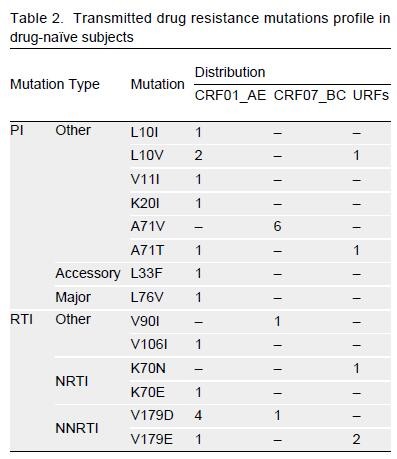 Keywords
HIV-1 
drug resistance mutation 
first-line regimen 
China 
Notes
Acknowledgments
This study was supported by grants from the Natural Science Foundation of Jiangsu Province (BL2013017) and the Suzhou Science and Technology Bureau (SYS201156) to Dr. Feng Qian, the Suzhou Health and Family Planning Commission (LCZX201413) to Ming Li, and the Key National Science and Technology Program in the Thirteen Five-Year Plan Period of China (2017ZX10201102-007-002).
Copyright information
© Wuhan Institute of Virology, CAS and Springer Nature Singapore Pte Ltd. 2017