An update: Epstein-Barr virus and immune evasion via microRNA regulation
Abstract
Epstein-Barr virus (EBV) is an oncogenic virus that ubiquitously establishes life-long persistence in humans. To ensure its survival and maintain its B cell transformation function, EBV has developed powerful strategies to evade host immune responses. Emerging evidence has shown that microRNAs (miRNAs) are powerful regulators of the maintenance of cellular homeostasis. In this review, we summarize current progress on how EBV utilizes miRNAs for immune evasion. EBV encodes miRNAs targeting both viral and host genes involved in the immune response. The miRNAs are found in two gene clusters, and recent studies have demonstrated that lack of these clusters increases the CD4+ and CD8+ T cell response of infected cells. These reports strongly indicate that EBV miRNAs are critical for immune evasion. In addition, EBV is able to dysregulate the expression of a variety of host miRNAs, which influence multiple immune-related molecules and signaling pathways. The transport via exosomes of EBV-regulated miRNAs and viral proteins contributes to the construction and modification of the inflammatory tumor microenvironment. During EBV immune evasion, viral proteins, immune cells, chemokines, pro-inflammatory cytokines, and pro-apoptosis molecules are involved. Our increasing knowledge of the role of miRNAs in immune evasion will improve the understanding of EBV persistence and help to develop new treatments for EBV-associated cancers and other diseases.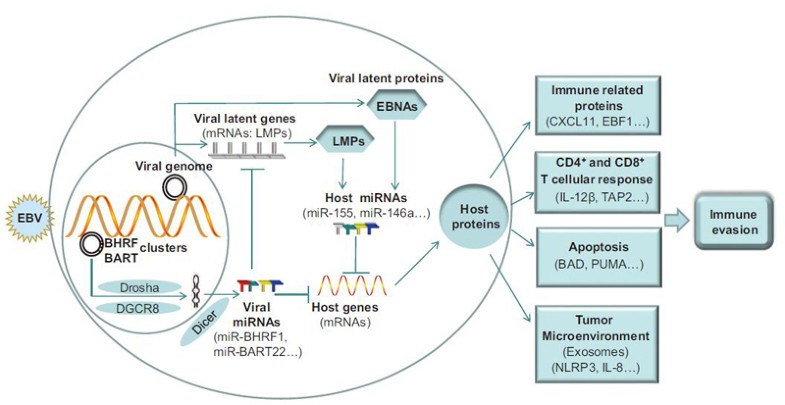 Keywords
Epstein-Barr virus (EBV) 
microRNAs 
immune evasion 
exosomes 
carcinogenesis 
Notes
Acknowledgments
This work was supported by the National Natural Science Foundations of China (81372139, 31670171), the Hunan Provincial Natural Science Foundation of China (2015 JJ2149), and the Hunan Provincial Innovation Foundation for Postgraduates (CX2016B055).
Copyright information
© The Author(s) 2017
Open Access This article is distributed under the terms of the Creative Commons Attribution 4.0 International License (https://creativecommons.org/licenses/by/4.0/), which permits unrestricted use, distribution, and reproduction in any medium, provided you give appropriate credit to the original author(s) and the source, provide a link to the Creative Commons license, and indicate if changes were made.