Developing a bacteriophage cocktail for biocontrol of potato bacterial wilt
Abstract
Bacterial wilt is a devastating disease of potato and can cause an 80% production loss. To control wilt using bacteriophage therapy, we isolated and characterized twelve lytic bacteriophages from different water sources in Kenya and China. Based on the lytic curves of the phages with the pathogen Ralstonia solanacearum, one optimal bacteriophage cocktail, P1, containing six phage isolations was formulated and used for studying wilt prevention and treatment efficiency in potato plants growing in pots. The preliminary tests showed that the phage cocktail was very effective in preventing potato bacterial wilt by injection of the phages into the plants or decontamination of sterilized soil spiked with R. solanacearum. Eighty percent of potato plants could be protected from the bacterial wilt (caused by R. solanacearum reference strain GIM1.74 and field isolates), and the P1 cocktail could kill 98% of live bacteria spiked in the sterilized soil at one week after spraying. However, the treatment efficiencies of P1 depended on the timing of application of the phages, the susceptibility of the plants to the bacterial wilt, as well as the virulence of the bacteria infected, suggesting that it is important to apply the phage therapy as soon as possible once there are early signs of the bacterial wilt. These results provide the basis for the development of bacteriophagebased biocontrol of potato bacterial wilt as an alternative to the use of antibiotics.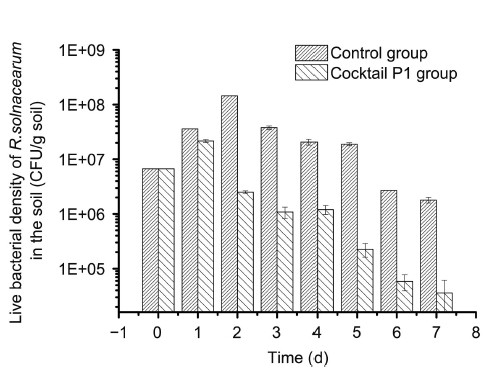 Keywords
Ralstonia solanacearum
bacterial wilt 
potato 
bacteriophage therapy 
Notes
Acknowledgments
This study was supported financially by the Sino-Africa Joint Research Center (SAJC201605) and the Chinese Academy of Sciences (ZDRW-ZS-2016-4). We thank Dr. Ding Gao from the core facility center, Wuhan Institute of Virology, CAS for the help on TEM observation.
Copyright information
© Wuhan Institute of Virology, CAS and Springer Nature Singapore Pte Ltd. 2017