Productive HBV infection of well-differentiated, hNTCP-expressing human hepatoma-derived (Huh7) cells
Open Access
Research Article
Abstract
Feasible and effective cell models for hepatitis B virus (HBV) infection are required for investigating the complete lifecycle of this virus, including the early steps of viral entry. Resistance to dimethyl sulfoxide/polyethylene glycol (DMSO/PEG), hNTCP expression, and a differentiated state are the limiting factors for successful HBV infection models. In the present study, we used a hepatoma cell line (Huh7DhNTCP) to overcome these limiting factors so that it exhibits excellent susceptibility to HBV infection. To achieve this goal, different hepatoma cell lines were tested with 2.5% DMSO / 4% PEG8000, and one resistant cell line (Huh7D) was used to construct a stable hNTCP-expressing cell line (Huh7DhNTCP) using a recombinant lentivirus system. Then, the morphological characteristics and differentiation molecular markers of Huh7DhNTCP cells with or without DMSO treatment were characterized. Finally, the susceptibility of Huh7DhNTCP cells to HBV infection was assessed. Our results showed that Huh7D cells were resistant to 2.5% DMSO / 4% PEG8000, whereas the others were not. Huh7DhNTCP cells were established to express a high level of hNTCP compared to liver extracts, and Huh7DhNTCP cells rapidly transformed into a non-dividing, well-differentiated polarized phenotype under DMSO treatment. Huh7DhNTCP cells fully supported the entire lifecycle of HBV infection. This cell culture system will be useful for the analysis of host-virus interactions, which should facilitate the discovery of antiviral drugs and vaccines.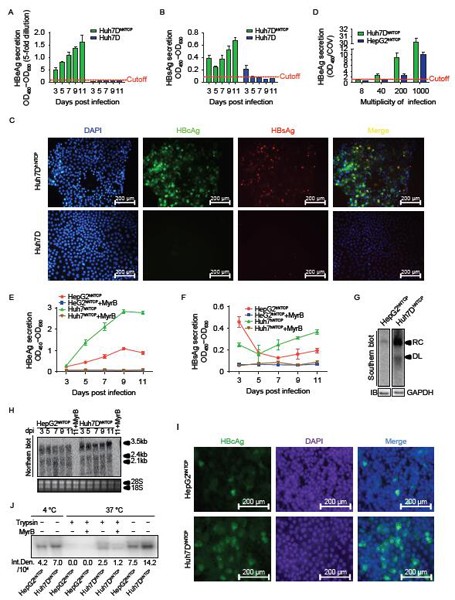 Keywords
Hepatitis B virus (HBV) 
Na+/taurocholate cotransporting polypeptide (NTCP) 
Huh7 
dimethyl sulfoxide (DMSO) 
polyethylene glycol (PEG) 
susceptibility 
Notes
Acknowledgments
We gratefully acknowledge Prof. Li Wenhui from National Institute of Biological Sciences (Beijing) for his kindly providing HepG2hNTCP, anti-HBc antibody and protocols. This work was supported by the National Natural Science Foundation of China (Grant number: 81601760, 31621061 and 81461130019), General Financial Grant from the China Postdoctoral Science Foundation (Grant number: 2016M602587) and the Shenzhen Foundation of Science and Technology (Grant number: JCYJ20160425 104534335). Chunchen Wu is supported by the Youth Innovation Promotion Association CAS (No.201603).
Copyright information
© The Author(s) 2017
OPEN ACCESS This article is distributed under the terms of the Creative Commons Attribution 4.0 International License (https://creativecommons.org/licenses/by/4.0/), which permits unrestricted use, distribution, and reproduction in any medium, provided you give appropriate credit to the original author(s) and the source, provide a link to the Creative Commons license, and indicate if changes were made.