Abstract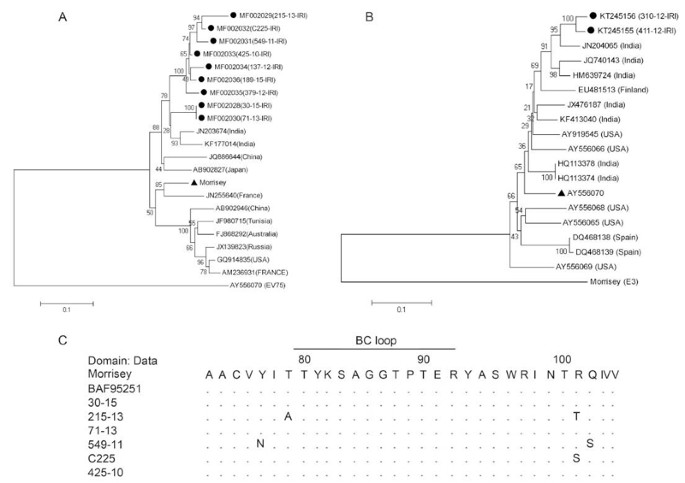 Access options
Buy single article
Instant access to the full article PDF.
USD 39.95
Price excludes VAT (USA)
Tax calculation will be finalised during checkout.
References
Battistone A, Buttinelli G, Fiore S, et al. 2014. Appl Environ Microbiol, 80: 4491–4501.

Kapusinszky B, Szomor KN, Farkas Á, et al. 2010. Virus Genes, 40: 163–173.

Lewthwaite P, Perera D, Ooi MH, et al. 2010. Emerg Infect Dis, 16: 1780.

Oberste MS, Maher K, Flemister MR, et al. 2000. J Clin Microbiol, 38: 1170–1174.

Oberste MS, Maher K, Williams AJ, et al. 2006. J Gen Virol, 87: 119–128.

World Health Organization (WHO). 2004. Polio laboratory manual. Geneva: World Health Organization. Available: http://apps.who.int/ iris/bitstream/10665/68762/1/WHO_IVB_04.10.pdf.

Oyero OG, Adu FD, Ayukekbong JA. 2014. Virus Research, 189: 189–193.

Prim N, Rodríguez G, Margall N, et al. 2013. J Med Virol, 85: 116–120.

Rahimi P, Tabatabaie H, Gouya MM, et al. 2009. J Clin Virol, 45: 139–141.

Saeed M, Zaidi SZ, Naeem A, et al. 2007. BMC Infect Dis, 7: 6.

Stanway G. 2013. Molecular Biology and Classification of Enteroviruses. In: Diabetes and Viruses. Taylor K, Hyöty H, Toniolo A, Zuckerman AJ (eds). Berlin: Springer, pp. 109–115.

Trallero G, Avellon A, Otero A, et al. 2010. J Clin Virol, 47: 170–176.
About this article
Cite this article
Nejati, A., Farahmand, M., Tabatabaie, H. et al. Molecular typing of non-polio enteroviruses isolated from acute flaccid paralysis cases in Iran from 2010 to 2015. Virol. Sin. 32, 249–252 (2017). https://doi.org/10.1007/s12250-017-3945-3
Published:

Issue Date:

DOI: https://doi.org/10.1007/s12250-017-3945-3