A new strain of Crimean-Congo hemorrhagic fever virus isolated from Xinjiang, China
Abstract
Crimean-Congo hemorrhagic fever virus (CCHFV) is a highly pathogenic tick-borne virus with a fatality rate of up to 50% in humans. CCHFV is widely distributed in countries around the world. Outbreaks of CCHFV infection in humans have occurred in prior years in Xinjiang Province, China. Epidemiological surveys have detected CCHFV RNA in ticks and animals; however, few isolates were identified. In this study, we identified and isolated a new CCHFV strain from
Hyalomma asiaticum asiaticum
ticks collected from north of Tarim Basin in Xinjiang, China. A preliminary investigation of infection and antigens expression of CCHFV was performed in newborn mice. The target tissues for CCHFV replication in newborn mice were identified. The analysis of the phylogenetic relationships with other Chinese strains suggested that diverse genotypes of CCHFV have circulated in Xinjiang for years. These findings provide important insights into our understanding of CCHFV infection and evolution as well as disease prevention and control for local residents.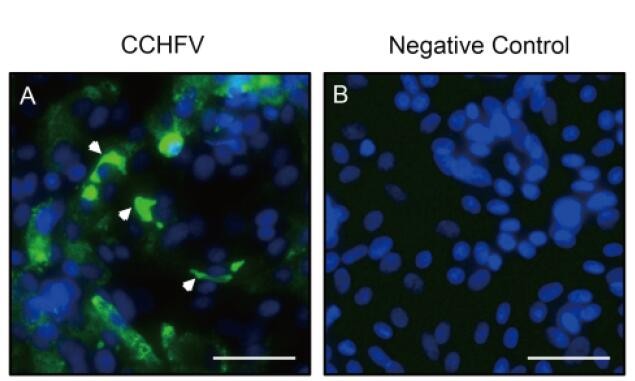 Keywords
Crimean-Congo hemorrhagic fever virus (CCHFV) 
newborn mice 
genotype 
phylogenetic analysis 
Notes
Acknowledgments
This work was supported by the Science and Technology Basic Work Program (2013FY113500) from the Ministry of Science and Technology of China.
Copyright information
© Wuhan Institute of Virology, CAS and Springer Science+Business Media Singapore 2017