Lack of association between integrin αvβ3 gene polymorphisms and hemorrhagic fever with renal syndrome in Han Chinese from Hubei, China
Abstract
Hantaviruses belong to the family
Bunyaviridae
and cause hemorrhagic fever with renal syndrome (HFRS) in humans. β
3
integrins, including α
V
β
3
and α
IIb
β
3
integrins, act as receptors on endothelial cells and play key roles in cellular entry during the pathogenesis of hantaviruses. Previous study demonstrated that the polymorphisms of integrin α
IIb
β
3
are associated with susceptibility to hantavirus infection and the disease severity of HFRS in Shaanxi Province of China, rather than in Finland. However, the polymorphisms of integrin α
v
β
3
in patients with HFRS was incompletely understood. Here, we aimed to investigate the associations between polymorphisms in human integrin α
v
β
3
and HFRS in Han Chinese individuals. Ninety patients with HFRS and 101 healthy controls were enrolled in this study. Analysis of five single nucleotide polymorphism (SNP) sites (rs3768777 and rs3738919 on
ITGAV
; rs13306487, rs5921, and rs5918 on
ITGB3
) was performed by TaqMan SNP genotyping assays and bi-directional PCR allele-specific amplification method. No significant differences were observed between the HFRS group and controls regarding the genotype and allele frequency distributions of any of the five SNP sites, and no associations were found between
ITGAV
polymorphisms/genotypes and disease severity. In conclusion, our results implied that these five SNPs in the integrin α
v
β
3
gene were not associated with HFRS susceptibility or severity in Han Chinese individuals in Hubei Province.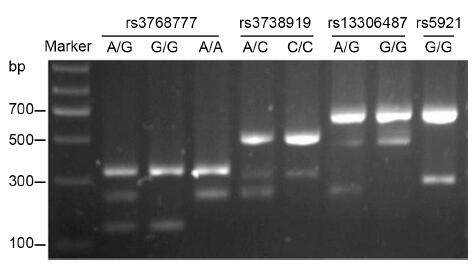 Keywords
hemorrhagic fever with renal syndrome (HFRS) 
polymorphisms 
hantavirus 
integrin αvβ3 
Notes
Acknowledgments
We thank the physicians who assisted with sample collection and Dr. Jing Sun, School of Public Health, Wuhan University, for statistical assistance. We thank Dr. Rhea-Beth Markowitz, Georgia Regents University, USA, for editing assistance. This work was supported by grants from the National Natural Science Foundation of China (grant nos. 81101258, 81000734, and 81271819) and a grant from Hubei Province Health and Family Planning Scientific Research Project (grant no. WJ2015MB113).
Copyright information
© Wuhan Institute of Virology, CAS and Springer Science+Business Media Singapore 2017