KSHV strategies for host dsDNA sensing machinery
Abstract
The innate immune system utilizes pattern recognition receptors cyclic GMP-AMP synthase (cGAS) to sense cytosolic double-stranded (ds) DNA and initiate type 1 interferon signaling and autophagy pathway, which collaborate to limit pathogen infections as well as alarm the adaptive immune response. The genomes of herpesviruses are large dsDNA, which represent a major class of pathogen signatures recognized by cellular DNA sensor cGAS. However, to successfully establish the persistent infection, herpesviruses have evolved their viral genes to modulate different aspects of host immune signaling. This review summarizes the evasion strategies of host cGAS DNA sensing pathway by Kaposi's Sarcoma-associated Herpesvirus (KSHV) and their contributions to KSHV life cycles.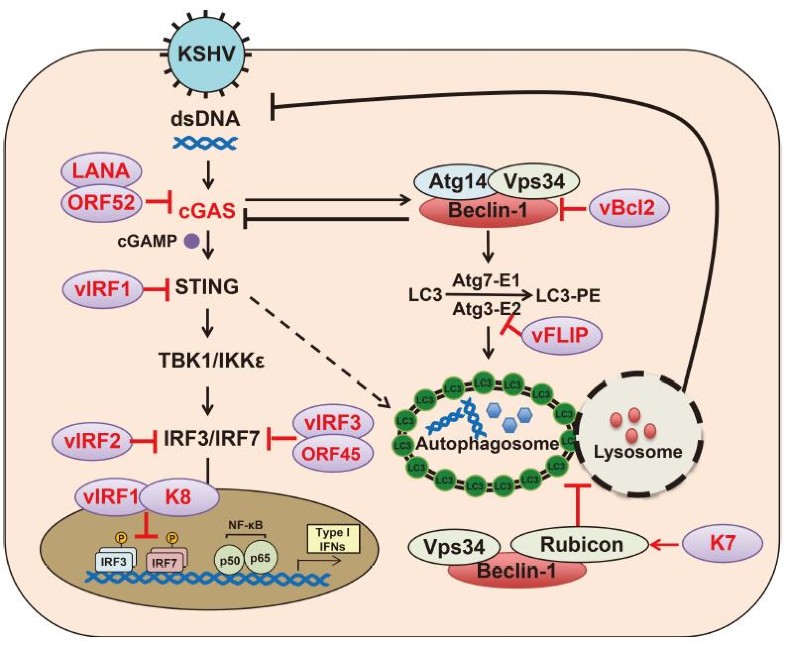 Keywords
Kaposi's sarcoma-associated herpesvirus (KSHV) 
innate immune response 
cyclic GMP-AMP synthase (cGAS) 
interferon 
autophagy 
evasion strategies 
Notes
Acknowledgments
QL is supported by a Special Fellow Award from The Leukemia & Lymphoma Society and the Program for Professor of Special Appointment (Eastern Scholar) at Shanghai Institutions of Higher learning.
Copyright information
© Wuhan Institute of Virology, CAS and Springer Science+Business Media Singapore 2016