Progress towards understanding the pathogenesis of dengue hemorrhagic fever
Abstract
Dengue virus (DENV) is a mosquito-borne virus belonging to the
Flaviviridae
family. There are 4 serotypes of DENV that cause human disease through transmission by mosquito vectors. DENV infection results in a broad spectrum of clinical symptoms, ranging from mild fever to dengue hemorrhagic fever (DHF), the latter of which can progress to dengue shock syndrome (DSS) and death. Researchers have made unremitting efforts over the last half-century to understand DHF pathogenesis. DHF is probably caused by multiple factors, such as virus-specific antibodies, viral antigens and host immune responses. This review summarizes the current progress of studies on DHF pathogenesis, which may provide important information for achieving effective control of dengue in the future.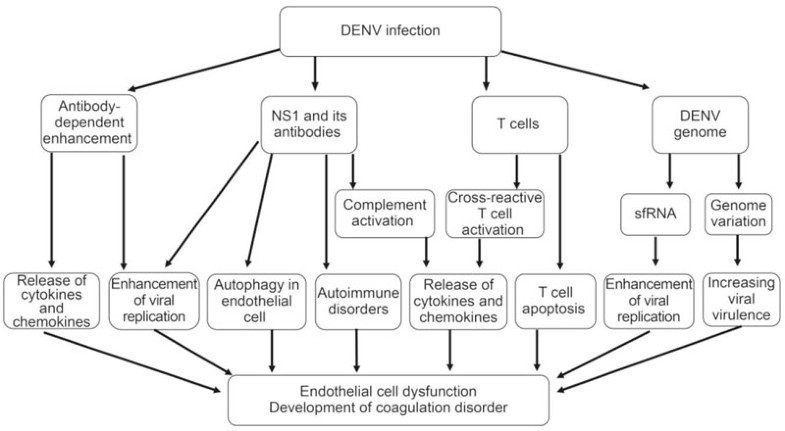 Keywords
DENV 
dengue hemorrhagic fever (DHF) 
NS1 
genome 
antibody-dependent enhancement (ADE) 
T cell 
Copyright information
© The Author(s) 2017
Open Access This article is distributed under the terms of the Creative Commons Attribution 4.0 International License (http://creative commons.org/licenses/by/4.0/), which permits unrestricted use, distribution, and reproduction in any medium, provided you give appropriate credit to the original author(s) and the source, provide a link to the Creative Commons license, and indicate if changes were made.