The roles of ebolavirus glycoproteins in viral pathogenesis
Abstract
Ebolaviruses are highly dangerous pathogens exhibiting extreme virulence in humans and nonhuman primates. The majority of ebolavirus species, most notably
Zaire ebolavirus
, can cause Ebola virus disease (EVD), formerly known as Ebola hemorrhagic fever, in humans. EVD is associated with case-fatality rates as high as 90%, and there is currently no specific treatment or licensed vaccine available against EVD. Understanding the molecular biology and pathogenesis of ebolaviruses is important for the development of antiviral therapeutics. Ebolavirus encodes several forms of glycoproteins (GPs), which have some interesting characteristics, including the transcriptional editing coding strategy and extensive O-glycosylation modification, clustered in the mucin-like domain of GP1, full-length GP (GP
1,2
), and shed GP. In addition to the canonical role of the spike protein, GP
1,2
, in viral entry, ebolavirus GPs appear to have multiple additional functions, likely contributing to the complex pathogenesis of the virus. Here, we review the roles of ebolavirus GPs in viral pathogenesis.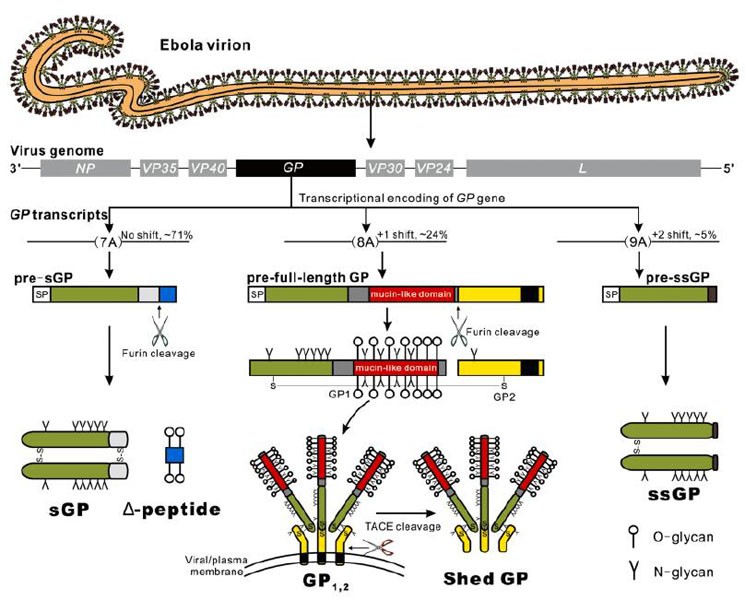 Keywords
ebolavirus 
glycoprotein (GP) 
mucin-like domain (MLD) 
cytotoxicity 
immune evasion 
inflammation 
pathogenesis 
Notes
Acknowledgments
This work was supported by the National Natural Science Foundation of China (No. 31125003 and No. 31321001) and the Basic Work Program of the Ministry of Science and Technology of China (2013FY113500).
Copyright information
© The Author(s) 2017
Open Access This article is distributed under the terms of the Creative Commons Attribution 4.0 International License (https://creativecommons.org/licenses/by/4.0/), which permits unrestricted use, distribution, and reproduction in any medium, provided you give appropriate credit to the original author(s) and the source, provide a link to the Creative Commons license, and indicate if changes were made.