Abstract
A novel Clade 2.3.2.1c H5N1 reassortant virus caused several outbreaks in wild birds in some regions of China from late 2014 to 2015. Based on the genetic and phylogenetic analyses, the viruses possess a stable gene constellation with a Clade 2.3.2.1c HA, a H9N2-derived PB2 gene and the other six genes of Asian H5N1-origin. The Clade 2.3.2.1c H5N1 reassortants displayed a high genetic relationship to a human H5N1 strain (A/Alberta/01/2014). Further analysis showed that similar viruses have been circulating in wild birds in China, Russia, Dubai (Western Asia), Bulgaria and Romania (Europe), as well as domestic poultry in some regions of Africa. The affected areas include the Central Asian, East Asian-Australasian, West Asian-East African, and Black Sea/Mediterranean flyways. These results show that the novel Clade 2.3.2.1c reassortant viruses are circulating worldwide and may have gained a selective advantage in migratory birds, thus posing a serious threat to wild birds and potentially humans.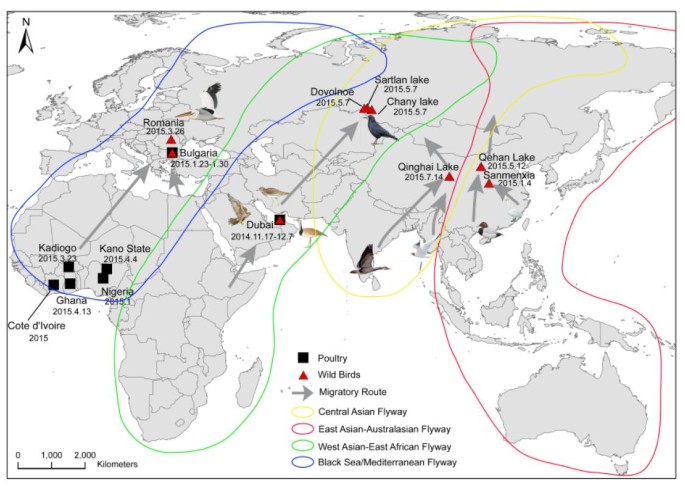 Access options
Buy single article
Instant access to the full article PDF.
USD 39.95
Price excludes VAT (USA)
Tax calculation will be finalised during checkout.
References
Bi Y, Zhang Z, Liu W, Yin Y, Hong J, Li X, Wang H, Wong G, Chen J, Li Y, Ru W, Gao R, Liu D, Liu Y, Zhou B, Gao GF, Shi W, Lei F. 2015a. Highly Pathogenic Avian Influenza A(H5N1) Virus Struck Migratory Birds in China in 2015. Sci Rep, 5: 12986

Bi YH, Mei K, Shi WF, Liu D, Yu XL, Gao ZM, Zhao LH, Gao GF, Chen JJ, Chen QJ. 2015b. Two novel reassortants of avian influenza A (H5N6) virus in China. J Gen Virol, 96: 975–981.

Cauldwell AV, Long JS, Moncorgé O, Barclay WS. 2014. Viral determinants of influenza A virus host range. J Gen Virol, 95: 1193–1210.

Edgar RC. 2004. MUSCLE: multiple sequence alignment with high accuracy and high throughput. Nucleic Acids Res, 32: 1792–1797.

FAO. 2015). H5N1 HPAI spread in Nigeria and increased risk for neighbouring countries in West Africa. http://www.fao.org/3/ai4561e.pdf.

Hatta M, Gao P, Halfmann P, Kawaoka Y. 2001. Molecular basis for high virulence of Hong Kong H5N1 influenza A viruses. Science, 293: 1840–1842.

Hay AJ, Wolstenholme AJ, Skehel JJ, Smith MH. 1985. The molecular basis of the specific anti-influenza action of amantadine. The EMBO J, 4: 3021–3024.

Hu X, Liu D, Wang M, Yang L, Zhu Q, Li L, Gao GF. 2011. Clade 2.3.2 avian influenza virus (H5N1), Qinghai Lake region, China, 2009–2010. Emerg Infect Dis, 17: 560–562.

Jhung MA, Nelson DI. 2015. Outbreaks of avian influenza A (H5N2), (H5N8), and (H5N1) among birds—United States, December 2014-January 2015. MMWR (Morb Mortal Wkly Rep), 64: 111.

Liu J, Xiao H, Lei F, Zhu Q, Qin K, Zhang XW, Zhang XL, Zhao D, Wang G, Feng Y, Ma J, Liu W, Wang J, Gao GF. 2005. Highly pathogenic H5N1 influenza virus infection in migratory birds. Science, 309: 1206.

Matsuoka Y, Swayne DE, Thomas C, Rameix-Welti M-A, Naffakh N, Warnes C, Altholtz M, Donis R, Subbarao K. 2009. Neuraminidase stalk length and additional glycosylation of the hemagglutinin influence the virulence of influenza H5N1 viruses for mice. J Virol, 83: 4704–4708.

Mok CKP, Yen HL, Yu MYM, Yuen KM, Sia SF, Chan MCW, Qin G, Tu WW, Peiris JSM. 2011. Amino acid residues 253 and 591 of the PB2 protein of avian influenza virus A H9N2 contribute to mammalian pathogenesis. J Virol, 85: 9641–9645.

Monne I, Meseko C, Joannis T, Shittu I, Ahmed M, Tassoni L, Fusaro A, Cattoli G. 2015. Highly pathogenic avian influenza A (H5N1) Virus in poultry, Nigeria, 2015. Emerg Infect Dis, 21: 1275–1277.

Naguib MM, Kinne J, Chen H, Chan KH, Joseph S, Wong PC, Woo PC, Wernery R, Beer M, Wernery U, Harder TC. 2015. Outbreaks of highly pathogenic avian influenza H5N1 Clade 2.3.2.1c in hunting falcons and kept wild birds in Dubai implicate intercontinental virus spread. J Gen Virol, 96: 3212–3212.

Pabbaraju K, Tellier R, Wong S, Li Y, Bastien N, Tang JW, Drews SJ, Jang Y, Davis CT, Fonseca K, Tipples GA. 2014. Full-genome analysis of avian influenza A(H5N1) virus from a human, North America, 2013. Emerg Infect Dis, 20: 887–891.

Pinto LH, Holsinger LJ, Lamb RA. 1992. Influenza virus M2 protein has ion channel activity. Cell, 69: 517–528.

Sakoda Y, Ito H, Uchida Y, Okamatsu M, Yamamoto N, Soda K, Nomura N, Kuribayashi S, Shichinohe S, Sunden Y, Umemura T, Usui T, Ozaki H, Yamaguchi T, Murase T, Ito T, Saito T, Takada A, Kida H. 2012. Reintroduction of H5N1 highly pathogenic avian influenza virus by migratory water birds, causing poultry outbreaks in the 2010–2011 winter season in Japan. J Gen Virol, 93: 541–550.

Stamatakis A. 2014. RAxML version 8: a tool for phylogenetic analysis and post-analysis of large phylogenies. Bioinformatics, 30: 1312–1313.

Stevens J, Blixt O, Tumpey TM, Taubenberger JK, Paulson JC, Wilson IA. 2006. Structure and receptor specificity of the hemagglutinin from an H5N1 influenza virus. Science, 312: 404–410.

Subbarao EK, London W, Murphy BR. 1993. A single amino-acid in the Pb2-Gene of influenza a virus is a determinant of host range. J Virol, 67: 1761–1764.

Verhagen JH, Herfst S, Fouchier RAM. 2015. How a virus travels the world. Science, 347: 616–617.

Wang G, Zhan D, Li L, Lei F, Liu B, Liu D, Xiao H, Feng Y, Li J, Yang B, Yin Z, Song X, Zhu X, Cong Y, Pu J, Wang J, Liu J, Gao GF, Zhu Q. 2008. H5N1 avian influenza re-emergence of Lake Qinghai: phylogenetic and antigenic analyses of the newly isolated viruses and roles of migratory birds in virus circulation. J Gen Virol, 89: 697–702.

Webster RG, Peiris M, Chen H, Guan Y. 2006. H5N1 outbreaks and enzootic influenza. Emerg Infect Dis, 12: 3–8.

World Health Organization (WHO. 2014). Revised and updated nomenclature for highly pathogenic avian influenza A (H5N1) viruses. Influenza Other Respir Viruses, 8: 384–388.

Zhang W, Shi Y, Lu XS, Shu YL, Qi JX, Gao GF. 2013. An airborne transmissible avian influenza H5 hemagglutinin seen at the atomic level. Science, 340: 1463–1467.

Zhou B, Pearce MB, Li Y, Wang JR, Mason RJ, Tumpey TM, Wentworth DE. 2013. Asparagine substitution at PB2 residue 701 enhances the replication, pathogenicity, and transmission of the 2009 pandemic H1N1 influenza A virus. PloS One, 8.

Zhou H, Yu Z, Hu Y, Tu J, Zou W, Peng Y, Zhu J, Li Y, Zhang A, Yu Z. 2009. The special neuraminidase stalk-motif responsible for increased virulence and pathogenesis of H5N1 influenza A virus. PLoS One, 4: e6277.
Additional information
These authors contributed equally to this article.
ORCID: 0000-0002-5595-363X
ORCID: 0000-0002-8717-2942
Electronic supplementary material
About this article
Cite this article
Bi, Y., Chen, J., Zhang, Z. et al. Highly pathogenic avian influenza H5N1 Clade 2.3.2.1c virus in migratory birds, 2014–2015. Virol. Sin. 31, 300–305 (2016). https://doi.org/10.1007/s12250-016-3750-4
Received:

Accepted:

Published:

Issue Date:

DOI: https://doi.org/10.1007/s12250-016-3750-4
Keywords
H5N1

highly pathogenic avian influenza virus

Clade 2.3.2.1c

outbreak

migratory birds