Abstract
Fibroblast growth factor (FGF) is found throughout multicellular organisms; however, fgf homologs (vfgf) have only been identified among viruses in lepidopteran baculoviruses. The function of vFGFs from Group I alphabaculoviruses, including Autographa californica multiple nucleopolyhedrovirus (AcMNPV) and Bombyx mori nucleopolyhedrovirus (BmNPV), involves accelerated killing of infected larvae by both viruses. The vFGF of Group II alphabaculovirus is structurally different from that of Group I alphabaculovirus, with a larger C-terminal region and additional N-linked glycosylation sites. In this study, we characterized the Group II alphabaculovirus vFGF of Helicoverpa armigera single nucleopolyhedrovirus (HearNPV). The transcription and expression of vfgf was detected at 3 h and 16 h post-infection in HearNPV-infected cells. To further study vFGF function, we constructed vfgf-knockout and -repaired HearNPV bacmids and investigated their affect in both cultured cells and insects. Deletion of vfgf had no effect on budded-virus production or viral DNA replication in cultured HzAM1 cells. However, bioassays showed that HearNPV vfgf deletion significantly increased the median lethal dose and delayed the median lethal time by ∼12 h in the host insect when the virus was delivered orally. These results suggested that vFGF is an important virulent factor for HearNPV infection and propagation in vivo.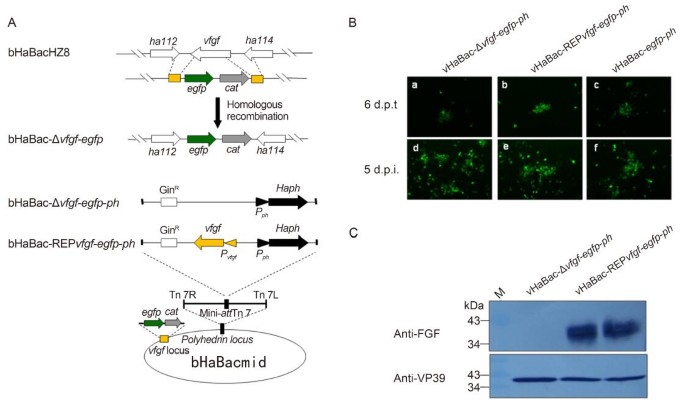 Access options
Buy single article
Instant access to the full article PDF.
USD 39.95
Price excludes VAT (USA)
Tax calculation will be finalised during checkout.
References
Dai W, Deng F, Wang H, Yuan L, Hu Z. 2006. The Transcription Profiles of Nine HaSNPV Genes. Virol Sin, 21: 47–51.

Detvisitsakun C, Berretta MF, Lehiy C, Passarelli AL. 2005. Stimulation of cell motility by a viral fibroblast growth factor homolog: proposal for a role in viral pathogenesis. Virology, 336: 308–317.

Detvisitsakun C, Cain EL, Passarelli AL. 2007. The Autographa californica M nucleopolyhedrovirus fibroblast growth factor accelerates host mortality. Virology, 365: 70–78.

Detvisitsakun C, Hutfless EL, Berretta MF, Passarelli AL. 2006. Analysis of a baculovirus lacking a functional viral fibroblast growth factor homolog. Virology, 346: 258–265.

Engelhard EK, Kam-Morgan LNW, Washburn J, Volkman LE. 1994. The insect tracheal system: A conduit for the systemic spread of Autographa californica M nuclear polyhedrosis virus. Proc Natl Acad Sci USA, 91: 3224–3227.

Federici BA. 1997. Baculovirus pathogenesis. In: The baculoviruses, Miller LK (ed. New York, N.Y: Plenum Press, pp. 33–60.

Funk CJ, Braunagel SC, Rohrmann GF. 1997. Baculovirus structure. In: The baculoviruses, Miller LK (ed). New York: Plenum Press, pp. 7–32.

Hayakawa T, Rohrmann GF, Hashimoto Y. 2000. Patterns of genome organization and content in lepidopteran baculoviruses. Virology, 278: 1–12.

Herniou EA, Luque T, Chen X, Vlak JM, Winstanley D, Cory JS, O'Reilly DR. 2001. Use of whole genome sequence data to infer baculovirus phylogeny. J Virol, 75: 8117–8126.

Herniou EA, Olszewski JA, Cory JS, O'Reilly DR. 2003. The genome sequence and evolution of baculoviruses. Annu Rev Entomol, 48: 211–234.

Hou S, Chen X, Wang H, Tao M, Hu Z. 2002. Efficient method to generate homologous recombinant baculovirus genomes in E. coli. BioTechniques, 32: 783–789.

Huang H, Wang M, Deng F, Hou D, Arif BM, Wang H, Hua Z. 2014. The ha72 Core Gene of Baculovirus Is Essential for Budded Virus Production and Occlusion-Derived Virus Embedding, and Amino Acid K22 Plays an Important Role in Its Function. J Virol, 88: 705–709.

Hyink O, Dellow RA, Olsen MJ, Caradoc-Davies KMB, Drake K, Herniou EA, Cory JS, O'Reilly DR, Ward VK. 2002. Whole genome analysis of the Epiphyas postvittana nucleopolyhedrovirus. J Gen Virol, 83: 957–971.

Itoh N, Ornitz DM. 2004. Evolution of the Fgf and Fgfr gene families. Trends Genet, 20: 563–569.

Jehle JA, Blissard GW, Bonning BC, Cory JS, Herniou EA, Rohrmann GF, Theilmann DA, Thiem SM, Vlak JM. 2006. On the classification and nomenclature of baculoviruses: a proposal for revision. Arch Virol, 151 1257–1266.

Katsuma S, Daimon T, Horie S, Kobayashi M, Shimada T. 2006a. N-linked glycans of Bombyx mori nucleopolyhedrovirus fibroblast growth factor are crucial for its secretion. Biochem Biophys Res Commun, 350: 1069–1075.

Katsuma S, Horie S, Daimon T, Iwanaga M, Shimada T. 2006b. In vivo and in vitro analyses of a Bombyx mori nucleopolyhedrovirus mutant lacking functional vfgf. Virology, 355: 62–70.

Katsuma S, Shimada T, Kobayashi M. 2004. Characterization of the baculovirus Bombyx mori nucleopolyhedrovirus gene homologous to mammalian FGF gene family. Virus Genes, 29: 211–217.

Kuzio J, Pearson MN, Harwood SH, Funk CJ, Evans JT, Slavicek JM, Rohrmann GF. 1999. Sequence and Analysis of the Genome of a Baculovirus Pathogenic for Lymantria dispar. Virology, 253: 17–34.

Lange M, Jehle JA. 2003. The genome of the Cryptophlebia leucotreta granulovirus. Virology, 317: 220–236.

Li Q, Donly C, Li L, Willis LG, Theilmann DA, Erlandson M. 2002. Sequence and Organization of the Mamestra configurata Nucleopolyhedrovirus Genome. Virology, 294: 106–121.

Luo S, Zhang Y, Xu X, Westenberg M, Vlak JM, Wang H, Hu Z, Deng F. 2011. Helicoverpa armigera nucleopolyhedrovirus occlusion- derived virus-associated protein, HA100, affects oral in- fectivity in vivo but not virus replication in vitro. J Gen Virol, 92: 1324–1331.

Ma X, Shang J, Yang Z, Bao Y, Xiao Q, Zhang C. 2007. Genome sequence and organization of a nucleopolyhedrovirus that infects the tea looper caterpillar, Ectropis obliqua. Virology, 30: 235–246.

Means JC, Passarelli AL. 2010. Viral fibroblast growth factor, matrix metalloproteases, and caspases are associated with enhancing systemic infection by baculoviruses. Proc Natl Acad Sci U S A, 107: 9825–9830.

Oers MMv, Abma-Henkens MHC, Herniou EA, Groot JCWd, Peters S, Vlak aJM. 2005. Genome sequence of Chrysodeixis chalcites nucleopolyhedrovirus, a baculovirus with two DNA photolyase genes. J Gen Virol, 86: 2069–2080.

Ornitz DM, Itoh N. 2001. Fibroblast growth factors. Genome Biol, 2: 3005.3001–3012

Popovici C, Roubin R, Coulier F, Birnbaum D. 2005. An evolutionary history of the FGF superfamily. Bioessays, 27: 849–857.

Robertson JL, Savin NE, Preisler HK, Russell RM. 2007. Bioassays with Arthropods CRC Press, Boca Raton. page?

Sato M, Kornberg TB. 2002. FGF is an essential mitogen and chemoattractant for the air sacs of the Drosophila tracheal system. Dev Cell, 3: 195–207.

Song J, Wang R, Deng F, Wang H, Hu Z. 2008. Functional studies of per os infectivity factors of Helicoverpa armigera single nucleocapsid nucleopolyhedrovirus. J Gen Virol, 89: 2331–2338.

Sun X, Wu D, Sun X, Jin L, Ma Y, Bonning BC, Peng H, Hu Z. 2009. Impact of Helicoverpa armigera nucleopolyhedroviruses expressing a cathepsin L-like protease on target and nontarget insect species on cotton. Biol Control, 49: 77–83.

Wang H, Deng F, Pijlman GP, Chen X, Sun X, Vlak JM, Hu Z. 2003. Cloning of biologically active genomes from a Helicoverpa armigera single-nucleocapsid nucleopolyhedrovirus isolate by using a bacterial artificial chromosome. Virus Res, 97: 57–63.

Wang M, Tan Y, Yin F, Deng F, Vlak JM, Hu Z, Wang H. 2008. The F protein of Helicoverpa armigera single nucleopolyhedrovirus can be substituted functionally with its homologue from Spodoptera exigua multiple nucleopolyhedrovirus. J Gen Virol, 89: 791–798.

Yin F, Wang M, Tan Y, Deng F, Vlak JM, Hu Z, Wang H. 2008. A functional F analogue of Autographa californica nucleopolyhedrovirus GP64 from the Agrotis segetum granulovirus. J Virol, 82: 8922–8926.

Yin F, Zhu Z, Liu X, Hou D, Wang J, Zhang L, Wang M, Kou Z, Wang H, Deng F, Hu Z. 2015. The Complete Genome of a New Betabaculovirus from Clostera anastomosis. PLoS One, 10: e0132792.
Additional information
These authors contributed equally to this work.
ORCID: 0000-0001-8701-3530
Electronic supplementary material
About this article
Cite this article
Yin, F., Du, R., Kuang, W. et al. Characterization of the viral fibroblast growth factor homolog of Helicoverpa armigera single nucleopolyhedrovirus. Virol. Sin. 31, 240–248 (2016). https://doi.org/10.1007/s12250-016-3710-z
Received:

Accepted:

Published:

Issue Date:

DOI: https://doi.org/10.1007/s12250-016-3710-z
Keywords
deletion

function

Helicoverpa armigera single nucleopolyhedrovirus (HearNPV)

infectivity

vfgf