Abstract
African swine fever (ASF) is a lethal hemorrhagic disease that affects wild and domestic swine. The etiological agent of ASF is African swine fever virus (ASFV). Since the first case was described in Kenya in 1921, the disease has spread to many other countries. No commercial vaccines are available to prevent ASF. In this study, we generated a recombinant Newcastle disease virus (rNDV) expressing ASFV protein 72 (p72) by reverse genetics and evaluated its humoral and cellular immunogenicity in a mouse model. The recombinant virus, rNDV/p72, replicated well in embryonated chicken eggs and was safe to use in chicks and mice. The p72 gene in rNDV/p72 was stably maintained through ten passages. Mice immunized with rNDV/p72 developed high titers of ASFV p72 specific IgG antibody, and had higher levels of IgG1 than IgG2a. Immunization also elicited T-cell proliferation and secretion of IFN-γ and IL-4. Taken together, these results indicate that rNDV expressing ASFV p72 might be a potential vaccine candidate for preventing ASF.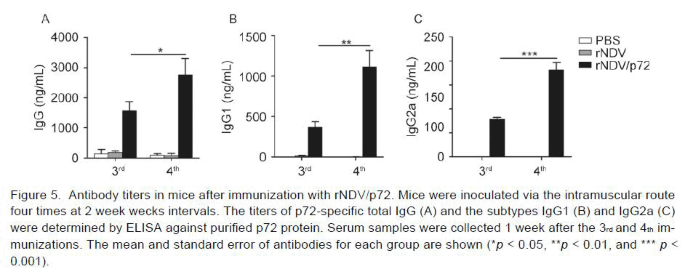 References
Alexander DJ. 1989. Newcastle disease. Philadelphia: The American Association of Avian Pathologists, Inc., pp114–120.

Anis MM, Fulton SA, Reba SM, Harding CV, Boom WH. 2007. Modulation of naive CD4+ T-cell responses to an airway antigen during pulmonary mycobacterial infection. Infect Immun, 75: 2260–2268.

Argilaguet JM, Pérez-Martín E, López S, Goethe M, Escribano J, Giesow K, Keil GM, Rodríguez F. 2013. BacMam immunization partially protects pigs against sublethal challenge with African swine fever virus. Antiviral Res, 98: 61–65.

Argilaguet JM, Perez-Martin E, Nofrarias M, Gallardo C, Accensi F, Lacasta A, Mora M, Ballester M, Galindo-Cardiel I, Lopez-Soria S, Escribano JM, Reche PA, Rodriguez F. 2012. DNA vaccination partially protects against African swine fever virus lethal challenge in the absence of antibodies. PLoS One, 7: e40942.

Barderas M, Rodriguez F, Gomez-Puertas P, Aviles M, Beitia F, Alonso C, Escribano J. 2001. Antigenic and immunogenic properties of a chimera of two immunodominant African swine fever virus proteins. Arch Virol, 146: 1681–1691.

Boinas F, Hutchings G, Dixon L, Wilkinson P. 2004. Characterization of pathogenic and non-pathogenic African swine fever virus isolates from Ornithodoros erraticus inhabiting pig premises in Portugal. J Gen Virol, 85: 2177–2187.

Borca M, Irusta P, Carrillo C, Afonso C, Burrage T, Rock D. 1994. African swine fever virus structural protein p72 contains a conformational neutralizing epitope. Virology, 201: 413–418.

Bukreyev A, Huang Z, Yang L, Elankumaran S, Claire MS, Murphy BR, Samal SK, Collins PL. 2005. Recombinant Newcastle disease virus expressing a foreign viral antigen is attenuated and highly immunogenic in primates. J Virol, 79: 13275–13284.

Callaway E. 2012. Pig fever sweeps across Russia. Nature, 488: 565–566.

Carrascosa J, González P, Carrascosa A, Garcia-Barreno B, Enjuanes L, Vinuela E. 1986. Localization of structural proteins in African swine fever virus particles by immunoelectron microscopy. J Virol, 58: 377–384.

Costa JV. 1990. African swine fever virus. In: Molecular Biology of Iridoviruses. Darai G, ed. Vienna & New York: Springer-Verlag, pp247–270.

Costard S, Wieland B, de Glanville W, Jori F, Rowlands R, Vosloo W, Roger F, Pfeiffer DU, Dixon LK. 2009a. African swine fever: how can global spread be prevented? Philosophical Transactions of the Royal Society B: Biological Sciences, 364: 2683–2696.

Costard S, Wieland B, de Glanville W, Jori F, Rowlands R, Vosloo W, Roger F, Pfeiffer DU, Dixon LK. 2009b. African swine fever: how can global spread be prevented? Philos Trans R Soc Lond B Biol Sci, 364: 2683–2696.

de Leeuw O, Peeters B. 1999. Complete nucleotide sequence of Newcastle disease virus: evidence for the existence of a new genus within the subfamily Paramyxovirinae. J Gen Virol, 80: 131–136.

Dixon LK, Costa JV, Escribano JM, Rock DL, Vinuela E, Wilkinson PJ. 2000. In: The Asfarviridae. Van Regenmortel CMFMHV, Bishop DHL, Carsten EB, Estes MK, Lemon SM, Maniloff J, Mayo MA, McGeoch DJ, Pringle CR, Wickner RB. (Eds.). New York: Academic Press, pp116–159.

Eustace Montgomery R. 1921. On a form of swine fever occurring in British East Africa (Kenya Colony). J Comp Pathol Ther, 34: 159–191.

Forman A, Wardley R, Wilkinson P. 1982. The immunological response of pigs and guinea pigs to antigens of African swine fever virus. Arch Virol, 74: 91–100.

Gallardo C, Fernández-Pinero J, Pelayo V, Gazaev I, Markowska-Daniel I, Pridotkas G, Nieto R, Fernández-Pacheco P, Bokhan S, Nevolko O. 2014. Genetic variation among African swine fever genotype II viruses, eastern and central Europe. Emerg Infect Dis, 20: 1544.

Ganar K, Das M, Sinha S, Kumar S. 2014. Newcastle disease virus: current status and our understanding. Virus Res, 184: 71–81.

Garcia-Barreno B, Sanz A, Nogal M, Vinuela E, Enjuanes L. 1986. Monoclonal antibodies of African swine fever virus: antigenic differences among field virus isolates and viruses passaged in cell culture. J Virol, 58: 385–392.

Garcia-Escudero R, Andres G, Almazan F, Vinuela E. 1998. Inducible gene expression from African swine fever virus recombinants: analysis of the major capsid protein p72. J Virol, 72: 3185–3195.

Ge J, Deng G, Wen Z, Tian G, Wang Y, Shi J, Wang X, Li Y, Hu S, Jiang Y, Yang C, Yu K, Bu Z, Chen H. 2007. Newcastle disease virus-based live attenuated vaccine completely protects chickens and mice from lethal challenge of homologous and heterologous H5N1 avian influenza viruses. J Virol, 81: 150–158.

Ge J, Wang X, Tao L, Wen Z, Feng N, Yang S, Xia X, Yang C, Chen H, Bu Z. 2011. Newcastle disease virus-vectored rabies vaccine is safe, highly immunogenic, and provides long-lasting protection in dogs and cats. J Virol, 85: 8241–8252.

Ge J, Wang X, Tian M, Gao Y, Wen Z, Yu G, Zhou W, Zu S, Bu Z. 2015. Recombinant Newcastle disease viral vector expressing hemagglutinin or fusion of canine distemper virus is safe and immunogenic in minks. Vaccine, 33: 2457–2462.

Hess WR. 1982. African swine fever: a reassessment. Adv Vet SciComp Med, 25: 39–69.

Huang ZH, Krishnamurthy S, Panda A, Samal SK. 2001. Highlevel expression of a foreign gene from the most 3'-proximal locus of a recombinant Newcastle disease virus. J Gen Virol, 82: 1729–1736.

Kim SH, Chen S, Jiang X, Green KY, Samal SK. 2014b. Newcastle disease virus vector producing human norovirus-like particles induces serum, cellular, and mucosal immune responses in mice. J Virol, 88: 9718–9727.

Kim SH, Paldurai A, Xiao S, Collins PL, Samal SK. 2014a. Modified Newcastle disease virus vectors expressing the H5 hemagglutinin induce enhanced protection against highly pathogenic H5N1 avian influenza virus in chickens. Vaccine, 32: 4428–4435.

Kleiboeker SB, Scoles GA. 2001. Pathogenesis of African swine fever virus in Ornithodoros ticks. Amin Health Res Rev, 2: 121–128.

Leitão A, Cartaxeiro C, Coelho R, Cruz B, Parkhouse R, Portugal FC, Vigário JD, Martins CL. 2001. The non-haemadsorbing African swine fever virus isolate ASFV/NH/P68 provides a model for defining the protective anti-virus immune response. J Gen Virol, 82: 513–523.

Leitão A, Malur A, Cornelis P, Martins CL. 1998. Identification of a 25-aminoacid sequence from the major African swine fever virus structural protein VP72 recognised by porcine cytotoxic T lymphocytes using a lipoprotein based expression system. J Gen Virol, 75: 113–119.

Neilan JG, Zsak L, Lu Z, Burrage TG, Kutish GF, Rock DL. 2004. Neutralizing antibodies to African swine fever virus proteins p30, p54, and p72 are not sufficient for antibody-mediated protection. Virology, 319: 337–342.

Onisk D, Borca M, Kutish S, Kramer E, Irusta P, Rock D. 1994. Passively transferred African swine fever virus antibodies protect swine against lethal infection. Virology, 198: 350–354.

Oura C, Denyer M, Takamatsu H, Parkhouse R. 2005. In vivo depletion of CD8+ T lymphocytes abrogates protective immunity to African swine fever virus. J Gen Virol, 86: 2445–2450.

Pejsak Z, Truszczynski M, Niemczuk K, Kozak E, Markowska-Daniel I. 2014. Epidemiology of African Swine Fever in Poland since the detection of the first case. Pol J Vet Sci, 17: 665–672.

Reed LJ, Muench H. 1938. A simple method of estimating fifty per cent endpoints. Am J Epidemiol, 27: 493–497.

Rowlands RJ, Michaud V, Heath L, Hutchings G, Oura C, Vosloo W, Dwarka R, Onashvili T, Albina E, Dixon LK. 2008. African swine fever virus isolate, Georgia, 2007. Emerg Infect Dis, 14: 1870–1874.

Salas J, Salas M, Vinuela E. 1999. Chapter 18-African swine fever virus: a missing link between poxviruses and iridoviruses. In: Origin and Evolution of Viruses. Esteban Domingo, Robert Webster and John Holland. Elsevier: Academic Press, pp 467–480.

Schnell MJ, Mebatsion T, Conzelmann K-K. 1994. Infectious rabies viruses from cloned cDNA. EMBO J, 13: 4195.

Wyatt LS, Moss B, Rozenblatt S. 1995. Replication-deficient vaccinia virus encoding bacteriophage T7 RNA polymerase for transient gene expression in mammalian cells. Virology, 210: 202–205.

Ye L, Lin J, Sun Y, Bennouna S, Lo M, Wu Q, Bu Z, Pulendran B, Compans RW, Yang C. 2006. Ebola virus-like particles produced in insect cells exhibit dendritic cell stimulating activity and induce neutralizing antibodies. Virology, 351: 260–270.
Additional information
These authors contributed equally to this work.
ORCID: 0000-0001-6404-7965
About this article
Cite this article
Chen, X., Yang, J., Ji, Y. et al. Recombinant Newcastle disease virus expressing African swine fever virus protein 72 is safe and immunogenic in mice. Virol. Sin. 31, 150–159 (2016). https://doi.org/10.1007/s12250-015-3692-2
Received:

Accepted:

Published:

Issue Date:

DOI: https://doi.org/10.1007/s12250-015-3692-2
Keywords
African swine fever virus

p72

Newcastle disease virus

vectored vaccine