Abstract
The complete genome of Cnaphalocrocis medinalis granulovirus (CnmeGV) from a serious migratory rice pest, Cnaphalocrocis medinalis (Lepidoptera: Pyralidae), was sequenced using the Roche 454 Genome Sequencer FLX system (GS FLX) with shotgun strategy and assembled by Roche GS De Novo assembler software. Its circular double-stranded genome is 111,246 bp in size with a high A+T content of 64.8% and codes for 118 putative open reading frames (ORFs). It contains 37 conserved baculovirus core ORFs, 13 unique ORFs, 26 ORFs that were found in all Lepidoptera baculoviruses and 42 common ORFs. The analysis of nucleotide sequence repeats revealed that the CnmeGV genome differs from the rest of sequenced GVs by a 23 kb and a 17kb gene block inversions, and does not contain any typical homologous region (hr) except for a region of non-hr-like sequence. Chitinase and cathepsin genes, which are reported to have major roles in the liquefaction of the hosts, were not found in the CnmeGV genome, which explains why CnmeGV infected insects do not show the phenotype of typical liquefaction. Phylogenetic analysis, based on the 37 core baculovirus genes, indicates that CnmeGV is closely related to Adoxophyes orana granulovirus. The genome analysis would contribute to the functional research of CnmeGV, and would benefit to the utilization of CnmeGV as pest control reagent for rice production.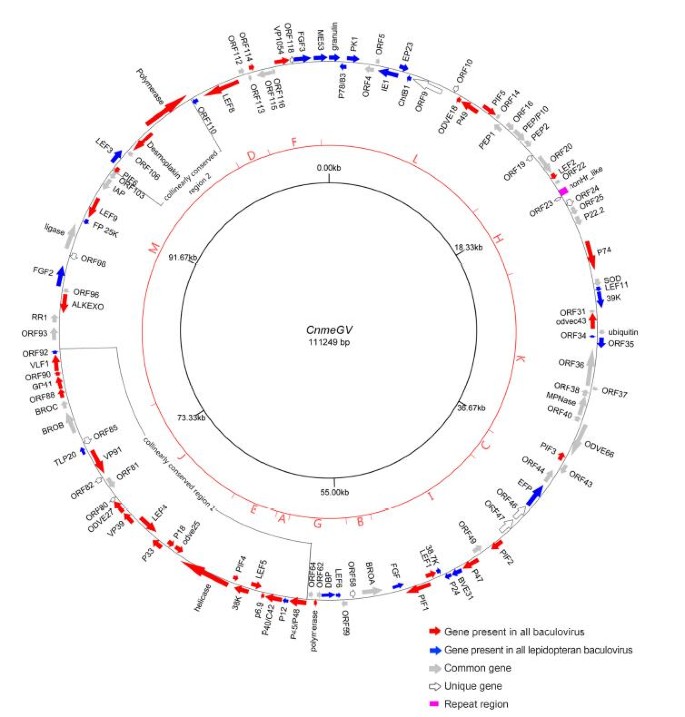 Access options
Buy single article
Instant access to the full article PDF.
USD 39.95
Price excludes VAT (USA)
Tax calculation will be finalised during checkout.
References
Chai HN, Du YZ, Qiu BL, Zhai BP. 2011. Detection and phylogenetic analysis of Wolbachia in the Asiatic rice leafroller, Cnaphalocrocis medinalis, in Chinese populations. J Insect Sci, 11: 123.

Choi J, Guarino LA. 1995. The baculovirus transactivator IE1 binds to viral enhancer elements in the absence of insect cell factors. J Virol, 69: 4548–4551.

Conant GC, Wolfe KH. 2008. GenomeVx: simple web-based creation of editable circular chromosome maps. Bioinformatics, 24: 861–862.

Federici BA. 1997. Baculovirus Pathogenesis. In: The Baculoviruses. Miller LK (ed.) PLENUM PRESS, pp. 33–59.

Ferrelli ML, Berretta MF, Belaich MN, Ghiringhelli PD, Sciocco CA. 2012. The baculoviral genome, viral genomes-molecular structure, diversity, gene expression mechanisms and host-virus interactions.

Ferrelli ML, Salvador R, Biedma ME, Berretta MF, Haase S, Sciocco-Cap A, Ghiringhelli PD, Romanowski V. 2012. Genome of Epinotia aporema granulovirus (EpapGV), a polyorganotropic fast killing betabaculovirus with a novel thymidylate kinase gene. BMC Genomics, 13: 548.

Guarino LA, Gonzalez MA, Summers MD. 1986. Complete Sequence and Enhancer Function of the Homologous DNA Regions of Autographa californica Nuclear Polyhedrosis Virus. J Virol, 60: 224–229.

Hawtin RE, Zarkowska T, Arnold K, Thomas CJ, Gooday GW, King LA, Kuzio JA, Possee RD. 1997. Liquefaction of Autographa californica nucleopolyhedrovirus-infected insects is dependent on the integrity of virus-encoded chitinase and cathepsin genes. Virology, 238: 243–253.

Herniou EA, Olszewski JA, Cory JS, O'Reilly DR. 2003. The genome sequence and evolution of baculoviruses. Annu Rev Entomol, 48: 211–234.

Hilton S, Winstanley D. 2008. The origins of replication of granuloviruses. Arch Virol, 153: 1527–1535.

Hu ZH, Arif BM, Jin F, Martens JW, Chen XW, Sun JS, Zuidema D, Goldbach RW, Vlak JM. 1998. Distinct gene arrangement in the Buzura suppressaria single-nucleocapsid nucleopolyhedrovirus genome. J Gen Virol, 79: 2841–2851.

Jehle JA, Blissard GW, Bonning BC, Cory JS, Herniou EA, Rohrmann GF, Theilmann DA, Thiem SM, Vlak JM. 2006. On the classification and nomenclature of baculoviruses: a proposal for revision. Arch Virol, 151: 1257–1266.

Jones DT, Taylor WR, Thornton JM. 1992. The rapid generation of mutation data matrices from protein sequences. Comput Appl Biosci, 8: 275–282.

Kool M, Voeten JT, Goldbach RW, Tramper J, Vlak JM. 1993. Identification of seven putative origins of Autographa californica multiple nucleocapsid nuclear polyhedrosis virus DNA replication. J Gen Virol, 74: 2661–2668.

Lange M, Jehle JA. 2003. The genome of the Cryptophlebia leucotreta granulovirus. Virology, 317: 220–236.

Liu D, Li Y, Zhao J, Deng F, Duan X, Kou C, Wu T, Li Y, Wang Y, Ma J, Yang J, Hu Z, Zhang F, Zhang Y, Sun S. 2014. Fine epitope mapping of the central immunodominant region of nucleoprotein from Crimean-Congo hemorrhagic fever virus (CCHFV). PLoS One, 9: e108419.

Lu A, Krell PJ, Vlak JM, Rohrmann GF. 1997. Baculovirus DNA replication. In: The Baculoviruses, Miller LK (ed.). New York: Plenum press, pp. 171–192.

Lu A, Miller LK. 1997. Regulation of baculovirus late and very late gene expression. In: The Baculoviruses, Miller LK (ed.). New York: Plenum press, pp. 193–216.

Luque T, Finch R, Crook N, O'Reilly DR, Winstanley D. 2001. The complete sequence of the Cydia pomonella granulovirus genome. J Gen Virol, 82: 2531–2547.

O'Reilly DR. 1997. Auxiliary genes of baculoviruses. In: The Baculoviruses, Miller LK (ed.). New York: Plenum press, pp. 276–300.

O'Reilly DR, Miller LK, Luckow VA. 1992. Baculovirus Expression Vector: A Laboratory Manual. New York: W. H. Freeman & Company, pp. 368.

Pang Y, Lai Y, Liu J. 1981. A new granulovirus from naturally infected Asiatic rice leafroller, Cnaphalocrocis medinalis (Guenee). Microbiology China, 02: 103–104.

Rodems SM, Friesen PD. 1995. Transcriptional enhancer activity of hr5 requires dual-palindrome half sites that mediate binding of a dimeric form of the baculovirus transregulator IE1. J Virol, 69: 5368–5375.

Rohrmann GF. 2013. In: Baculovirus Molecular Biology, Third Edition. Available: http://www.ncbi.nlm.nih.gov/pubmed/ 24479205.

Sanderson MJ, Wojciechowski MF. 2000. Improved bootstrap confidence limits in large-scale phylogenies, with an example from Neo-Astragalus (Leguminosae). Syst Biol, 49: 671–685.

Slack JM, Kuzio J, Faulkner P. 1995. Characterization of v-cath, a cathepsin L-like proteinase expressed by the baculovirus Autographa californica multiple nuclear polyhedrosis virus. J Gen Virol, 76: 1091–1098.

Solovyev VV, Salamov AA. 1999. INFOGENE: a database of known gene structures and predicted genes and proteins in sequences of genome sequencing projects. Nucleic Acids Res, 27: 248–250.

Taha A, Nour-El-Din A, Croizier L, Ferber ML, Croizier G. 2000. Comparative analysis of the granulin regions of the Phthorimaea operculella and Spodoptera littoralis granuloviruses. Virus Genes, 21: 147–155.

Tamura K, Peterson D, Peterson N, Stecher G, Nei M, Kumar S. 2011. MEGA5: molecular evolutionary genetics analysis using maximum likelihood, evolutionary distance, and maximum parsimony methods. Mol Biol Evol, 28: 2731–2739.

Winstanley D, Crook NE. 1993. Replication of Cydia pomonella granulosis virus in cell cultures. J Gen Virol, 74: 1599–1609.

Wormleaton S, Kuzio J, Winstanley D. 2003. The complete sequence of the Adoxophyes orana granulovirus genome. Virology, 311: 350–365.

Wu W, Passarelli AL. 2010. Autographa californica multiple nucleopolyhedrovirus Ac92 (ORF92, P33) is required for budded virus production and multiply enveloped occlusion-derived virus formation. J Virol, 84: 12351–12361.

Wu Y, Carstens EB. 1996. Initiation of baculovirus DNA replication: early promoter regions can function as infection-dependent replicating sequences in a plasmid-based replication assay. J Virol, 70: 6967–6972.

Yin F, Zhu Z, Liu X, Hou D, Wang J, Zhang L, Wang M, Kou Z, Wang H, Deng F, Hu Z. 2015. The Complete Genome of a New Betabaculovirus from Clostera anastomosis. PLoS One, 10: e0132792.

Zemskov EA, Kang W, Maeda S. 2000. Evidence for nucleic acid binding ability and nucleosome association of Bombyx mori nucleopolyhedrovirus BRO proteins. J Virol, 74: 6784–6789.

Zhang S, Jia XW, Sun SF, Pang Y, Chen QJ, Yang K. 2014. Phylogenetic analysis and epidemiologic investigation of a Cnaphalocrocis medinalis granulovirus strain. Journal of Environmental Entomology, 36: 756–762.

Zhang X, Liang Z, Yin X, Wang J, Shao X. 2014. Complete genome sequence of Agrotis segetum granulovirus Shanghai strain. Arch Virol, 159: 1869–1872.

Zhou JB, Li XQ, De-Eknamkul W, Suraporn S, Xu JP. 2012. Identification of a new Bombyx mori nucleopolyhedrovirus and analysis of its bro gene family. Virus Genes, 44: 539–547.
Additional information
ORCID: 0000-0002-9207-8061
ORCID: 0000-0002-5385-083x
Electronic supplementary material
About this article
Cite this article
Zhang, S., Zhu, Z., Sun, S. et al. Genome sequencing and analysis of a granulovirus isolated from the Asiatic rice leafroller, Cnaphalocrocis medinalis . Virol. Sin. 30, 417–424 (2015). https://doi.org/10.1007/s12250-015-3658-4
Received:

Accepted:

Published:

Issue Date:

DOI: https://doi.org/10.1007/s12250-015-3658-4
Keywords
baculovirus

granulovirus

Cnaphalocrocis medinalis granulovirus (CnmeGV)

genome sequencing