Abstract
Ferric and ferrous ion plays critical roles in bioprocesses, their influences in many fields have not been fully explored due to the lack of methods for quantification of ferric and ferrous ions in biological system or complex matrix. In this study, an M13 bacteriophage (phage) was engineered for use as a sensor for ferric and ferrous ions via the display of a tyrosine residue on the P8 coat protein. The interaction between the specific phenol group of tyrosine and Fe3+ / Fe2+ was used as the sensor. Transmission electron microscopy showed aggregation of the tyrosine-displaying phages after incubation with Fe3+ and Fe2+. The aggregated phages infected the host bacterium inefficiently. This phenomenon could be utilized for detection of ferric and ferrous ions. For ferric ions, a calibration curve ranging from 200 nmol/L to 8 μmol/L with a detection limit of 58 nmol/L was acquired. For ferrous ions, a calibration curve ranging from 800 nmol/L to 8 μmol/L with a detection limit of 641.7 nmol/L was acquired. The assay was specific for Fe3+ and Fe2+ when tested against Ni2+, Pb2+, Zn2+, Mn2+, Co2+, Ca2+, Cu2+, Cr3+, Ba2+, and K+. The tyrosine displaying phage to Fe3+ and Fe2+ interaction would have plenty of room in application to biomaterials and bionanotechnology.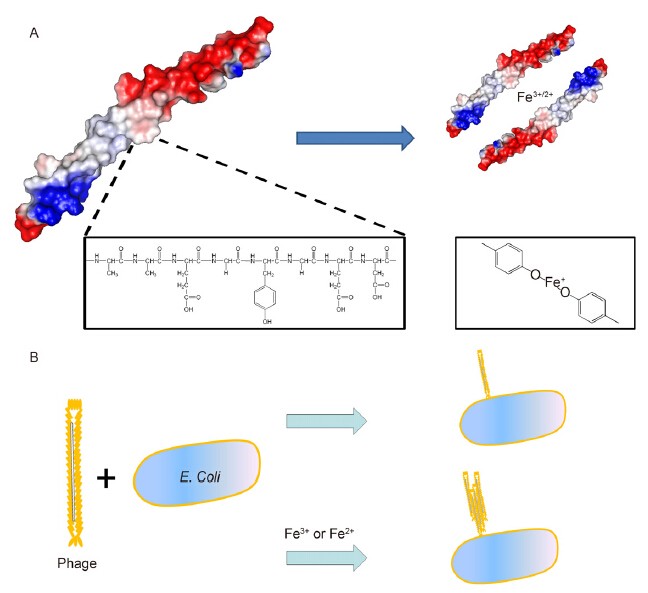 Access options
Buy single article
Instant access to the full article PDF.
USD 39.95
Price excludes VAT (USA)
Tax calculation will be finalised during checkout.
References
Allen LH, 2002. Iron supplements: scientific issues concerning efficacy and implications for research and programs. J Nutr, 132: 813S–819S.

DePorter SM, McNaughton BR. 2014. Engineered M13 bacteriophage nanocarriers for intracellular delivery of exogenous proteins to human prostate cancer cells. Bioconjug Chem, 25: 1620–1625.

Ghosh D, Kohli AG, Moser F, Endy D, Belcher AM. 2012. Refactored M13 bacteriophage as a platform for tumor cell imaging and drug delivery. ACS Synth Biol, 1: 576–582.

Glucksman MJ, Bhattacharjee S, Makowski L. 1992. Three-dimensional structure of a cloning vector. X-ray diffraction studies of filamentous bacteriophage M13 at 7 A resolution. J Mol Biol, 226: 455–470.

Guo YC, Zhou YF, Zhang XE, Zhang ZP, Qiao YM, Bi LJ, Wen JK, Liang MF, Zhang JB. 2006. Phage display mediated immuno-PCR. Nucleic Acids Res, 34: e62.

Hess GT, Guimaraes CP, Spooner E, Ploegh HL, Belcher AM. 2013. Orthogonal labeling of M13 minor capsid proteins with DNA to self-assemble end-to-end multiphage structures. ACS Synth Biol, 2: 490–496.

Kehoe JW, Kay BK. 2005. Filamentous phage display in the new millennium. Chem Rev, 105: 4056–4072.

Lee SK, Yun DS, Belcher AM. 2006. Cobalt ion mediated self-assembly of genetically engineered bacteriophage for biomimetic Co-Pt hybrid material. Biomacromolecules, 7: 14–17.

Lee SW, Mao C, Flynn CE, Belcher AM. 2002. Ordering of quantum dots using genetically engineered viruses. Science, 296: 892–895.

Liu Z, Qiao J, Niu Z, Wang Q. 2012. Natural supramolecular building blocks: from virus coat proteins to viral nanoparticles. Chem Soc Rev, 41: 6178–6194.

Maeda Y, Javid N, Duncan K, Birchall L, Gibson KF, Cannon D, Kanetsuki Y, Knapp C, Tuttle T, Ulijn RV, Matsui H. 2014. Discovery of catalytic phages by biocatalyticself-assembly. J Am Chem Soc, 136: 15893–15896.

Neltner B, Peddie B, Xu A, Doenlen W, Durand K, Yun DS, Speakman S, Peterson A, Belcher A. 2010. Production of hydrogen using nanocrystalline protein-templated catalysts on m13 phage. ACS Nano, 4: 3227–3235.

Oh D, Qi J, Han B, Zhang G, Carney TJ, Ohmura J, Zhang Y, Shao-Horn Y, Belcher AM. 2014. M13 virus-directed synthesis of nanostructured metal oxides for lithium-oxygen batteries. Nano Lett, 14: 4837–4845.

Omara FO, Blakley BR. 1993. Vitamin E is protective against iron toxicity and iron-induced hepatic vitamin E depletion in mice. J Nutr, 123: 1649–1655.

Park JP, Do M, Jin HE, Lee SW, Lee H. 2014. M13 bacteriophage displaying DOPA on surfaces: fabrication of various nanostructured inorganic materials without time-consuming screening processes. ACS Appl Mater Interfaces, 6: 18653–18660.

Smith GP. 1985. Filamentous fusion phage: novel expression vectors that display cloned antigens on the virion surface. Science, 228: 1315–1317.

Smith GP, Petrenko VA. 1997. Phage Display. Chem Rev, 97: 391–410.

Wu L, Lee LA, Niu Z, Ghoshroy S, Wang Q. 2011. Visualizing cell extracellularmatrix (ECM) deposited by cells cultured on aligned bacteriophage M13 thin films. Langmuir, 27: 9490–9496.

Yi H, Ghosh D, Ham MH, Qi J, Barone PW, Strano MS, Belcher AM. 2012. M13 phage-functionalized single-walled carbon nanotubes as nanoprobes for second near-infrared window fluorescence imaging of targeted tumors. Nano Lett, 12:1176–1183.

Yoo PJ, Nam KT, Qi J, Lee SK, Park J, Belcher AM, Hammond PT. 2006. Spontaneous assembly of viruses on multilayered polymer surfaces. Nat Mater, 5: 234–240.

Zhang X, Hou Y, He W, Yang G, Cui J, Liu S, Song X, Huang Z. 2015. Fabricating high performance lithium-ion batteries using bionanotechnology. Nanoscale, 7: 3356–3372.
Additional information
ORCID: 0000-0003-1482-6914
About this article
Cite this article
Guo, X., Niu, C., Wu, Y. et al. Application of an M13 bacteriophage displaying tyrosine on the surface for detection of Fe3+ and Fe2+ ions. Virol. Sin. 30, 410–416 (2015). https://doi.org/10.1007/s12250-015-3651-y
Received:

Accepted:

Published:

Issue Date:

DOI: https://doi.org/10.1007/s12250-015-3651-y
Keywords
M13 bacteriophage

tyrosine

display

ferric ion

ferrous ion

aggregation