Abstract
Recreational waters contaminated with human fecal pollution are a public health concern, and ensuring the safety of recreational waters for public use is a priority of both the Environmental Protection Agency (EPA) and the Centers for Disease Control and Prevention (CDC). Current recreational water standards rely on fecal indicator bacteria (FIB) levels as indicators of human disease risk. However present evidence indicates that levels of FIB do not always correspond to the presence of other potentially harmful organisms, such as viruses. Thus, enteric viruses are currently tested as water quality indicators, but have yet to be successfully implemented in routine monitoring of water quality. This study utilized enteric viruses as possible alternative indicators of water quality to examine 18 different fresh and offshore recreational waters on O'ahu, Hawai'i, by using newly established laboratory techniques including highly optimized PCR, real time PCR, and viral infectivity assays. All sample sites were detected positive for human enteric viruses by PCR including enterovirus, norovirus genogroups I and II, and male specific FRNA coliphage. A six time-point seasonal study of enteric virus presence indicated significant variation in virus detection between the rainy and dry seasons. Quantitative PCR detected the presence of norovirus genogroup II at levels at which disease risk may occur, and there was no correlation found between enteric virus presence and FIB counts. Under the present laboratory conditions, no infectious viruses were detected from the samples PCR-positive for enteric viruses. These data emphasize both the need for additional indicators for improved monitoring of water quality, and the feasibility of using enteric viruses as these indicators.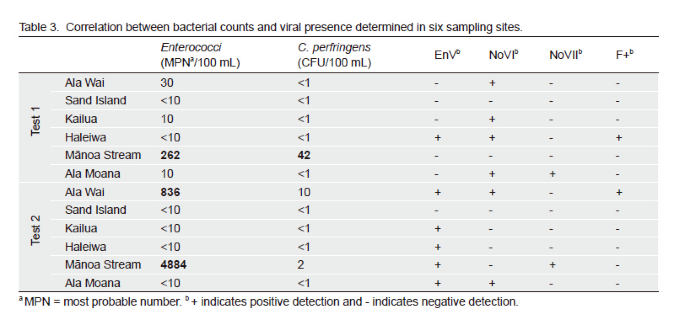 Access options
Buy single article
Instant access to the full article PDF.
USD 39.95
Price excludes VAT (USA)
Tax calculation will be finalised during checkout.
References
Allmann E, Pan L, Li L, Li D, Wang S, Lu Y. 2013. Presence of enteroviruses in recreational water in Wuhan, China. J Virol Methods, 193: 327–331.

Boehm AB, Ashbolt NJ, Colford JM, Dunbar LE, Fleming LE, Gold MA, Hansel JA, Hunter PR, Ichida AM, McGee CD, Soller JA, Weisberg SB. 2009. A sea change ahead for recreational water quality criteria. J Water Health, 7: 9–20.

Bosch A. 1998. Human enteric viruses in the water environment: a minireview. Int Microbiol, 1: 191–196.

Cabelli VJ. 1983. Public health and water quality significance of viral diseases transmitted by drinking water and recreational water. Water Sci Technol, 15: 1–15.

Calderon RL, Mood EW, Dufour AP. 1991. Health effects of swimmers and nonpoint sources of contaminated water. Int J Environ Health Res, 1: 21–31.

Colford JM, Wade TJ, Schiff KC, Wright CC, Griffith JF, Sandhu SK, Burns S, Sobsey M, Lovelace G, Weisberg SB. 2007. Water quality indicators and the risk of illness at beaches with nonpoint sources of fecal contamination. Epidemiology, 18: 27–35.

Connell C, Tong HI, Wang Z, Allmann E, Lu Y. 2012. New approaches for enhanced detection of enteroviruses from Hawaiian environmental waters. PLoS One, 7: e32442.

Craun GF, Calderon RL, Craun MF. 2005. Outbreaks associated with recreational water in the United States. Int J Environ Health Res, 15: 243–262.

Craun MF, Craun GF, Calderon RL, Beach MJ. 2006. Waterborne outbreaks reported in the United States. J Water Health, 4: 19–30.

Dorfman M, Stoner N, Merkel M. 2004. Swimming in sewage. Natural Resources Defense Council and the Environmental Integrity Project. Avialiable: http://www.nrdc.org/water/pollution/sewage/sewage.pdf.

Dufour AP, Evans O, Behymer TD, Cantu R. 2006. Water ingestion during swimming activities in a pool: a pilot study. J Water Health, 4: 425–430.

Dwight RH, Baker DB, Semenza JC, Olson BH. 2004. Health effects associated with recreational coastal water use: urban versus rural California. Am J Public Health, 94: 565–567

EPA 2012: Recreational Water Quality Criteria. Available: http://water.epa.gov/scitech/swguidance/standards/criteria/health/recreation/index.cfm

Fleisher JM, Fleming LE, Solo-Gabriele HM, Kish JK, Sinigalliano CD, Plano L, Elmir SM, Wang JD, Withum K, Shibata T. 2010. The BEACHES Study: health effects and exposures from non-point source microbial contaminants in subtropical recreational marine waters. Int J Epidemiol, 39: 129–1298.

Fleming LE, Solo GH, Elmir S, Shibata T, Squicciarini D, Quirino W, Arguello M, Van de Bogart G. 2004. A Pilot Study of Microbial Contamination of Subtropical Recreational Waters. Fla J Environ Health, 184: 29.

Fong TT, Lipp EK. 2005. Enteric viruses of humans and animals in aquatic environments: health risks, detection, and potential water quality assessment tools. Microbiol Mol Biol Rev, 69: 357–371.

Fujioka R, Sian-Denton C, Borja M, Castro J, Morphew K. 1998. Soil: the environmental source of Escherichia coli and Enterococci in Guam's streams. J Appl Microbiol, 85: 83S–89S.

Fujioka RS, Byappanahalli MN. 1996. Assessing the applicability of USEPA recreational water quality standards to Hawaii and other tropical islands. Available: http://scholarspace.manoa.hawaii.edu/bitstream/handle/10125/21922/WRRC-96-01.pdf?sequence=1.

Fujioka RS, Tenno K, Kansako S. 1988. Naturally occurring fecal coliforms and fecal streptococci in Hawaii's freshwater streams. Toxicity Assessment, 3: 613–630.

Gerba C, Wallis C, Melnick J. 1975. Viruses in water: the problem, some solutions. Environ Sci Technol, 9: 1122–1126.

Gerba CP, Goyal SM, LaBelle RL, Cech I, Bodgan GF. 1979. Failure of indicator bacteria to reflect the occurrence of enteroviruses in marine waters. Am J Public Health, 69: 1116–1119.

Hlavsa MC, Brunkard JM. 2011. Surveillance for Waterborne Disease Outbreaks and Other Health Events Associated with Recreational Water—United States, 2007-2008. US Department of Health and Human Services, Centers for Disease Control and Prevention.

Ijzerman MM, Dahling DR, Fout GS. 1997. A method to remove environmental inhibitors prior to the detection of waterborne enteric viruses by reverse transcription-polymerase chain reaction. J Virol Methods, 63: 145–153.

Jiang SC, Chu W. 2004. PCR detection of pathogenic viruses in southern California urban rivers. J Appl Microbiol, 97: 17–28.

Katayama H, Shimasaki A, Ohgaki S. 2002. Development of a virus concentration method and its application to detection of enterovirus and Norwalk virus from coastal seawater. Appl Environ Microbiol, 68: 1033–1039.

Lees D. 2000. Viruses and bivalve shellfish. Int J Food Microbiol, 59: 81–116.

Lopez-Torres AJ, Hazen TC, Toranzos GA. 1987. Distribution and in situ survival and activity of Klebsiella pneumoniae and Escherichia coli in a tropical rain forest watershed. Curr Microbiol, 15: 213–218.

Okoh AI, Sibanda T, Gusha SS. 2010. Inadequately treated wastewater as a source of human enteric viruses in the environment. Int J Env Res Pub He, 7: 2620–2637.

Pusch D, Oh D-Y, Wolf S, Dumke R, Schröter-Bobsin U, Höhne M, Röske I, Schreier E. 2005. Detection of enteric viruses and bacterial indicators in German environmental waters. Arch Virol, 150: 929–947.

Schwab KJ, De Leon R, Sobsey MD. 1996. Immunoaffinity concentration and purification of waterborne enteric viruses for detection by reverse transcriptase PCR. Appl Environ Microbiol, 62: 2086–2094.

Shuval H. 2003. Estimating the global burden of thalassogenic diseases: human infectious diseases caused by wastewater pollution of the marine environment. J Water Health, 1: 53–64.

Sinclair R, Jones E, Gerba C. 2009. Viruses in recreational waterborne disease outbreaks: a review. J Appl Microbiol, 107: 1769–1780.

Sinigalliano CD, Fleisher JM, Gidley ML, Solo-Gabriele HM, Shibata T, Plano LR, Elmir SM, Wanless D, Bartkowiak J, Boiteau R. 2010. Traditional and molecular analyses for fecal indicator bacteria in non-point source subtropical recreational marine waters. Water Res, 44: 3763–3772.

Soller JA, Schoen ME, Bartrand T, Ravenscroft JE, Ashbolt NJ. 2010. Estimated human health risks from exposure to recreational waters impacted by human and non-human sources of faecal contamination. Water Res, 44: 4674–4691.

The Hawaii Department of Health. 2012. 2008/2010 State of Hawaii Water Quality Monitoring and Assessment Report. Honolulu, Hawaii.

Tong HI, Connell C, Boehm AB, Lu Y. 2011. Effective detection of human noroviruses in Hawaiian waters using enhanced RTPCR methods. Water Res, 45: 5837–5848.

Tong HI, Lu Y. 2011. Effective detection of human adenovirus in Hawaiian waters using enhanced PCR method. Virol J, 8: 57.

Trujillo AA, McCaustland KA Zheng DP, Hadley LA, Vaughn G, Adams SM, Ando T, Glass RI, Monroe SS. 2006. Use of TaqMan real-time reverse transcription-PCR for rapid detection, quantification, and typing of norovirus. J Clin Microbiol, 44: 1405–1412.

United States Environmental Protection Agency. 2012. EPA's BEACH Report: 2011 Swimming Season.

United States Environmental Protection Agency. 2012. Recreational Water Quality Criteria. Available: http://water.epa.gov/scitech/swguidance/standards/criteria/health/recreation/upload/RWQC2012.pdf.

Viau EJ, Goodwin KD, Yamahara KM, Layton BA, Sassoubre LM, Burns SL, Tong H-I, Wong SH, Lu Y, Boehm AB. 2011. Bacterial pathogens in Hawaiian coastal streams—associations with fecal indicators, land cover, and water quality. Water Res, 45: 3279–3290.

Wade TJ, Pai N, Eisenberg JN, Colford JM. 2003. Do US Environmental Protection Agency water quality guidelines for recreational waters prevent gastrointestinal illness? A systematic review and meta-analysis. Environ Health Perspect, 111: 1102.

Wade TJ, Sams E, Brenner KP, Haugland R, Chern E, Beach M, Wymer L, Rankin CC, Love D, Li Q. 2010. Rapidly measured indicators of recreational water quality and swimming-associated illness at marine beaches: a prospective cohort study. Environ Health-Glob, 9: 1–14.

Wang Z, Sun S, Connell C, Lu Y. 2014. Effective Recovery of Infectious Human Enterovirus from Environmental Waters for Their Application for Water Quality Monitoring. Global Health Journal, 1: 37–45.

Xagoraraki I, Kuo DH, Wong K, Wong M, Rose JB. 2007. Occurrence of human adenoviruses at two recreational beaches of the great lakes. Appl Environ Microb, 73: 7874–7881.
Additional information
ORCID: 0000-0002-6854-6945
Electronic supplementary material
About this article
Cite this article
Updyke, E.A., Wang, Z., Sun, S. et al. Human enteric viruses–potential indicators for enhanced monitoring of recreational water quality. Virol. Sin. 30, 344–353 (2015). https://doi.org/10.1007/s12250-015-3644-x
Received:

Accepted:

Published:

Issue Date:

DOI: https://doi.org/10.1007/s12250-015-3644-x
Keywords
human enteric virus

indicator

recreational water quality

Hawaii